Sunday Dinner II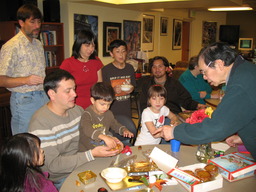 Sharing Mooncakes

Seattle, USA
October 17, 2009

I'm back in Seattle. Family are all here; everyone is doing pretty much as they were when I left to travel around Central Asia last spring.

The nominally bi-weekly family Sunday Dinners continue on. The first dinner after my return was a potluck held in the community room of Ben's apartment building. It's a great gathering place replete with pool table, kitchen, and several computers providing fast Internet access. Ben himself set those computers up (and also installed wi-fi access repeated throughout each floor) for the good of all the building's residents.

Last Sunday's Dinner was additionally a belated recognition of the Moon Festival. I did make it back in time to celebrate the actual Moon Festival: that holiday occured one week prior to our gathering. We decided to delay the family dinner until a date when Jen and her kids would all be back from Boston. (They just returned from seven weeks in Boston undergoing proton therapy for Robin's brain tumor which, thankfully, went well.) Oodles of mooncakes were eaten. Some mooncakes made their journey here all the way from Hong Kong. The rest came from Chinatown's best bakery, Mon Hei 萬禧大餅家. There was a rare mooncake glut, leaving many left over for future consumption. Mooncakes = Yum!

Ben didn't skimp on the advance preparation. He not only picked up a couple extra boxes of mooncakes but also set up a new karaoke system for the event. He took the better part of two days downloading and configuring karaoke software, Performa, onto one of his Linux computers. I guess he figured the karaoke system I brought along the last time he hosted Sunday Dinner went over so well it was worth a repeat performance. Whatever his reasoning, it was planning well-spent. Once again, the nephews and nieces got excited over the strangest selection of songs. Nicholas did an encore performance of a Village People number; he and Robin showed off Macarena dance moves they learned back in Boston.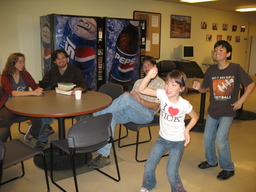 Nicholas and Robin
do the Macarena

Much about this visit to Seattle--just how long I'll stay, just what I'll be up to while here--is still up-in-the-air. The first job I thought I'd be working fell through. The Census Bureau never rang me back for that operation they informed me of back in August. I was anticipating being employed over October; guess I didn't make the A-list.

There may be progress in a different area, though. I went to the Canadian consulate on Wednesday for an interview about my immigration application for permanent residence. The application has been pending for over 5 years at this point. The face-to-face interview was one of oh-so-many steps towards a green card. I'm glad to finally cross this step off the list. A determination can't be far on. A decision either way will give direction, offer up a tangible sense of where I might be months--or years--from now. I'm naturally hoping Canada deems me harmless enough to be granted a green card--and so decides sooner than later.

At the moment I'm cat-sitting: taking care of Linda's black, long-haired kitty while she's away, staying at her half of a Fremont duplex. But come Monday I'll have an apartment of my own. I'll be moving back down to Chinatown, into a minute efficiency in an old brick building. My new place will be only one block south down Maynard Avenue from another Chinatown apartment I used to live in.

Recalling that former aparment makes me realize that it's been a long time since I last had any address of my own in this country--let alone in Seattle's Chinatown. I can easily place just how long ago it was I lived there: I remember filling in the survey sent out for the last census. They're now preparing for the next count, so I must have been living there about ten years ago. Can it really have been that long?

I remember specific details of that year's census. I answered all the questions accurately, but when coming to a line asking which languages were spoken at home I decided to check "Urdu". That wasn't entirely untrue. I figured I could justify my answer, explaining--to anybody who might actually care--how I occasionally spoke in Urdu at home with the cat.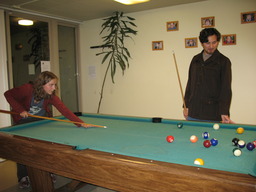 Devon and Alan Shoot Pool

Perhaps somebody did catch the discrepancy of a household-of-one speaking multiple languages. Two census employees rang my doorbell on separate occasions several months after I mailed the form in. But neither wanted clarification of my answers. Both came calling, insisting that the bureau had never received the initial form I had sent in.

I did allow the first census taker into the building to fill the survey out once more, this time right at my doorstep. (I can't recall whether I again checked the box to indicate that I spoke Urdu with my cat.) When the second census taker came around a couple weeks later I finally refused, telling her that enough was enough--I wasn't going to fill their questionaire out a third time.

Since working for the Census Bureau myself this year, I now know the exact operation those two must have been working on: NRFU, Non-Response Follow-Up. Gad... that could be me playing their role in a few months. And I'll be living right back down in Chinatown once again when those forms go out this year.

Somehow my life has spun full-circle.