Candy Canes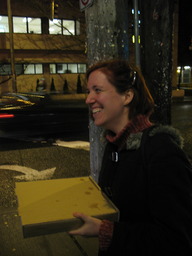 Friederike Holds Pizza
on 15th Ave East

Seattle, USA
December 16, 2009

Friederike may be jet-lagged after a trans-Atlantic flight but, as it's her first visit to the U.S., her eyes are wide open. She's noticing things I'm so accustomed to seeing that I forget they could be different elsewhere or require explanation:

Walking up a stretch of Olive Way we passed an enormous old house with large numbers posted on its door.

"Wait." She grasped my forearm. "What? How can that be?", Friederike struggled aloud to parse the meaning of the digits.

"1562? Oh, you've probably never been in a city that has a grid system for addresses. House numbers would never be longer than two or three digits in Germany, right? They can be pretty big here," I said.

"Oh! Now I understand. The numbers are the street address. I was wondering how a building in Seattle could have been constructed so many years ago..."

We walked farther up Capitol Hill towards my favorite pizzeria, Olympia Pizza and Spaghetti House III. Even though she'd arrived just a few hours prior, I was trying to keep us moving along, trying to keep her from crashing out prematurely on account of jet-lag. Rounding the corner at 15th Ave East we walked past a display decked out with cliched yuletide motifs: reindeer, Santa Claus in a red-and-white suit, gifts wrapped in tinsel capped by ribbons tied into bows. Friederike pointed at something among the collection.

"What are those?", she asked me. I couldn't figure which object she was pointing at. All the decorations looked pretty typical, not much different from the same Santa caps and wreaths that deck out even supermarkets around China these days. What was it she didn't recognize?

"Those. The red-and-white ones," Friederike pointed at a bunch of candy canes.

"What. Really? You don't have candy canes in Germany! I thought we ripped off all of our Christmas decorations from you. Aren't Christmas trees originally a German tradition?"

"Sure they are. But we don't have candy canes. What do they taste like?"

Candy canes were just the beginning. Two minutes later I started explaining the concept behind Christmas stockings.