Cake and Quiche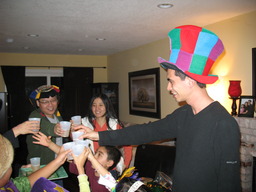 Cousin Jordan Toasts 2010

San Francisco, USA
January 1, 2010

Which of these three cakes, all common throughout America, might a visitor from Germany be familiar with:
German Chocolate
Devil's Food
Carrot
Answer: None of the above.
Friederike and I are sipping coffee and sampling cakes at the Sweet Inspiration Bakery on Market Street. We've finished a day seeing attractions requisite for anybody making their first visit to San Francisco: a drive down Lombard Street, a walk from Crissy Field to the Golden Gate Bridge. But, for me, today's highlight has come with the sweets. Beleaguered decision it was which to order: in the cases behind us rest at least a dozen additional varieties of cake we just don't have room to sample.
We settled on a slice of devil's food cake and a slice of carrot cake. I'd been advocating for the German chocolate cake, as it's originally an American concoction unknown in Germany. But, Friederike couldn't resist the name "devil's food" and I couldn't resist a carrot cake slathered in sour-cream frosting. German chocolate cake will have to come at some point further along the road trip.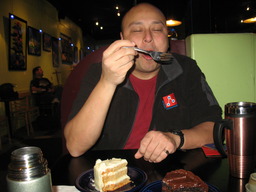 Rich Chocolate Yum

It's been fun eating and contemplating cakes with somebody from Germany--even before the road-trip began. For Christmas, Friederike prepared what she called a "ginger-almond cake". It was delicious, but low and flat, nothing like the frosted, layered birthday cake that is my mental picture when contemplating cake. Though it's all cake--"Kuchen" in German, her Christmas treat might be called something like "ginger-almond bars" in English.

This spurred contemplation of just what can constitute "cake" and the etymology thereof. Friederike went along to mention an "onion cake" she occasionally bakes. That sounded revolting in the context of the American concept of cake. But, when she further described how she prepares her onion cake, I realized that it was just a common quiche--and further realized that the word "quiche" is probably cognate to the word "cake". Cake. Quiche. Mmm.

In addtion to cake I've been making it a mission to introduce food of North America along the road trip, dishes that would be uncommon other parts of the globe. We will probably head down to the Mission District after finishing up our cake and coffee. Friederike has never eaten Mexican food; it seems like that would be the right part of town in which to sample a big Mission-style burrito. Jewish deli food is also on the list. She's expressed curiosity as to exactly what a bagel is. Reubens and pastrami sandwiches are as-yet alien constructs I have deemed neccessities as well.
---
The drive down has been pleasant so far. The snowstorm that swept in before we left Portland had been reduced to rain by the time set out. We were concerned about crossing the Siskiyou Pass at the Oregon/California border--but had nothing but sunshine the entire way.
We're not the only ones making the road trip south. At some point on the road I noticed that much of the other traffic was vehicles decked out with green-and-yellow "O" decals, green-and-yellow pom-poms, and green-and-yellow "Go Ducks!" pennants. I guess the Oregon State football team must be playing in the Rose Bowl this year.
Along with the beauty of the drive down the west coast, sharing favorite food, and interpreting Oregon Ducks paraphernalia to a first-time foreign visitor, the drive has been fun to expose America through another medium: radio. What dominates the AM band? Along this trip it's been: lots of advertisements promoting commercial solutions to become "debt-free", lots of conservative commentators, and lots of Jesus. There's not as much country music on the dial as I expected, but perhaps that's because I'm not giving it a chance. When I've had enough AM, I flip bands. The radio in our rental car also picks up exclusive satellite stations that aren't limited to a particular geographical area. There's a lot more Jesus and a lot more commentary on the satellite stations as well, but at least that's tempered by curiosities such as BBC Radio 1 and stations dedicated to hits of each of the past 6 decades.
---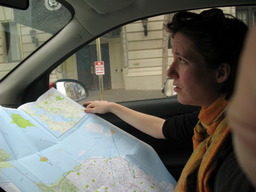 Friederike Navigates the
Streets of San Francisco

I'm staying at the home of Cousin Jordan out in San Jose. Last night was New Year's Eve. As a family with a young child, Jordan's family pulled the same trick ringing the New Year in as the New Year's Eve party I attended one year prior. Turning the TV on just before 9:00 Pacific time meant being able to follow the countdown to ball-drop in Times Square, live. That gave the children (and grown-ups) the sense of ringing in the new year without staying up beyond anybody's bedtime.

I hadn't seen Cousin Jordan in years; it was so good to get re-acquainted. I hadn't realized that his family must be as into games as my siblings and I are. As usual, I introduced SET and Anagrams, though they had a couple games to share with me. "Pit" is a noisy game that's great for all ages, and "Left, Center, Right" seems like the ultimate dice game for betting (or drinking) with no skill necessary.

I'll likely stay with Cousin Jordan's family again on the return trip, northbound back up to Seattle. I'm looking forward to more fun and games together and getting further re-acquainted. But that won't be for a couple weeks. Next: off to L.A....