Milking It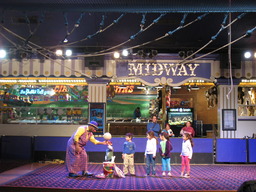 Circus Circus

Las Vegas, USA
January 6, 2010

I'm up $20 at the blackjack table. That might not amount to much--but I've decided to call it quits while I'm still in the black.

No matter what, I'll come out ahead--but my takeaway from this trip might fall as low as $10. I have a couple bets outstanding. Friederike and I just wandered by the sports book at the newly opened Encore casino. I have no idea which teams are in the running for any sport: Friederike has even less a clue. Still, I figured we'd have to lay some bets on the Superbowl.

I wanted to place $5 on the Chicago Bears to win the Superbowl. My nephew Nicholas currently has obsessions with both the entire city of Chicago and with the entire NFL. When contemplating what most excites my nephew I picture a Venn diagram with the Bears defining its intersection. Unfortunately, I found that there were no odds on the Bears to take it all: I guess they must already be out of contention. (Even if a team couldn't make it into post-season play this year, the bookies at Encore Casino could have made easy money off a sucker like me. Had they posted modest odds on the big board for even the teams that have already been mathematically eliminated, I would have dropped my money on a bet sure to lose. I wouldn't have been any the wiser.)

As the Bears were not an option I instead placed $5 on the Patriots (12-to-1) and $5 on the Cowboys (8-to-1). I'll allow Nicholas to choose the betting slip for whichever team he prefers upon returning to Seattle. Friederike followed suit by putting $5 on the Cowboys, herself.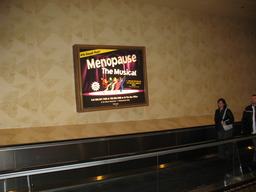 We're here for only a couple days but that has allowed enough time to scrape the surface. We've seen the kitschy attractions: the pirate battle outside Treasure Island, the canals of the faux Venice, and clown and acrobatic performances at Circus Circus. It was during a stroll through corridors connecting the medieval-theme of the Excalibur casino into the glass pyramid housing Egyptian-themed Luxor casino that Friederike got laughing the hardest. Several billboards announced what was being promoted as Vegas' hottest ticket: Menopause: the Musical. As the one who grew up in this country I've been playing cultural interpreter: but even I had a hard time contemplating what such a production might involve.
We're now sitting in some cafe inside the Encore casino. We're sipping hot chocolate. Perhaps I ought to more accurately label our beverage choice not "hot chocolate" but "the extended dregs of hot chocolate". While lingering here I recalled the technique of a classmate from days at university who, over his leanest student years, devised a method for--quite literally--milking the system:
This particular friend would bring his own mug into one of the campus cafes. When meeting with him one morning for a pre-class study session I was surprised to find that he'd somehow already been served his beverage. What happened? I'd been the only one standing in line ordering coffee.
He explained that nobody paid attention to patrons who helped themselves to cream and sugar. The campus cafe did so much business that their cream decanter was just a half-gallon carton of milk left out on the bar next to the cashier. My classmate poured himself free cups of straight-up milk, over the I-don't-know-how-many years he was a student.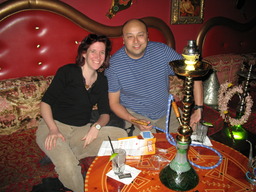 I just put his method to the test for the first time. I didn't feel terribly bad: isn't Vegas all about free drinks? I further rationalized that we'd both paid for our hot beverages--and does any cafe place limits on how much cream and sugar paying customers can avail themselves of? So, after writing a few postcards and introducing Friederike to the basics of poker, I brought our cups over. Hefty brushed-iron vacuum flasks held non-fat, whole, and half-and-half options. I topped our cups halfway up with whole: the milk-chocolatey result actually tasted better than the overly-sweet, rich concoction that was originally served in the cup.
From Encore we'll make one final stop before leaving Las Vegas. Even with such brief time here this will be a return visit, as it's to my favorite place in the city: the Hookah Lounge. It may reside in a strip mall, but the inside atmosphere is sheer chill. Middle-eastern carpets; round, lacquered backgammon tables; and illuminated hookahs that cycle through different colors are staples of the decor. I may travel with my own hookah now, but this place is worthy of multiple visits to soak up the ambience. We lucked out on our visit last night. Tuesdays at the Hookah Lounge turned out to be "Locals' Night" with the halved-prices of Happy Hour in effect through the night.
We'll head back down to L.A. after our return visit to the Hookah Lounge.