Mom's Obituary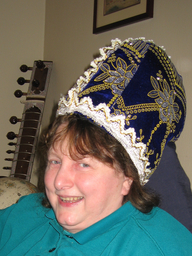 Seattle, USA
February 25, 2010

I can't take credit for any of the text of Mom's obituary. It was composed by Jen. It will run in this Sunday's edition of the Seattle Times.

There is one unexpected detail that the entire family agrees would have amused Mom: the photo we chose to run alongside the obituary was one I took after giving her an ornate tea cozy that I brought back from Xinjiang. She knew just what it was, but--upon receiving it--promptly placed it atop her head as if it were a cap.

We hadn't intended for the full photograph to appear. The Times' instructions were to send "full, uncropped images"--newspaper staff would do the cropping. We expected that they would zero in on her face.

However--they didn't. The image that will run this Sunday will be only semi-cropped, still showing the entire fringe of the tea cozy worn above Mom's forehead.
---
Lisa (Henry) WONG
Lisa died on Sunday, February 21st after, in her own words, a "strange journey through the desert of cancer." Lisa approached her dying as she did her living--with gratitude, love, and a deep reverence for the mystery. She was 61.
Born in March of 1948 in Indianapolis, Indiana to Donald Henry and Charlotte Warstler, Lisa was nicknamed "Corky" by her father because "she was such a little corker." Lisa always confronted life head-on, her blonde curls cut short for easier adventuring. She began her exploits early, falling into a tar barrel at the age of 2 while shimmying up the side of a house. A few years later she slid down a coal chute at the local library, where she struck up a friendship with the library custodian and received many books otherwise destined for the library furnace.
After graduating from La Porte High School in 1966, Lisa traveled the country via Greyhound Lines' "99 Days for 99 Dollars" special. One of her stops was in Seattle. In March of 1967 she moved to Seattle and began her studies at the University of Washington. Shortly thereafter she met Victor Wong at a UW ballroom dancing class. Lisa married Victor in 1968 in Reno, Nevada.
Again in her own words, Lisa then "dedicated her life to raising kids and making a home until her return to school." She excelled at this work, then returned to the University of Washington in 1988 and graduated in 1991 with a BA in Philosophy. She received her MA in 1994 and was a PhD candidate. Lisa taught philosophy, ethics, and logic courses for several years at the University of Washington and Seattle Central Community College. She had a special interest in Asian and Medieval European philosophy.
Lisa was a long-time parishioner at Saint James Cathedral. At Saint James she was an active member of the Just Faith study program from 2005 to 2007, putting her spiritual beliefs into practical action for social justice.
Lisa loved spending time with her husband, children, and grandchildren, reading piles of books to the grandkids every week. She also loved cats, dogs, and squid, not necessarily in that order.
Lisa is survived by her sister Kathryn Henry of Oak Park, Illinois; husband Victor Wong; children Jennifer Thames, David Wong, Benjamin Wong, Gregory Wong, and Alan Wong; son-in-law Michael Hall, daughter-in-law Louise Wong, Alan's girlfriend Devon Little; and grandchildren Nicholas, Robin, Myhanh, Mai Linh, and Tai.
Funeral Mass Tuesday March 2, 9:30 a.m., at Saint James Cathedral in Seattle. Rite of Committal following at Calvary cemetery.
Flowers may be sent to Howden-Kennedy Funeral Home. Donations are welcome to either of two charities that Lisa loved: the Children's Division of the Seattle Public Library or the Cathedral Kitchen at Saint James.
On-line guestbook at
http://lisa.wongs.net/