Post-"It" Notes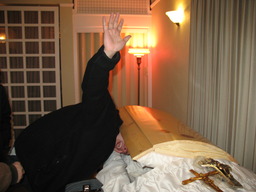 Greg Inspects Caskets

Seattle, USA
February 26, 2010

Greg and Jen still make heavy use of pen and paper when organizing. Jen pencils dates and activities into a broad, imitation morocco planner. Greg delegates tasks from paper printouts, then jots directly onto the page what each sibling is repsonsible for. I'm more the type to plot projects by tapping on some keyboard or touch-screen, then synchronizing details across devices. But their approach isn't for want of digital savvy--they've reminded me how incorporating certain, older ways of doing things can still be more efficient.

There have been so many logistical details in arranging Mom's funeral. Greg and Jen are the ones who are orchestrating the major tasks while making sure the minutiae don't get missed. Guiding us are instructions Mom drew up pre-mortem specifying whom to contact upon her death and how she would like to go out. She gave this document the ironic title of Post-"It" Notes.

Tuesday has been confirmed for morning Funeral Mass at St. James Cathedral followed by afternoon Rite of Committal at graveside. Surviving Seattle family met twice yesterday afternoon to finesse the planning. The first time was with the Pastoral Care Minister in the the Bishop's Room at St. James; the second gathering at Jen's family home. Out came Jen's organizer and pencil; Greg began scrawling names and numbers next to text on the Post-"It" Notes printout. I envy them their organizational ability.

Few duties have been assigned to me. I have begun informing all the people Mom specified, now that we know the particulars of when her funeral will be held. Many names are of close family friends who are already aware. However, there are some distant relatives listed, as well as names of people Mom alone was close to. I need to be sure that everybody has received the sad news.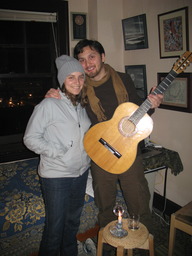 Devon and Alan
at my Apartment

I've additionally been tasked with developing and framing photographs to display at a wake next week. I also need to pick up and laminate holy cards that are traditionally distributed to mourners attending Catholic funerals. One side will bear an image of the apparition of the Virgin of Guadalupe. Verso will be a photograph of Mom above a succinct eulogy. And I'm the one who will pick Aunt Kathy up at the airport when she arrives...

Now that I start listing it all out, I guess I'm not as free of responsibilities as I thought. But I'm relieved not to be the one who is playing the role of project manager behind it all. I couldn't possibly be as organized and thorough as Jen and Greg are.

It hasn't all been gloom, grief, and chores these days. Last night, Alan and I attended a concert: Suzanne Vega at the Moore Theater. The performance was intimate, centering around her singing and playing an acoustic guitar, often backed by an electric guitar and bass, occasionally filled out by the strings of a local youth symphony quartet. Her music provided the perfect escape.

After the show, Alan and I met up with his girlfriend, Devon. The three of us had planned to go out for drinks somewhere after the show: I wanted to congratulate Devon on her recent decision to join the ranks of the unemployed. But, Alan needed to finish writing the text of the holy card that night. I improvised a session of gin-and-tonics around the hookah pipe at my apartment while Alan composed the eulogy on my laptop computer. Come midnight we were finally ready to go out. We'd already had enough to drink so instead opted for dumplings and noodles at Hing Loon.

It's long been family custom at the end of our meals in Chinese restaurants to finish with a particular game. We each relate the text of our fortune cookie by acting it out through charades. When it came around to my turn I tried--but I had to give up after a few words. My fortune was peculiar. It contained uncommon vocabulary and was written in the imperative. I found the message oddly apropos given how I've spent recent time in Seattle:

"Put down your chopsticks and get involved in Census 2010!"