Dessert with Louise

Sister-in-Law Arrives
in Indianapolis

Indianapolis, USA
July 8, 2010

Far more skinny brick buildings with ornate moulding, far fewer of the glass towers that define skyscrapers to anybody back in Seattle. Monuments to soldiers fallen in wars fought back before my hometown was founded. Carson Pirie Scott Department Stores: I hadn't realized that chain extended out beyond Chicagoland.

Visiting Indianapolis makes me realize that I've never explored the Midwest beyond Chicago. I'm seeing elements that I thought of as particular to Chicago and hadn't realized were typical across the greater region. Indianapolis' downtown is cute, at least what I've seen of it in the last three hours.

I drove up here from Bloomington, an hour's drive. I could have rented a car from any agency just for the day, but decided to reactivate a lapsed membership with Zipcar, which provides hourly rentals with cars parked throughout several select cities. There is an annual membership fee, but it might prove useful to have access to a car for the odd errand while I'm at Indiana University this summer. Perhaps it could even come in handy in some other city I pass through once I hit the road at summer's end. Zipcar have car sharing locations in several of the cities I'll likely visit over the next months (i.e., New York, Washington D.C., London, and Vancouver.)

It's been good to step out of Bloomington for the first time and briefly take in a city new to me. But, the real reason I'm here is to meet up with my sister-in-law, Louise.

Louise's time here is brief, as well. She's in town for just two days, to attend a conference on education. Back in Seattle, she's mid-way through a program to get a Masters Degree in Teaching. That will give her certification to teach high school in Washington State. (Certification I find ironic that she needs to obtain at all, let alone through a graduate degree program. She's already spent years teaching in the New York City Public Schools system.) Louise received a generous grant toward her Masters program, one of the pre-conditions of which was that she attend this conference.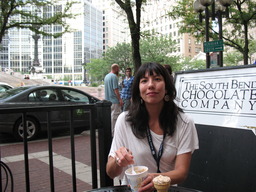 Zipcar + Ice Cream +
Louise = Fun!

I don't know how excited she was by the prospect of a couple days in Indianapolis, but she's certainly exuded happiness since checking into the hotel in which they're housing conference attendees. The Conrad is swanky. Maybe it's standard these days at most hotels to have flat-panel TV screens mounted in the bathroom, but certainly not the places I tend to stay in.

With just the late evening to spend time together, we started with dessert. On the back side of her hotel we found the South Bend Chocolate Company. Catching up began over ice cream. Then, we strolled throughout the city center: around the massive Monument Circle, north to the capitol dome, then back to the Conrad.

There's something irreplaceable about meeting in-person, catching up face-to-face. Enquiring about family back home seems quaint in this era of being so connected. I could send e-mail, skim Twitter, or ring any of the people up who I asked about to find out in the first-person just how they are. For free. Instead, I drive up to Indianapolis and ask how Louise's mother is doing in her new apartment, what Myhanh and siblings are doing this summer, and when the last time was that my father came over to their home. Louise asks how I'm settling into Bloomington.

Perhaps it's more about affirming relationships than actually conveying information. Whatever the case, it's been wonderful to see family for a few hours and spend time catching each other up.