Ticket Scalper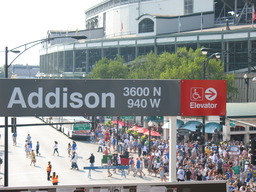 Chicago, USA
August 20, 2010

"Tickets! Tickets! Right here. How many you need? Great seats, I'll give you a great price."

Every few steps from the Red Line el station, scalpers were swarming about. They were all trying to hawk tickets to a baseball game that had just begun.

Every recent summer I've come through Chicago, I've thought that I should try to take in a game. But it had been 25 years since I last saw the Cubs play. Even so, this trip to Wrigley Field was more whim than pilgrimage. If I could get a cheap ticket, I'd watch the game. If not, I'd head down to the Art Institute for the day.

For no particular reason, I ignored the first scalpers I passed. I walked on closer toward the stadium and up to a man who was standing at the edge of a doorway clutching several tickets.

"What have you got for a single?", I asked.

He barked out to another scalper who was holding even more tickets just inside the doorway: "What singles have you got?"

The man I was talking with plucked four more tickets from inside the doorway and offered me one.

"This seat is right behind third base. The face value is $100. I'll let it go to you for $60," he said, pointing to details on both a stadium seating map and on the ticket itself that were too small for me to read.

"Sixty bucks? Uh. Nah," I said without thinking about it.

"Well, how much, then?", the scalper asked me. I could tell based on everything I saw: the number of tickets, the number of other scalpers, and the fact that the first inning was probably almost over, that I could name my price. Foremost, I was truly indifferent as to whether I actually saw the game. Wrigley Field was standing just across the street, but if I couldn't get a ticket for the price I was willing to pay on that day, I could see the Cubs on some other visit to Chicago.

"What have you got for ten bucks?", I asked the scalper.

"Ten bucks!", he shot back. "None of these tickets."

"Well, I don't need a beautiful seat. What else have you got?"

"But, these are all beautiful seats," he tried. "Twenty bucks?"

"Ten bucks is what I've got." I started to walk away.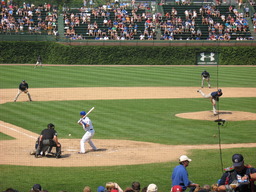 "Wait! Wait!" He consulted again with the second scalper inside the doorway and offered me another ticket. "This one has a face value of $70. It's just a few rows behind home plate," he said, again pointing to the stadium seating chart.
"Okay," I said. "You got change for a twenty?"
"I thought you said all you had was ten!", he said with a smile.
"I did say I had ten. But I didn't say ten was all I had," I said, smiling back.
He handed me my ticket with a crisp ten-dollar bill beneath. I handed him my $20 and walked across the street and into Wrigley Field.
It was the top of the second inning. My seat was a few rows behind home plate, just where he described. The sun shone throughout the game. In typical fashion, the Cubs lost embarassingly: I'd never seen a baseball game in which a player attempted to steal home plate, let alone successfully. What a perfect way to pass a late August afternoon in Chicago.
I almost felt sorry for the scalper. Before getting off the el I had decided that I would have paid as much as $20 to attend the ballgame.