Candy Factory & Art Institute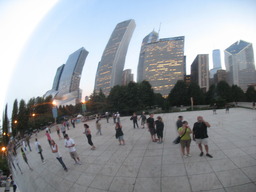 Chicago Skyline, Megan and David
Reflected by Millennium Bean

Chicago, USA
August 22, 2010

Going to the candy factory on this visit to Chicago was unplanned. Though we haven't made it out every day I've been in town, Aunt Kathy and I have gotten out of her condo a couple times, in search of the same thing both occasions. We share a fondness for traditional American breakfasts, the type with lots of eggs, sausage, pancakes, and maple syrup.

It was while walking back to Aunt Kathy's car after one-such brunch, I smelled a sweet fruit scent. There was a distinct odor of candy coming from somewhere. I decided that I must be mistaken. Why should it smell like candy in the restaurant parking lot? I convinced myself that there must have been something else in the air I had taken for candy. But, when we turned the corner and rounded the diner I saw an enormous sign above us:

FERRARA PAN CANDY CO.

"Oh, this is where Ferrara Pan is!", I shouted out.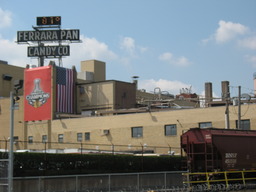 Ferrara Pan Candy Co.

This was a name I remembered from the packages of dozens of varieties of candy I bought from the local corner store as a child. At the time, I had no idea where the candy was manufactured, let alone that the factory stood a few blocks from Aunt Kathy's condo. But chancing on a place tied to sweet recollection, even decades after I last bought their candy at the corner store, I was still excited to see the origin of candy I had once bought for 10¢ a box. We stepped into a small shop off the entrance to the business offices.

Most of the same candies I bought as a kid were still around: "Boston Baked Beans", "Atomic Fireballs", "Lemonheads", and "Jaw Breakers". All that had changed were some of the names. A couple of the fruit flavors I knew as "Cherry Chan" and "Alexander the Grape" had been rechristened "Cherryhead" and "Grapehead". I gleefully bought five boxes of candy for a dollar.
---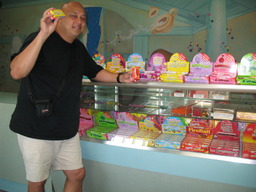 Candy Store: Lemonheads,
Atomic Fireballs, Jaw Breakers

Aside from brunch and the discovery of the candy factory, most time with Aunt Kathy has been spent back at her condo. We might chat. We might watch TV together. Conversation often comes around to contemplating the quirks of her cat (Mollie)'s behavior--who alternates between being demanding-and-agressive and hiding under the bedcovers. Most of our catching up is informal, though we do occasionally take on some specific task that has been put-off for well too long.

The biggest task my first day in town was answering questions about her laptop computer. "How do I change the default font? Can I delete the contents of this folder? Is there a backup of the data somewhere?" I couldn't answer all of her questions, but it was fun to help where I could.

On one of our more ambitious evenings, we sorted through old china dishes that had been in the family since even before she was born. She didn't care to keep most of them, but Aunt Kathy didn't want to just dispose of them. What if some plate or cream pitcher might have real value to a collector? A quick skim of the going rates for identical items on eBay was enough to assure Aunt Kathy of their true worth: people did collect such dishes, but no one piece was worth more than a few dollars. Donating them to Goodwill or to some antique store would probably be the best route to take.

Another night passing time together gave me inspiration. We were flipping through old, print photographs from visits past. We found some from previous summers when, one-by-one, we nephews and nieces each visited Chicago. If our family had any rite of passage, it was the year each of us kids turned 15. Aunt Kathy invited us to come out and visit Chicago for a couple weeks the summer of that year. I still have strong memories of making that trip; it was such a formative time. That must have been the first time I was away from my parents for more than a few hours. That was the first memory I have of being on an airplane.

Seeing those photos made me decide that I should pass that experience along, offering something similar to my nephews and nieces each year they turn 15. (This assumes that I am no longer wandering and am actually settled somewhere by the time they start coming of age... ).
---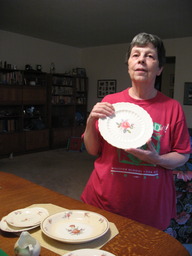 Aunt Kathy

This past week in Chicago hasn't been spent exclusively with Aunt Kathy. I've called on Megan, as well. After my initial days in town visiting with Aunt Kathy in Oak Park, Megan and I took a couple days going around town and catching up back at her place in Logan Square. The way I spend time with either of them couldn't be more different:

Contrasting the largely home-bound time visiting with Aunt Kathy, Megan and I were immediately out and on-the-town, even before I dropped my bags off. We got together first at the Art Institute; I was interested in a couple temporary exhibitions on display there. Our first stop was a small room displaying Persian art. We found that collection disappointing. (To be fair, we were both jaded--having seen such better examples of Persian art in places like Uzbekistan.) But the other exhibition, a retrospective of photographs taken by Henri Cartier-Bresson, was massive and impressive. He had photographs of China and India in the 1940s alongside other destinations that I consider exotic even today. I was particularly taken by photographs he took in Urumqi in the 1950s.

In addition to guiding me around Chicago and her full schedule as a graphic designer, Megan has been keeping busy in lots of other ways. Her present fixation is mapping out the many places she'll travel next month. Airline JetBlue is running a promotion, selling one-month passes good for "all-you-can-jet". Megan just bought herself one of these passes and is planning to maximize its use, visiting destinations in South America, the Caribbean, as well as cities around the U.S..

Though Megan can take her work with her on her laptop, she can't be away from Chicago for too long. She has to be back here for one particular day in mid-September to serve on a panel. She'll be one of the speakers at a conference which encourages people who have dreamt of taking time away from their routine jobs to travel and see the world to take the step and get away.

It's been good to see her with so many good things going on. Even though I'm leaving Chicago tomorrow, it's likely that she and I can meet up again in a few weeks when I'm further down the road. That might be in New York but will more likely be in Washington, D.C.: provided she can book flights for just the right dates on that month-long JetBlue pass.
---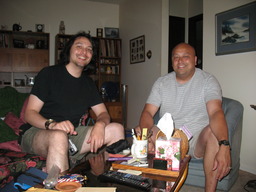 Brothers Ben and David
About to Embark on Roadtrip

I am about to move on from Chicago--but will head south before I head east. I'll have company. Ben has driven here from Seattle. We're both staying at Aunt Kathy's for one final night before I join him on the next leg of his road-trip. We're off to Indiana tomorrow morning. Our first stops will be to visit a couple different cemeteries in the northern part of the state. The first is where our grandparents' graves lie, the second, the location of our great-grandparents' graves. At the latter, we'll hopefully carry out Great Aunt Mary's final wishes.

Then, our road trip should take us on through Indiana, followed by a couple days in Nashville. We'll finally part ways in New Orleans.