Bloody Mary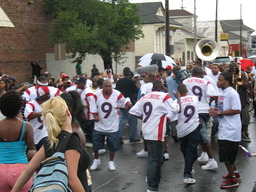 Hurricane Katrina Second Line

New Orleans, USA
August 30, 2010

14. Turn left at Esplanade Ave go 0.6 mi
About 3 mins total 523 mi

15. Make a U-turn at Bourbon St go 200 ft
total 523 mi

Destination will be on right

And that's how we arrived at Rian and Laura's new place.
---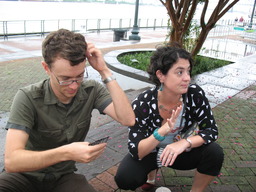 Rian and Laura Play
Spades Without a Table

A year-and-a-half after their wedding, Rian and Laura have just moved back to New Orleans to embark on new careers. Both of them are starting positions as professors at Loyola. Class begins today.
Pour single shot Smirnoff into glass
Drizzle equal amount brine from jar of pickled okra atop vodka
Top mixture off with tomato juice
Sprinkle in two dashes "Spicy Cajun" seasoning powder
Swizzle and garnish with two stalks pickled asparagus
And that's how you make a Bloody Mary at the Spotted Cat.
---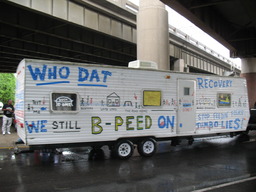 Ben and I have spent our final three days together down in New Orleans--often in some venue such as the Spotted Cat. Everything we do seems to revolve around food, drink, and music. Every minute of that time here has involved hanging out together with Rian and Laura.
They've been consummate hosts. Rian and Laura hosted us in their new place: a 19th-century mansion on the edge of the French Quarter. At some point the building was divided into quarters, creating four funky apartments. I'd never before seen a two-bedroom apartment with crystal chandeliers dangling fifteen-feet above.
Despite rainy weather that seldom let-up over our entire stay, those two have been up for everything. All four of us have tramped alongside more than one parade--sometimes with beverage in-hand. We've gone out for crabs, po' boys, muffulettas, beignets and cafe au lait--to name a few.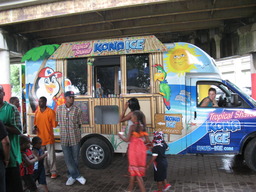 One afternoon, I asked Rian if we could play the card game "spades". I recalled how playing with him and Laura once--years ago, in Urumqi--was much more fun than I'd ever realized. It was more fun because Rian's house rules made it a better game. But I couldn't remember all his rules.
We hadn't been playing for more than a few minutes when the waitress at the place we were sitting, Cafe du Monde, insisted that card-playing was against their policy. So, we strolled on down the road. We couldn't find a table, let alone place for four to sit. So, Rian and Laura squatted along the banks of the Mississippi River facing me and Ben on a park bench to finish out our remaining hands.
Playing spades with Rian's rules did make for a great game--even without a table or chairs.
Everything about these days together in New Orleans has been so much fun. Thanks for being up for anything, Rian and Laura. Thanks for hosting and making our visit fabulous.
I just bid farewell to Ben, as well. New Orleans was the end of the line for our road trip together. He dropped me off at MSY and is now driving on west, back home to Seattle.
Me, I'm heading east, about to board a flight to Washington, D.C..