Cupcakes, Thali, and Dim Sum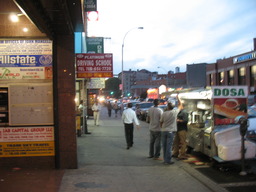 Jackson Heights

New York, USA
September 12, 2010

Sometimes I feel as-if most of the people I know--even friends within my own country--are friends I first met on the other side of the planet. Everybody I first got together with upon arriving here in New York was somebody I first met when hosting them as couchsurfers in Urumqi.

After my bus pulled into Penn Station, I wandered around mid-town Manhattan for about half an hour. I was just killing time. The friends I was to meet for dinner wouldn't be free until later in the evening. It finally dawned on me to make use of the time I had. I rang Catherine H.:

"Hey, are you here?", Catherine H. said, answering my call.

"Yeah. I just made it into town. I've got some time to kill before dinner. It's actually with a couple other couchsurfers I hosted back in Urumqi, same as you. You want to join us? Where are you now?"

"Probably not for dinner. I'm down in Chinatown with my old college roommate. She and I are going to stop off at a bakery on Broome Street and head up to the Strand Bookstore. Want to meet at either place?"

"Sure. Let's meet at the Strand."

Somehow we wound up meeting in Union Square and bypassing the Strand entirely.

"These are the pastries we picked up!", Catherine H. offered up a cardboard box that was heavier than I expected. "Let's get a cup of coffee to drink while we eat them."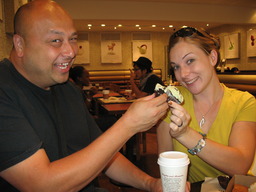 Cupcake Toast

We found somewhere, ordered coffee, and sat down. The box Catherine H. and her friend had brought up from the bakery had the oddest assortment of pastries inside: A rich "cookie sandwich" made of two cookies with icing slathered in-between. Doughnuts and brownies sweetened not with sugar, but with agave or maple syrup. A pumpkin-based cake with cream-cheese frosting. Cupcakes made without gluten.

"We got these all at 'Babycakes'," Catherine said. "Which shall we start with?"

"That icing-cookie-sandwich thing looks really good. Let's start there," I said.

The icing-cookie-sandwich thing was quartered and eaten.

Catherine H.'s friend, Mel, spoke up:

"Now I understand why they sell it that way... ," she said.

"Sell what which way?", I said.

"The shots. At Babycakes you can order a shot of just plain icing. It's so... good... ".

I concurred. The icing was good. Perhaps a personal visit to Babycakes will be in-order for this visit.

The icing-cookie-sandwich thing was the only item made with both real sugar and real gluten. The remaining pastries couldn't compare--but were still so good that the three of us ate up almost everything in the box.

Catherine H. arrived in New York not too long ago, herself: about one month prior. She's finally ended her years living in Oman to come here to begin law school at Columbia. (It was on a visit from Oman that she brought me the hookah-pipe I currently travel with.) We set a tentative date to smoke that together at some point before I leave.

I bid farewell and hopped on an F train to Jackson Heights. That's the part of New York where Craig and Morgan have moved to. As with Catherine H., they're also people I first met when they requested to stay with me through the CouchSurfing website, back when I was living in Urumqi. They've since moved to Jackson Heights which is one of the cooler neighborhoods I've seen. The blocks they live in are an ethnic jumble dominated evenly between immigrants from South India and immigrants from Columbia. This means it's common to see carts selling empanadas and quesadillas standing outside restaurants offering thali and dosas.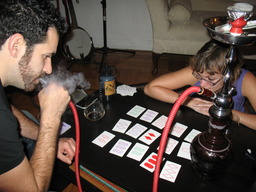 Craig, Morgan, SET, Hookah

Food came up right away when meeting up with those two, as well. At Dosa Place, just down the street from their apartment, Craig ordered an enormous dosa. Both Morgan and I opted for the thali--a full platter holding a variety of vegetarian dishes, each in its own metal cup: spinach, lentils, pickled mango, something with tamarind, rice pudding for dessert, and half-a-dozen others I couldn't place. It was all delicious.

Morgan has begun graduate school at NYU. Craig is in his final year of residency at a hospital in Jackson Heights. It's good to see those two again and to see them each doing well.

We finished the evening back at their apartment with a session around the hookah pipe (double-apple flavored tobacco) and an introduction to SET. Hopefully, the three of us will meet for a repeat session before I return to Washington, D.C..

It was at the end of the evening that I finally saw somebody I know from before my days living in China. Uncle Philip picked me up from Jackson Heights around 1:00 A.M.. He was driving back from an evening working at his restaurant in Greenwich Village. I'll be staying at his and Auntie Lulu's home in Little Neck over the days I'm in New York.

Once again it's come down to food. Uncle Philip, Auntie Lulu, and I are about to go down the street for dim sum. I think I'm going to have a very yummy visit to this city.