Double-Walled City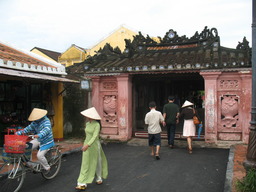 16th-Century Bridge, Hoi An

HUẾ, Vietnam
October 7, 2010

I love walled cities. I spent a full day here exploring just within the walls of the imperial citadel.

The old part of Huế is still ringed by stone walls. To enter the city, it's necessary to pass through one of several arched gates capped by a watchtower. But, then there's another layer. Just inside the south gate is a moat. The water encircles yet another wall. Beyond the moat and the second massive stone wall lies the imperial compound.

Laid out across a huge expanse within the compound are palaces, temples, and other formerly royal buildings. At the time I went, dozens more western tourists were also visiting the citadel. But, they kept mostly to the areas just within the main entrance: the watchtower atop the south gate, the throne room. Walking out to some of the farther-flung corners of the citadel I found nobody else.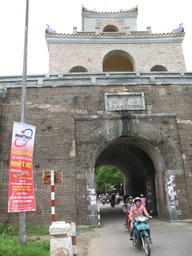 Huế City Eastern Gate

Perhaps most other tourists chose not to explore on account of the long distance from the main gate to the outer reaches. Perhaps they didn't have the full day free, as I had. Perhaps many people didn't expect to see much beyond the main attractions--many of the old imperial buildings are only now in the process of being restored to their past grandeur. Whatever the case, I found several serene corners where I could sit and take in the old architecture in solitude. My favorite spot was an old imperial residence hall built up in the center of a pond with lilypads floating about. Peaceful. Beautiful.

Before taking the train (from Danang) to Huế, I spent several nights in another old city: Hội An. That city was built up as a major commercial port several centuries ago, largely by traders from Japan and China. Many of the buildings they left behind still stand today--artefacts from a lost past, structures unlike any that still exist elsewhere in Vietnam. Small courtyards and wooden balconies are common. Lots of old Chinese influence is apparent in design, too, including long carved stone panels of vertical calligraphy mounted along pillars or carvings in characters running horizontally above entryways.

However, Hội An's charm has turned the city into a tourist-oriented caricature. The traditional archicture may be beautiful, but it feels less like a living town and more like one large backpacker cafe. Edging out historic elements of its past as a thriving mercantile port, the most common sight around the old town must be restaurant signboards offering cheap draught beer and western cuisine. (I do recognize that as a tourist myself, I must, to some degree, be contributing to this change... ).

Right now, I'm killing time. I'm taking the SE3, the overnight train up to Hanoi. It won't depart for another 3 hours, so I'm sitting at a cafe along the riverside, just the other side of the water from the citadel. I'm sipping on my current drink of choice: iced-coffee with condensed milk.

Next stop: Hanoi.
---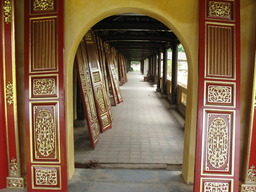 Fresh Coat of Lacquer on
Door Panels, Huế Citadel

Breaking news: My train to Hanoi has been cancelled. There has been flooding across central Vietnam over the past week. Somewhere to the north, the tracks have been completely washed out. All buses are full, so I'll have to take one more night here in Huế.

I have bought a ticket on a sleeper bus that departs tomorrow evening. A man with decent ability in English helped me out. Standing outside the ticket window, he introduced himself as "Mr. Pho". Evidently, he operates a restaurant of the same name just off the railway station and makes a sideline helping foreigners book tickets.

I seldom use tour guides or travel agencies to book tickets while on the road, preferring to just walk over to the station and pick it up myself. However, I was happy to pay whatever commission Mr. Pho might be taking on top. Trying to get a refund for my cancelled train and booking a seat with a bus company who would pick me up from my hotel--with my lack of Vietnamese--meant that it was worth it to pay a little more. Even with whatever cut Mr. Pho made for himself, the bus ticket wound up costing about two-thirds of what the train ticket cost.

Next stop: still Hanoi, but after an additional night here in Huế.