Forgotten Hookah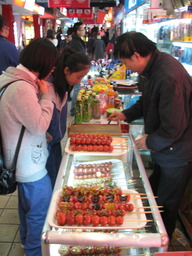 Sweet Skewered Glazed
Fruit - Hong Qi Lu

URUMQI, China
October 25, 2010

The scent of spiced kebabs wafting out in smoky plumes above smoldering charcoal. Jam-packed buses creeping through traffic. Speaking either Uyghur or Chinese, depending on which end of town I'm in.

I'm happy to be back in Urumqi.

The sensations I'm taking in at street-level are the lesser part of what I find so comfortable and familiar here. The greater part has been seeing old friends. I'm happily meeting up with people I haven't seen in a year.

Nisagul met me at the railway station when my train from Xi'an pulled in. We walked downhill together to a nearby hotel where Friederike was waiting. The three of us went out for lunch. It's as-if I never left. These were the faces I said goodbye to when I last left Urumqi, just over a year ago.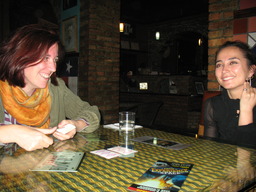 Friederike and Nisagul
at Texas Cafe

I just barely managed to catch Friederike. We've both been traveling outside of our home countries since the end of summer. She's presently taking six weeks away from her teaching job back in Berlin to make a trip throughout the Turkic-speaking world: Kazakhstan, Xinjiang... she'll wrap things up with several days in Turkey before flying back to Germany. Though I've been traveling around Asia for a similar period of time, myself, our itineraries managed only two days of overlap. She's just returned west, leaving last night on a bus back to Kazakhstan.

Hopefully, we'll connect again several months from now on this same trip as I make my way westward, ultimately arriving in Europe.

Nisagul has just finished another season of guiding tourists around Xinjiang. She says it's been a pretty good year. Lots of tourists came to visit from abroad as well as from other points within China. She seems to have done well. But, there won't be many more tourists coming with the weather getting colder.

As Nisagul will soon have more free time, I asked if she'd like to travel together again to southern Xinjiang when I press on from Urumqi. I'm considering making a repeat journey of the one that we made together to Tibet, five years ago. We'll see if we both feel up for that.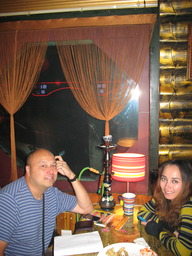 David, Nisagul, and
Hookah at Fu Bar

This afternoon, I got together with Meenday. She asked which places I'd already been to since arriving in Urumqi. I mentioned going to the Fu Bar, seeing people there, and smoking a hookah pipe.

"Why did you smoke a hookah at the Fu Bar?", Meenday asked me.

"You know that's something I like to do on occasion," I replied. "It's been over a month since I left America. I didn't bring my hookah with me on this trip."

"But, why didn't you just wait until now to smoke the hookah you left here at my apartment?"

"I left a hookah here with you? I had completely forgotten!", I said. "You still have my old hookah here? Can I see?"

Meenday stood on tiptoes to reach an upper cupboard. She pulled down a cardboard box which I remembered well once I saw it. I merrily extracted all the objects I had left behind. Not only were there all accoutrements necessary to assemble my hookah, I had also left behind half-a-dozen flavors of tobacco and a large supply of self-igniting charcoal briquettes.

"Oh, I am so clever!", I exaggeratedly praised myself. Meenday snickered.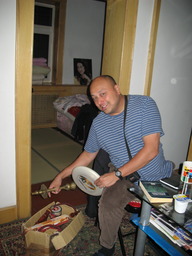 David Finds Hookah,
Frisbee, and Books

I dug down to the bottom of the box. In addition to the hookah necessities, I had left behind a Frisbee and three English-language books. The books were dense reading, a couple of them translations from turn-of-the-century literary works (i.e., Thomas Mann, Dostoevsky).

How perfect. I had finished two light books on the train from Xi'an. I was ready for something heavier to read. I had planned to go shopping at a foreign-language bookstore shortly after my arrival in Urumqi but just hadn't gotten around to it.

I remember leaving these things behind, making a calculated decision when I shipped my things back to Seattle when I left Urumqi three years ago. I reasoned that these particular books weren't worth including in the parcels I was sending. The hookah was battered and worn so might not survive a trans-continental delivery. But... maybe there might be some day in the future when I would be passing back through Urumqi. Happening upon everything in that box would be quite the bonanza.

Looks like that day has come.