Gallery at Faiz'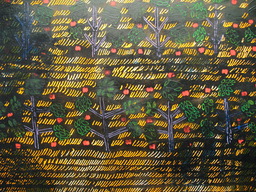 Saba Khan: Untitled Work

LAHORE, Pakistan
December 20, 2010

Three of us were up on the guesthouse terrace sitting around a low coffee table. The weather was unseasonably warm for one of the shortest days of the year and abnormally clear for a city as polluted as Lahore. I was spending time with a couple of the fellow travelers also staying at the same guesthouse off of Regal Chowk. Over the days I've been back in Lahore we'd already shared a session around a hookah pipe, a few drinks, and plentiful games of SET over our brief acquaintance. The two I was enjoying the afternoon sun with didn't strike me as typical backpackers. There was Wahid, eccentric artist from London and Irina, Ph.D. student of Vienna.

"This exhibition opening at the gallery this evening. What time shall we leave, then?", Irina asked Wahid.

"Oh, is there a gallery opening? What's on?", I cut in, curious about what sort of art scene might be happening around Lahore.

"It's an event at the family home of this local woman I've been in contact with since before I arrived here. She's set to exhibit some of my pieces later next year," Wahid said with a flamboyant bobble of his head.

"She's displaying the works of a local Pakistani artist," he continued. "Her installation will open in Karachi next week. But, here in Lahore--tonight only--will be a special preview. The gallery is actually in the family home of one of Pakistan's most beloved poets."

Wahid's description didn't sound bad. But, I wasn't certain I was interested in attending the opening until he answered my next question:

"Which poet's house is it at?"

"Faiz Ahmed Faiz."

"Oh my God! You're going to the opening of an art exhibition at the home where Faiz Ahmed Faiz lived? Can I join?", I said, unable to conceal how I amazed I was by what I was hearing.

"Sure. I think it starts at 5:00 but we'll probably leave the guest house around 6:00."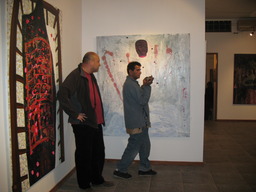 David and Wahid at Exhibition

I spent one year (long, long ago) living here in Lahore. Even before then, I had certainly heard of Faiz. Over my time here studying Urdu the poems of Faiz were often trotted out as masterpieces of the Urdu language. My level of Urdu was never high enough to read them without the aid of a dictionary, nor did I have the background knowledge requisite to truly appreciate his poetry. But I recalled how everbody knew and exalted the works of Faiz.

I couldn't believe it was possible that tonight I might just drop by the home where such a literary icon once lived.

The three of us shared a taxi out to the Lahore suburb of Model Town. The journey brought back a lot of memories. Driving that direction we were heading fairly close to where I myself used to live. The gallery was in G-block; my host family had been over in L-block. I probably cycled to school every day along the same road that we took up to Model Town.

We stepped into the gallery and began scanning the paintings on display. The artist, Saba Khan, was on hand. Not long after we entered an older woman approached me.

"How are you? I'm Salima Hashmi."

"Hello. I'm David. So, this is your gallery, then?", I said, though I already knew who she was. I couldn't contain myself. "Your father was... "

"Yes, Faiz Ahmed Faiz," she finished my sentence.

Irina and Wahid came over. We made small talk briefly. The artistic half of our group--Wahid and Salima--held an easy rapport.

"Would you like to see inside the house?", Salima invited all four of us in.

We exited the gallery through an office and crossed a small courtyard. We entered a home with many large, well-furnished rooms. Tall bookcases were stacked high with thick volumes: some in Urdu, most in English. Servants were on hand. Our hostess gave a tour of her home, bringing us from one room to the next to share her collection of contemporary Pakistani art. Framed original pieces were everywhere: in the hallways, in the sitting room, in the bedrooms.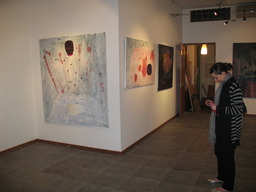 Irina at Exhibition

She pointed out particular pieces and mentioned the name of each artist and where they were currently working (mostly abroad). I knew nothing about contemporary Pakistani art, but was immediately taken by two of the paintings we were shown. The artist of the first picture was Shahzia Sikandar. Her style struck me as "Nouveau Mogul", rooted in traditional aesthetic of the miniatures painted during that empire, but incorporating modern elements. I also loved a work by Ali Reza. He appeared to have silkscreened colorful calligraphy exercises and instructions atop folios from a 19th century textbook. I quickly became intrigued by what was going on in the world of Pakistani art.

Before leaving, Wahid asked our hostess a question he had been pondering aloud for several days. He wanted to know the deeper meaning behind an obscure poem Faiz had written. Out of the likely thousands of poems that comprised his canon of work, I didn't assume that she would know the background to one particular poem. But, she answered right away:

"In that piece my father was talking about the Iranian revolution in the 1950s."

"I certainly hadn't considered that. But it makes so much sense... ", Wahid practically breathed out a sense of relief finally understanding the background behind the poem.

We said our thanks and our farewells. Salima invited us to an opening at another gallery this Thursday. The three of us crammed into an auto-rickshaw and made the bumpy ride back to the guest house where we all happened to be staying.

I can't believe I was just welcomed into the home of one of the most famous poets who wrote in Urdu. I am so glad I chose to come back through Pakistan on this trip.