Onward Visa II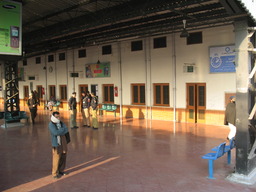 Peshawar Cantonment
Railway Platform

ISLAMABAD, Pakistan
January 1, 2011

Visa applications are always a headache. I'm yet waiting on the decision from the Iranian Embassy. It's been nearly three weeks since I submitted my application for a visa to Iran--the country where I hope to travel on to next from Pakistan. I knew beforehand that the process applying for a visa to Iran would require patience, long waiting, and quite possibly an ultimate refusal. I fully expected that I still wouldn't know by this date whether they would actually grant me a visa. But, what I hadn't expected was the rigmarole required in extending a different visa. Renewing the visa on which I entered Pakistan has turned out to be even more frustrating. I don't think I'll be able to extend my stay here.

Other travelers I'd spoken with all agreed that Lahore was the easiest place to renew a visa. Everybody said that the process there was straightforward and would cost nothing to add another three months to a current stay. So, I took a train back to Lahore from Peshawar specifically to renew in the city where I heard the procedure would be easiest.

When I went to the Passport Office the official on duty took one look at my passport and told me that I couldn't get the extension in Lahore. I would have to go to the Ministry of the Interior up in Islamabad.

"Is there no other place here in Lahore? Maybe some other way to get my visa extended?", I asked with little hope.

"No."

So:

Wednesday

I took the Daewoo bus--a ride of over five hours--back up to Islamabad and checked into a hotel.

Thursday

I took a taxi to the Ministry of the Interior in the morning. After passing through several security checkpoints, I found the hall where visa affairs are handled to be completely empty. It was well before noon when I arrived but a guard told me that the hour for processing applications had already passed. I would have to come back the next day.

Friday

I returned at an earlier hour to the Ministry of the Interior. After waiting for over an hour, I was given a form to fill out. I completed it, stapled my photograph on, signed it, and handed it across the counter along with my original passport. Ten minutes later stamps and scribbles granting the authority to issue a two-month visa extension were inked on. But, that was just the first step. No extension could be issued at that office. I was told the next step was to take all my documents across Islamabad to the Passport Office to submit along with another application.

I took another taxi from the Ministry of the Interior directly to the Passport Office. After waiting for about an hour, I was given an additional application form and told it could be submitted only upon presentation of a receipt from a particular bank branch in another neighborhood. I had to first pay a fee of $5 USD (Rs. 430 PKR) at the bank in order to submit my application. As the Passport Office was open only in the morning I realized there wasn't enough time left to return from the bank and submit my application. I'd have to finish the process the next day.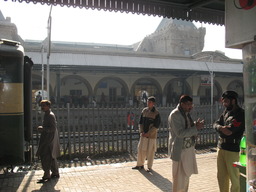 Rawalpindi Railway Platform

The bank seemed close enough. It was just a 30-minute walk from the Passport Office. But, when I strolled up they had already locked their doors for lunch--20 minutes early. A security guard told me to come back after 3:00 P.M.: a wait of over two hours.

I turned from the door and took a few steps away, standing outside the bank for several minutes deciding what to do. Could I find anywhere nearby to pass a couple hours? There wasn't much else around. Just as I started walking away, the security guard slid the folding metal gate aside, called out, and ushered me in. I filled a form out in quadruplicate and paid the fee. I tipped the guard on the way out. Happy, I took another taxi to a different neighborhood for lunch. I could finish the application over food, then submit it the next morning.

When I sat down to lunch I searched my shoulder bag but couldn't find the form issued by the Ministry of the Interior that morning. The bank receipt was inside, but the stamped visa extension approval wasn't. This time, the mistake was mine. I realized that I must have left the approval form lying on the counter of the bank. I took another taxi back to bank, which was still closed for lunch. I tipped the security guard (once again) who had let me in the first time when I came to pay the fee. Fortunately, my form was still lying where I left it.

Today

I took a taxi back to the Passport Office in the early morning. The wait wasn't as long as the previous day; it seemed like I was about to finally finish the process.

"Where is your paper?", the official on the other side of the glass asked me while inspecting my documents.

"Which paper?", I asked. Somewhere in the sheaf he was leafing through was everything requested: photographs, photocopies, applications, the payment-of-fee receipt, and even (by-request) a letter from my hotel attesting that theirs was the address where I was staying in Islamabad.

"Where is your authorization form? That will be enclosed in your passport. It is issued with your visa," the official said.

"This is all they gave me when I crossed the border from China," I replied, truthfully.

"Then, you must go back to that border crossing to get the authorization form issued. Or you could go to the Chinese embassy and have them fill out a form and we will issue the visa extension. Only then can we extend your visa."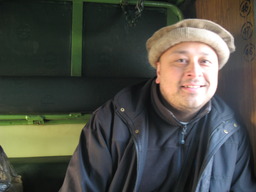 David on Train to Lahore

Either option sounded like far too much hassle.

"Is there any other way to renew my visa without going back to the Chinese border or getting the Chinese embassy to fill out paperwork for me?"

"No."
---
I haven't yet decided, but am contemplating whether remaining in Pakistan beyond my term of stay yet leaving the country by mid-January might be my best option. According to the official at the Passport Office there is no penalty for overstaying a visa by 14 days or less.
Else, I'll have to get a foreign embassy with which I have no relation to fill out and put official seal to some form. Or, I could go all the way back up the long road to the Chinese border and try to get the border guards who botched my visa to straighten the paperwork out.
My visa expires tomorrow.