Onward Visa III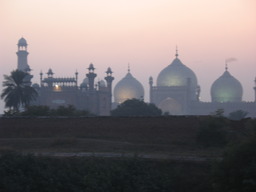 Badshahi Mosque at Sunset

ISLAMABAD, Pakistan
January 17, 2011

I've finally unraveled the red tape! Both of my visas: present-tense Pakistan visa and future-tense Iran visa are now squared away. Whew...

Renewing the Pakistan visa was a real mess. Getting a mere 15-day extension took several consecutive days of visiting various government bureaux. Almost nothing in this country has yet been computerized. Every office I went inside had high stacks of paper lining its walls. On every desk lay some long, bound register book into which each visa applicant's particulars were written out by hand along ruled pages. All the long hours of waiting aside, just stepping into such an inefficient setting felt depressing.

Every morning I'd arrive early at whichever ministry. Every day I was told that there was some small irregular detail that meant I couldn't extend my visa. Various officials at the Passport Office suggested several idiotic alternatives including, "Just continue traveling and depart the country on your expired visa. It might not be a problem," and "How about applying for an 'Exit Permit' which is ordinarily issued to stateless persons with no papers?"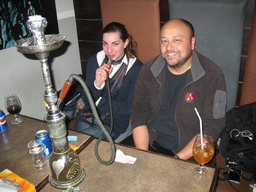 Hookah and Mint Tea

The easy visa to square away turned out to be the Iran visa. There was nothing for me to do but to wait for an answer from Tehran. It was a gamble to pay the requisite visa fee (Rs. 5,750 PKR = $67 USD) just to submit an application. The embassy said there was no guarantee the visa would even be granted--in which case the fee would not be refunded.

Exactly four weeks after I submitted my application the answer came: "Your approval code has come in. You can come to the embassy to pick up your visa."

Whiling time away in Islamabad (aside from my hours stuck inside government offices) has actually been a lot of fun. Since I've returned to Islamabad I've been spending every day with two other westerners. Like me, Irina has also settled what she'll be doing over the next months: her Pashto language classes at Islamia College in Peshawar are now scheduled and about to start. But as her instruction won't begin until this afternoon she managed to slip back here to Islamabad for a few days of play before the start of her studies.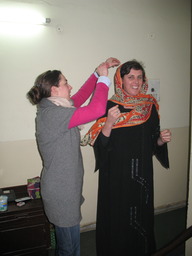 Irina Adjusts
Emma's Headscarf

Irina and I have been getting together every day with another westerner who is also biding time here in Islamabad. An Australian traveler we met back in Lahore, Emma, has come up to Islamabad for the exact same reason I did. She too has been trying to figure out the most efficient way to get a visa to Iran issued. It's been good to have regular company to go out with for meals, to sit with together around a hookah, or to rant with about the inefficiency of the bodies I collectively and sarcastically refer to as the "Ministry of Visa Refusals". The three of us must now be the most regular clientele of the Mint Cafe in Islamabad's F-7 sector markaz. In addition to food, drink, and hookah pipes, The Mint also provides wi-fi--making it an easy default whenever we consider where to venture from the hotel.

It's now Monday afternoon; I'm about to return to the Iran embassy. I dropped my passport off this morning. I was surprised when they said that the visa would be ready for pick-up at 3:00 P.M. on this very day. I expected that I'd have to leave my passport at the embassy for several days and return for it.

If my passport actually does have another visa stuck inside it an hour from now then my time in this city will be done. Then, later this evening Emma and I plan to take the Daewoo bus to Peshawar to visit for a few more days.

It feels so good to think that I'm about to actually be traveling again--rather than making motions through visa limboland. From Peshawar I'll head south to Mohenjodaro, west to Quetta, then across the border and into Iran.