Qawaalapalooza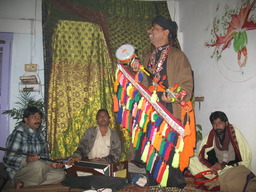 Sain Mohammad Ali Qawaali

LAHORE, Pakistan
January 25, 2011

Is it possible to experience too much qawaali music? In theory, no. Listening to qawaal is supposed to bring about mustt: a state of intoxication and trance.

Though I haven't yet reached trance state, I still haven't had my fill of listening--even after all of the qawaali performances I've attended. Over the last days I've been to performance upon peformance of qawaali. I could still carry on listening to more...

Qawaal is a genre of religious Sufi music. It's probably best known in the west for the voice of late singer Nusrat Fateh Ali Khan. These days, I don't think there are many places outside of Pakistan where qawaali groups exist, let-alone perform. Before this visit, I had seen qawaal performed live only a couple times. Once was during the year I lived here in Lahore studying Urdu. That was a performance given by one of my favorite qawaalis, M. Saeed Chishti. I think what appealed to me was his novelty of performing qawaal not only in the more-traditional languages of Punjabi and Urdu, but also in the far-less common languages of Arabic and English.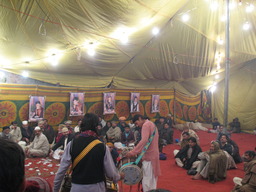 Drumming

No matter which language, lyrics all revolve around the traditional Sufi theme of "ana-ul-haq"--looking into one's own heart to find knowledge (perhaps even to find God) within oneself.

In addition to one or more vocalists (qawaalis) the standard accompanying instruments include a pair of drums: tabla and jhora. Requisite for the melody is the harmonium: an accordion-like instrument which has been incorporated into repertoire across the sub-continent since days of Portuguese colonization. The night I got my first fix of qawaal on this visit to Lahore the band additionally included a percussionist clanking out the beat with a long, floppy pair of blades.

That initial night of qawaal was an intimate performance specially arranged by Malik, the proprietor of the guest house where I'm staying. Malik has connections. He had no problem bringing Sain Mohammad Ali Qawaali and his entourage to play a rooftop performance for a small group of western guests staying at his guest house. Whether mustt was achieved we were all into it: dancing to the music and throwing rupees at the band.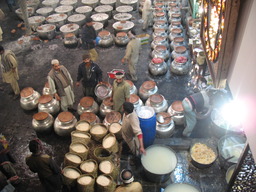 Cauldrons Boiling with Free
Food: Rice and Chicken

Attending qawaali performances the next day was just the opposite: joining in with a crowd of thousands. Yesterday was the first day of a three-day festival based at the Data Darbar Mosque near Lahore's Old City. A few other foreign travelers and I made our way to the mosque to find the surrounding area thronged with thousands of men animatedly taking part in the festivities. I hadn't anticipated that by the end of the night we would be invited into the heart of the mosque itself to view the best of the performances.

These celebrations were a recognition of the urs, or death anniversary of a particular saint: Hazrat Data Ganj Bakhsh Ali Hajveri. The guest house owner, Malik, had told us that the best qawaali bands were coming from all over Pakistan to perform. When we arrived we found every street and alleyway around the mosque packed with people: almost all of them men. Each corner offered something intriguing: Free meals of chicken and rice biryani cooked up inside the mosque and brought out to the people on the streets. Tents housing fakirs--skinny ascetics with greying dreadlocks--and drummers twirling around in the background while tattooing out a beat.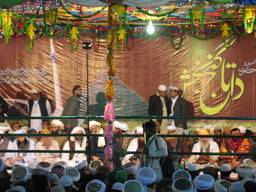 Sermons Inside Central
Prayer Hall

The local tradition of showering hospitality upon foreign guests served us well. I had just enough ability in Urdu to play translator for three other foreigners accompanying me inside the mosque. We were first led to the tomb of the very saint being celebrated. Then we were garlanded. I asked the policeman who guided us inside where we could see the qawaali performances.

"See that stairwell leading down over there?", the policeman pointed to what looked like a wall. "Come back at 9:00 P.M.. That's when the music begins."

We all returned at 9:00 and were escorted through the masses and down into a large, open hall some levels beneath the main prayer area and open plaza above. This hall was decorated in a flashier manner than I expected of a mosque. Each pillar was covered in lightbulbs cycling through bright cascades of flashes. They reminded me more of an old casino marquee than a place of worship. Neon signs pulsating along the walls proclaimed traditional affirmations of Islam: God is Great. Mohammed is the Prophet of God. Dangling from strings criss-crossing the ceiling were fold-out paper bunches of fruit: outsized pineapples, strawberries, and gourds. These decorations were clearly manufactured in China. Not only were there red tassels dangling in-between the faux fruit, there were also red paper squares hanging down with Chinese characters printed on either side. Fa cai 發財 (get rich) was backed by an ornate character associated with Buddhism. I wondered if anybody else in the mosque had any sense of their meaning.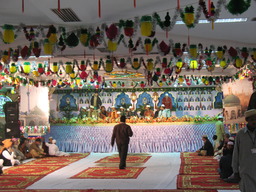 Main Stage inside Mosque

The music began late. Each band played a short set of 15 minutes or so. The acoustics were far from ideal, but it would be hard for anybody to miss the talent. After one particular band finished their time on-stage some of its members spied us foreigners sitting along the wall. The musicians made their way over and greeted us. I shook hands with two of the qawaalis who had just stepped down from the stage.

"You were wonderful! I really loved your music," I told one of them in Urdu.

"Thank you. Thank you very much," he replied. "Here," one offered me a business card and walked on.

I took one look at the card and gasped. I turned to Emma who, as a foreign guest, was the only woman allowed inside the performance hall.

"Those last guys who just performed... I actually own a few of their CD's back home. They're really famous," I said.

"Oh? Who were they?", she said.

"The Sabri Brothers. I can't believe I just shook hands with the Sabri Brothers... "

Mustt or not, I've certainly found these last few days of music utterly intoxicating.
---
Below is a link to a recording I made the first night of the qawaali extravaganza:
Live Performance: Sain Mohammad Ali Qawaali MP3 file 11 MB 12:10