Ancient City II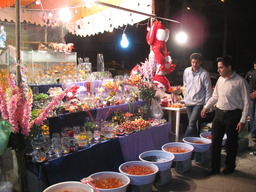 Shopping for a Goldfish

SHIRAZ, Iran
March 6, 2011

Shiraz is the inverse of Yazd. The city I just left felt like an ancient oasis over which the veneer of a modern city has been overlaid. Shiraz feels like a modern city that has comfortably woven its rich, traditional past into the present.

Upon arriving via overnight bus, Emma and I immediately commented to each other how the atmosphere on the streets of Shiraz feels more like that of a European city than that in any of the points we've traveled from farther east. The boulevards are clean, well-maintained, and occasionally paved with cobblestone. People down here pay a lot more attention to fashion than they did in the other cities I've passed yet far on this journey through Iran. Hair gel and makeup abound. Legwear for anybody under 30--men and women alike--is usually tight, tight jeans. Women may be obligated to cover down to mid-thigh with something additionally baggy, but most opt for a smart form-fitting manteau to cloak themselves off and still look good.

Nasir-ul-Mulk Mosque

One of the reasons I chose Shiraz as my next destination was wholly pragmatic. It was time to either renew my visa or to exit the country. (I can't believe that I've already been in Iran for an entire month.) Fellow travelers I'd met in other cities uniformly agreed that getting a visa renewed in Shiraz would be quick, efficient, and hassle-free--a better place to extend than any other city in Iran.

The word on the street was true. The entire process took just over an hour, including a side trip from the visa office to a nearby branch of Bank Melli to pay the extension fee (﷼200,000 IRR = $18 USD.) I have been granted another 30 days which I could stay on in the country--probably far longer than I'll actually need.

Though we'll likely follow separate paths again soon, Emma and I are yet traveling companions. (After parting ways in Mohenjo-Daro, we re-connected only last week in Yazd.) I've enjoyed touring around town, usually the two of us together, visiting the sights in and around Shiraz. The most famous attraction within the city must be the mausoleum of the poet Hafiz. The most famous attraction outside the city, if not in all Iran, must be the nearby ruins of the ancient civilization of Persepolis.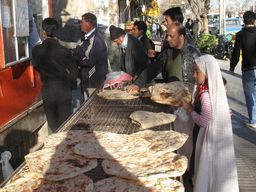 Morning Bread

First stop was Hafiz' tomb. It wasn't so much the setting that I found intriguing when visiting that site. The setting is pleasant enough: a marble coffin with calligraphy engraved across its lid rests beneath a gazebo. Surrounding are gardens and pools; recitations of Hafiz' poetry performed with traditional accompanying music are played over speakers situated throughout the grounds.

What I found special about the site was how much local Iranians care about visiting the grave of a poet and the reverence they display. Each of my first two nights in Shiraz I paid a visit to Hafiz' tomb. Over both of those visits I saw such devotion. One night, somebody came up and laid a long, single rose across the top of the coffin. Dozens of people were either aimlessly strolling about the grounds book-in-hand or silently sitting in some corner, reading a copy of the Divan-e-Hafiz, the anthology of the poet's collected works. Everybody seemed to want to get a photo of themselves, solo or together with friends, kneeling at graveside or standing in front of the famous pavillion.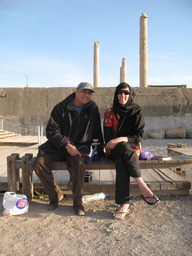 Portable Hookah Pipe
at Persepolis

Even less expected than this outpouring of devotion for a poet who died several centuries ago was the age of those who came. Both of the nights I went to Hafiz' tomb most of the crowd seemed to be an even split of men and women in their late teens and early twenties. I can't think of any other countries where visiting the grave of a poet would be a popular way to spend an evening out.

The other highlight of my time around Shiraz has been visiting the ancient site of Persepolis. En route by local minibus, I still wasn't sure whether the carved marble reliefs, columns, arches and grand stairways would measure up to the recollection of my first trip to Persepolis three years ago. It all seemed so magnificent then. But, part of what stunned me on that initial visit to the site was how ignorant I felt. I recognized that, had I not known where I was, I would have mistaken those carvings, columns, and relics as being from some entirely different civilization--perhaps ancient Greece or Rome.

Even knowing beforehand just what I would see, this second visit to Persepolis was equally impressive. I'm really glad I made the return journey. It felt like stepping back into ancient history for a day.

Grandeur aside, maybe it's just that I enjoy the sites where I can climb all over and run all around to experience the history. Or, maybe it was Emma's idea of packing a picnic lunch to eat in the center of Persepolis--then sharing a hookah pipe (coffee-flavored tobacco) for dessert--that made it such a great visit.