How Long Here?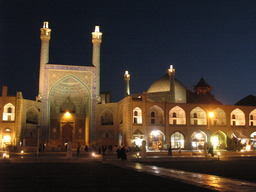 Imam Mosque

ISFAHAN, Iran
March 13, 2011

What makes Isfahan one of my favorite cities? I have a strong affection for Islamic art so the obvious answer would be its architecture: several of the mosques (Imam, Jama', and Lutfullah) are considered among the most beautiful in not only Iran, but in the entire world.

But it's not strictly the Islamic architecture that makes Isfahan such a wonderful city. There are several enormous, gorgeous stone footbridges spanning the Zayandah River, each built several centuries ago. On the south bank of the Zayandah is the Armenian Quarter, Julfa, with its coffeehouses, flashy shopping malls, numerous churches, and centerpiece Vank Cathedral--which houses the most colorful frescoes illustrating biblical scenes. Isfahan is a city rich in palaces and gardens. Its bazaar is alive with craftsmen beating out copper pots in one stall while others delicately brush miniature paintings in the next.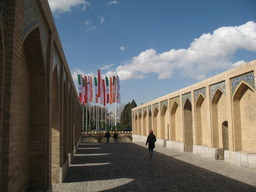 Crossing Khwaju Bridge

I may be overly focused on the historic elements. Anybody walking down the street can see that Isfahan is also a modern city. Its downsides include traffic jams compounded by interminable construction on a metro system. Progress on that project looks like it hasn't gone any further than the point it had reached when I was last here, over three years ago. Most blocks throughout town do feel less fairytale and more typical of any other city on the planet, today. But... there is so much around Isfahan that is rare and special. I'm enjoying taking my time to casually explore the city. I've haven't decided how long I'll stay on in Isfahan. But know that I'll be here for at least a week.

Getting to Isfahan from Shiraz was an adventure of itself. Rather than taking the direct bus which would have taken six-or-so hours, Emma had read about a route through the Zagros Mountains that would be more scenic. It would also take a couple days. Our route to Isfahan required overnight stays in a couple small cities en route: Yasuj and Shahar-i-Kurd.

As smaller cities with far less tourist traffic, we easily encountered curiosity, generosity, and welcome in both towns. Locals are generally receptive and open when encountering visitors throughout Iran. But, in the more heavily-touristed cities an apparently friendly conversation on the street can sometimes just be a come-on to someting entirely unwanted, such as an invitation to a carpet shop or aggressive selling of service as a tour guide.

Our experience in Yasuj was quite the opposite: people were genuinely surprised to encounter foreigners. So many wanted to help us out with no ulterior motive. My favorite interaction there began while happening to cross the road at the same time as a couple of university students. Midway through traffic one of them turned to us to try out her basic English, "Welcome to Iran!"

Soup to Go

We continued chatting on the other side of the road. In making conversation we happened to ask the perfect question: what sort of local dishes were available in Yasuj? The two students agreed that there was a particular type of soup, ash-i-kurd that was worth trying. The students led us to a non-descript storefront. I wouldn't have noticed the place had I walked by on my own as it was sandwiched between garages with mechanical parts scattered inside and out.

The soup shop turned out to be not a restaurant but a takeaway that sold large bowls of soup for 10,000﷼ rials, a little under $1 USD. We ordered the last of the ash-i-kurd and a bowl of their other flavor, ash-i-sabzi. The students insisted on treating us by paying for the one other offering at the soup shop, a massive bowl holding several portions of dessert: halva spiked heavily with saffron.

Yummy soup; lovely interaction. It was such a brief and simple affair but I did notice how, over the rest of our time in the city, Emma and I kept remarking on how much we liked Yasuj. I think our outlook was keyed to that small act of generorsity.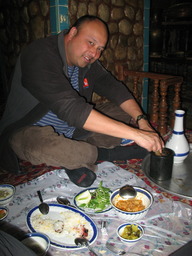 Mashing Dizi
in Teahouse

I'm now traveling solo again. Emma has skipped on far ahead: she left yesterday for Tehran. I enjoyed our stint together out on the road. It was good to have a period with a travel partner, somebody to split costs with and to go out together with during the day. Perhaps catch you somewhere in Europe, Emma, should our itineraries mesh once again...

Once more on my own, I'm out exploring Isfahan according to my own timeline. When going to tour the attractions I linger as long as I please. Mostly I just sit, appreciating intricate turquoise tilework and attempting to decipher walls of calligraphy. Then, after finishing the visit to whichever beautiful buildings that begins my day, I take route 91 from the city center across the river to the Armenian Quarter, Julfa.

Almost all businesses throughout Iran shutter up for a siesta from mid-afternoon to early evening. The coffeehouses of Julfa are the exception. With nowhere else in the city open, it's the perfect place to while away my afternoon: over coffee with a fast wireless connection to the Internet.

That's just where I am now, at a place called "Cafe Shadow". I've finished my treat and am contemplating. In-part, I'm deciding whether to order another cup of coffee. But, the harder decision is in calculating how many days of stay in Isfahan will be enough.