Charmed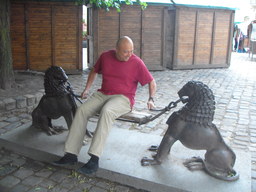 David In Central Square, L'viv

L'VIV, Ukraine
June 24, 2011

The first time I heard of L'viv it sounded overly romanticized. Could any European city really be that beautiful, really be that traditional? But the word was coming from a trusted source: my well-traveled old friend, Jochen.

While visiting him once years ago, I remember how Jochen kept going on about a particularly charming city in eastern Europe that had escaped the bombardment of World War II. He referred to the city as both "Lvov" (its Russian name) and as "Lemberg" (its German name.) He was absolutely gushing about the beauty of the city--high praise from somebody born, raised, and living in Europe. But, this conversation of ours was held back in the 1990s. I didn't imagine that L'viv (the city's Ukranian name) could still be so charming.

But, so many years later, I too have been taken by L'viv. The other cities I've just visited throughout Ukraine had a different feel. Kiev felt like a contemporary city stepping into the 21st century. Odessa somehow retained a fin-de-siecle aura. L'viv strikes me with an ambience stretching even further back. The core of the city could be as it was in the 19th century.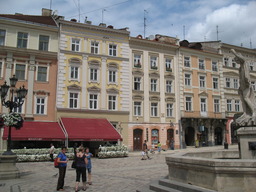 Central L'viv

The architecture. The traditional Lvivske brewery. The central streets that dead-end in some alley that leads to even more exploration. The courtyards passing between blocks, offering glimpses of ordinary life in-between. The churches, the churches, the oh-so-many churches.

Sorry if I'm over-romanticizing. This city is really cool.

Irina and I have taken on one final apartment sublet for this last leg traveling together. We've just finished three nights in someone's cozy, converted attic atop 18 Virmenska Street. The flat is one block north of L'viv's central square. Two blocks further east along Viremenska Street at the end of a dead-end alley we stumbled upon what became our favorite place in L'viv. Restaurant Pid Klepsidroyu has a good local menu offering simple, fresh ingredients turned into yummy dishes. They also have a twist to some of their selections, including unique creations such as chunks of pork fat dipped into chocolate and frozen on a skewer.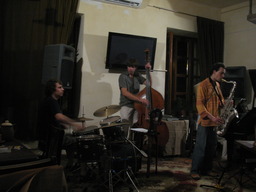 Jazz Quartet (Piano-
Player Obscured)

We've made return visits to Pid Klepsidroyu for its menu, for its wi-fi, for its hot chocolate, and for its music. Last night a jazz quartet of twenty-somethings performed until closing-time. Their style reminded me of some other familiar combo that I couldn't quite place. It sounded sort of like the Vince Guaraldi Trio. Could it be Dave Brubeck? Or were there elements of Jan Garabek? I gave up, deciding that I wasn't enough of a jazz afficiando to determine where their influence stemmed from. But, I did feel pleased when they concluded their set with an actual Dave Brubeck number, an improvised version of "Take Five".

Irina and I have explored somewhat further afield from this favorite restaurant of ours. I realized that time here in L'viv would be my last opportunity to dine at restaurants offering the cuisines of the Soviet Union. My stay in Georgia last month served me well. If I hadn't passed through that country so recently I don't think I would have remembered to order khincali among other particular Georgian dishes at Tflisi Cafe, last night. Then, this evening we ate Uzbek at Bokhara. Everything Uzbek is so similar to everything Uyghur that I didn't have to pause for one moment to decide what to order. Manta, laghman, shurpa: it was all so good. Sadly, tonight's dinner will probably turn out to be the last Central Asian cuisine I'll eat for years.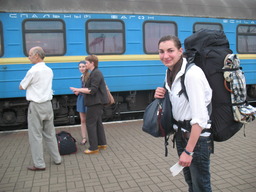 Farewell Irina

These two weeks around Ukraine have been the surprise leg of my journey. I'm utterly charmed. I now have yet another country I hope to make a return visit to, someday.

I've just parted ways with Irina. We each have a ticket on a westward train out of L'viv. Hers came first. She's already left on a 21:20 train via Budapest connecting on to Vienna. I'll be leaving on an 23:59 train via Krakow connecting on to Berlin. (Why do I always get the midnight train?)

We said our farewells on the railway platform. I hope we meet again someday, Irina. Perhaps our paths will cross again in Europe. Though, given each of our directions it's probable that we'll see each other somewhere completely different--more likely in the Americas or somewhere back on the subcontinent.

My train is about to pull in. Next stop: Krakow