On the Road Again II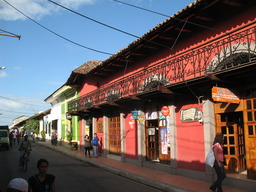 Granada

GRANADA, Nicaragua
December 23, 2011

We've each had reason to be happy to stop off in this city for a few days. For me, it's because I'm glad to now have the sense of feeling back out on the road in travel-mode again. I spent my first ten days in Central America laying low in a small Costa Rican university-town waiting for Irina's term to finish; I'm glad to be on the move. For Irina, she's clearly happy to be out on vacation and away from familiar routine. After spending her last four months in Costa Rica she was itching to be anywhere outside of that country. I had proposed beginning our journey by working our way slowly out of Costa Rica by first visiting areas within the country, but she nixed that idea immediately. We instead made a beeline for the Nicaraguan border as soon as Irina's courses finished.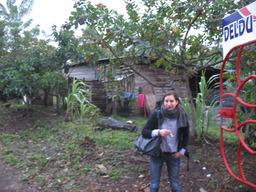 Irina at Border Town
of Peñas Blancas

We haven't made it very far into this country. The city of Granada is our first stop in Nicaragua. It's one of those cities rich with both character and history so is an attractive place for casual travelers like us to pause. The Spanish first established Granada some 500 years ago. Today, the city is still filled with elaborate colonial-era buildings painted in range of soft, bright colors. A more recently built, yet still lovely, church has domes towering over the central plaza. We hadn't specifically planned to spend any amount of time here--but have been swept in by the pleasant atmosphere. We're likely to be here for about a week.

I'd never heard of it before making this trip, but have found this city is certainly well-entrenched along the beaten traveler path. Plenty of establishments are capitalizing on Granada's appeal to capture their share of the tourist dollar. A strip of restaurants and bars offering menus in English and dishes such as spaghetti and cheeseburgers runs through the center of town. We tend not to patronize those places desperately appealing to western tastes with bands covering "classic rock" or offers of "double-shot 2x1 drink deals"--though we have become regular patrons of a couple of the many pleasant coffeehouses around Granada.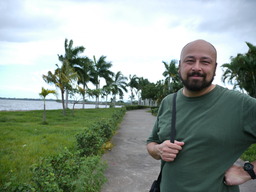 David Along Shore
of Lake Nicaragua

One such place dubs itself the "Chocolate Museum". On display are fairly thorough exhibitions detailing the growth and production process of cacao and its transformation into the familiar forms we find chocolate in today. But, what I found more appealing than reading long statistics about worldwide chocolate consumption was the setting itself. The Chocolate Museum was housed in a large old building surrounding a central courtyard of tropical plants. The menu included a drink based on a more traditional recipe for preparing chocolate: a frothy slurry mixed up with cornmeal. That flavor combination was good, though not as tasty as the sweet iced-cacao drink Irina ordered.

Most of our other meals around town have also had ingredients indigenous to the Americas at their core. We usually head to the central plaza for dinner. A dish called "vigoron" served up by kiosks and carts dotting the fringes of the main square seems to be made from a pile of steaming hot cassava root topped off with cole slaw and pork cracklings. A "nacatamal" is cornmeal mush with chile pepper, onion, and choice of meat rolled up inside. I wouldn't expect the ingredients throughout Central America to vary much, but Irina insists that everything back in Costa Rica is bland and boring--so is happy to find fresher, better offerings on this side of the border.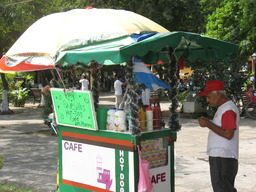 Hot Dog Pushcart

We have an additional reason to stay on in this town in addition to soaking up the ambience and sampling the local food. Irina has some research papers to finish writing by the end of the year. That's been a nice excuse for me to slip off and explore the city on my own. It allows her time to focus on her studies. I more often than not end up somewhere like the Chocolate Museum for another local treat.

We'll be here in Granada for some days longer. Then, our next stop will be either the big capital city of Managua or another city of similar colonial era to where we are now: Leon.