Lobster and Coconut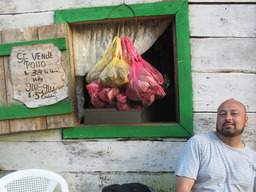 Glu-Glu Break, Kokra Hill

LAGUNA DE PERLAS, Nicaragua
PEARL LAGOON, Nicaragua
December 31, 2011

A young couple in a canoe paddled up to where Irina was sitting out on the sand. After pulling their boat ashore, the man repeatedly hacked a machete about the green skin of a coconut. Eventually, a small hole was shaven open allowing the juice inside to flow out. Hole-side-up, he offered the coconut to Irina.

I was a short distance off, swimming in the waters of the Caribbean. Irina called out to me. The two from the canoe also waved at me. I waded ashore and was proffered a coconut of my own. The canoe couple spoke no English and didn't attempt to say anything in Spanish. The village whose beach we were enjoying, Awas, is populated by an indigenous people, the Miskito, who have managed to retain their own language.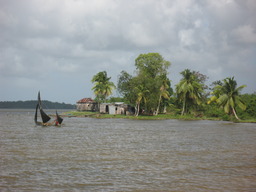 Boat Sets Sail, Awas

During our afternoon along the beach of the village of Awas we were approached by a couple other friendly locals, ones who could speak English well. They were happy to chat and invite us around town to see more. Both of these encounters also included invitations to come drink "coconut water". People along this shore have been extremely open and welcoming.

So, that's how Irina and I spent this last day of the year--splashing about the Mosquito Coast. We've been based in the village everybody in the area calls "Pearl Lagoon" but all official maps indicate to be "Laguna de Perlas". Today, the main language spoken along most of this stretch of the Caribbean is no longer Miskito--but nor has that been replaced with Spanish. Most people we've interacted with over our past days in the area have been native speakers of English.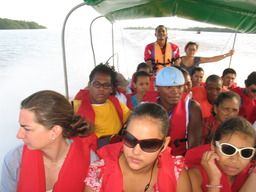 Boat from Bluefields

I suppose that had I reflected more on the history of the Caribbean it would have come as no surprise that, even here in Nicaragua, I'd encounter plenty of people whose first language is English. I can communicate fully, though what people here speak is not the same English I speak. It's more of a creole. To me it sounds very much like what I've heard people from places such as Trinidad and Jamaica, speak.

The culture here feels West Indian in ways other than the majority of people speaking in Creole. Bars and restaurants here blare reggae rhythms at volumes that can be heard several blocks away. Unexpectedly, the ubiquitous hand-crafted video jukeboxes around town seem to alternate every reggae cut with the next selection as some country/western ballad. That's a genre I had thought was popular strictly within the U.S.--and even there limited only to Southern and rural areas. I don't think I've heard country music played elsewhere in the world.

I might still be in Nicaragua but it feels as-if I'm somewhere very, very far from Latin America.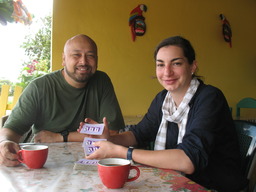 Coffee Break, Acoyapa

Tonight is New Year's Eve. I realized that this will be the end to a year that has literally been spent around the globe with Irina. We began the year together in Islamabad. Now, we're ending it on the opposite side of the planet, along the Caribbean Sea. In-between, we've traveled across ten countries--and are set to continue on through Central America to several more over the next two weeks. Clearly, we make for good travel companions.

We plan to take advantage of our seaside location for a nice final meal of the year. Last night, we happened into Queen Lobster, a thatched hut along the shore that served up the best shrimp cocktail I've ever had. We're going back tonight. Fresh seafood is so ordinary and plentiful here that even going out for shrimp one night and lobster the next doesn't seem an indulgence.

Happy 2012 to all!