Reality TV with Pastries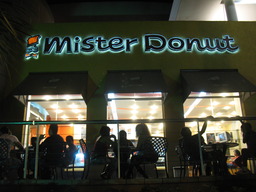 Mister Donut, San Salvador

SAN SALVADOR, El Salvador
January 9, 2012

"Hey, you know what we should do tonight!", Irina asked--her words ending with a rise in voice and volume.

We were up in Suchitoto, a well-preserved colonial city set in the hills of El Salvador. The town was laid out along the standard conquistador template: a cathedral stood to one side off the central plaza; avenidas and calles criss-crossed in perpendicular cardinal directions. A 30-minute walk along winding streets led down to a large lake. Pleasant as the place was, I had no idea what Irina could suddenly find compelling to do anywhere after dark. Quaint with long history it may be, Suchitoto is small, remote and closes down quickly after dark.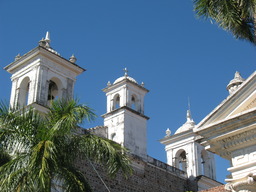 Cathedral, Suchitoto

"My download of another series of the Apprentice finally finished. We can watch a season with the celebrities."

"Oh, yeah!", I exclaimed.

Maybe I was more excited than I ought to have been. But, I'm not embarassed to admit that our mindless TV-watching ritual has now spanned several continents together.

Since her suggestion back in Suchitoto, we've already viewed enough episodes to recognize that we prefer the series with non-celebrity contestants. The drama and interaction seem more scripted with the celebrities. Irina suspected that some had contracts engaging them for only the initial weeks so would be certain to be fired sometime early on in the drama. I believe she was right. All the same, we're hooked yet again, each guessing who will be the last man standing. (She picked the cowboy crooner; I picked the aging super-model.)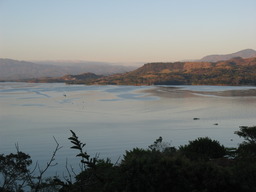 Lake beneath Suchitoto

This first visit to El Salvador has found me unexpectedly nostaligic. The neighborhood where I grew up in Seattle has for many years been home to The Salvadorean Bakery. I've found that an ideal option to go to for brunch or to pick up pastries for special occasions over periods when I lived nearby. Pupusas, budin, borracho--coming here and finding such familiar items on the menu has made me excited to sample both the differences in those I recognize and to try those wholly unfamiliar to me.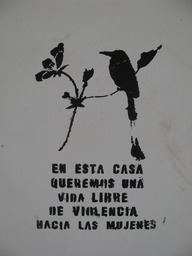 Anti-Domestic Violence
Silkscreen on Wall

Now, out of quaint, colonial Suchitoto and here in the (relatively) bustling capital of San Salvador, I've seen a lot of other familiar food from the U.S.. Though, this is not a cuisine I've been curious about going around and eating in the name of nostalgia. I have, never in my life, seen any other city that has so many franchises of fast-food chains. The best-represented of the American chains here seem to be Wendy's Old-Fashioned Hamburgers and Pizza Hut. I've even seen streets in San Salvador where a fast-food restaurant will have another location of the exact same chain, situated just one block apart.

King of all fast food in El Salvador is a chain I was unfamiliar with before coming to this country. I'd never previously heard of Mister Donut, who is sometimes seen in cahoots with his neighbor, Mister Cakes. Irina and I decided that to have an authentic Salvadorean experience we'd have to try Mister Donut at least once before leaving the country. On the way to the bus station we paused at one of several 24-hour Mister Donut locations in mega-shopping mall, Metro Centro. We each ordered coffee and an empanada.

I kind of like Mister Donut.

Next stop: Antigua, Guatemala