2012 Minus 16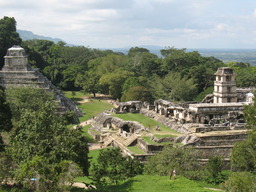 Palenque

PALENQUE, Mexico
January 15, 2012

After 16 years, I've finally made it to Chiapas. Years ago, on my first trip to Central America I was heading to this area. I had made it to within just a few miles of the border. But, I found myself in a situation where I decided to make an enormous detour. I turned around in the opposite direction and crossed through another country, rather than continuing on to the area I wanted to see.

That first time when I was on my way here, I had just left Flores, Guatemala. I was heading west toward the border with the Mexican province of Chiapas. Specifically, I wanted to visit the colonial city of San Cristobal de las Casas and the Mayan pyramids of Palenque.

But, I chose the wrong route. Looking at a map, it seemed like the most direct way would go from Flores to a small town called "El Naranjo". The road continued off in another direction, but at El Naranjo there was a river flowing into Mexico. The border was just a few miles away. I reasoned that I could arrange some kind of passage on a riverboat.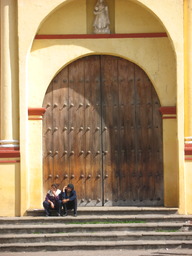 Cathedral Door, San
Cristobal de las Casas

I wasn't the only one choosing the wrong route that day. Among the passengers on the bus to El Naranjo was one other foreigner, an Irishman named Karl. He had the same idea and was hoping to make the same journey I was. Once we arrived into El Naranjo, the two of us did find passage on a boat fairly quickly. But, we also found that the whole town was controlled by an indifferent man who probably wasn't even 30.

"Sure, I can arrange a boat to Chiapas," he told us. "For $80 USD. Each."

That was a ridiculous amount for a journey that would probably take under an hour. We stepped into the lobby of the town's sole hotel to consider our options. That's where we ran into two other travelers, both from Jamaica, who were in our same predicament.

"We are so happy that you are here!", one of the men said. "The man who owns this town wants $300 for a boat to Mexico. Now that you have arrived we can share it four ways. Or, are there more or you? There is room for six on the boat. It will be cheaper if we go together. We have to go this route to get back to Jamaica."

Karl and I looked at each other.

"How long have you been here?", I asked.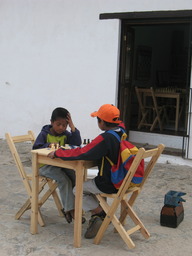 Shoeshine Boys Take
Chess Break

"Four days," the man from Jamaica responded. "We want to go home."

Karl and I looked at each other again.

"There has to be some other way out of this town," Karl said.

But there wasn't. We were referred back to the same young guy, now lounging in a hammock off the hotel courtyard as the only one who could arrange transport. "Okay, I give you a discount. Not $80. $300 for all four of you."

Karl and I decided that, rather than give any money to this guy, we'd take the only alternate route. We'd have to go back to Flores, continue on east to one of Guatemala's other borders into yet another country, Belize, then head out north across the Belizean/Mexican border. The cost of doing so would probably at-least equal that of the riverboat route--but we weren't giving this jerk any money.

"Uh, no thanks... ", I told him. "We'll take the long way around to Mexico."

"Go ahead," he said nonchalantly. "But, the daily bus is the one you came here on. It has already left. You'll have to stay at my hotel for at least one night. That will be $13 USD. Each."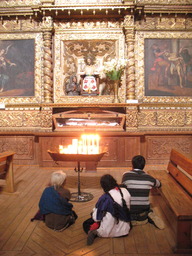 Worshipers, San
Cristobal de las Casas

We were both infuriated. But we got very lucky. After dusk, a bus pulled into El Naranjo. It wasn't a scheduled run. After dropping off its passengers, it turned around to return to Flores. Karl and I joined the driver and conductor as the extra bus' sole passengers back to the city we had left that morning.

Before hopping on the bonus bus out of Naranjo, we apologized to the two Jamaican guys. They, for whatever reason, were unable or unwilling to join us in taking the long route around through Belize. They seemed understanding that we were neither sticking around nor paying for the usurious boat to Mexico.

Karl and I parted ways upon returning to Mexico. He went off to Merida; I went on to Mexico City. Karl was a professional photographer. After he returned to his New York studio, he mailed me a black-and-white 8" x 10" print of a shot he'd taken of me in Guatemala. I still have it.

We did manage to avoid getting ripped off. But, taking that long route around through Belize meant I never did see Palenque and San Cristobal de las Casas. Until now.

Now that I have seen these places, I don't think 16 years have made a difference. I figure there's likely not a lot that's changed over that time to pyramids the Maya constructed a couple-thousand years ago. Though the city of San Cristobal de las Casas may have seen more change over that time, I figure the colonial architecture constructed by conquistadores 500 years ago probably looks about the same now as it did back then.

I've really enjoyed what I've seen of Chiapas. I'm glad not only that I've finally seen an area I've wanted to visit for so long, but believe I got here just in time. Isn't 2012 supposed to be the end of the Mayan calendar?

Next stop: Mexico City