Placement Pending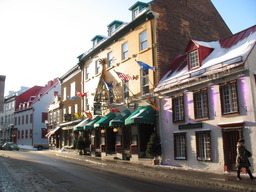 Québec City

QUÉBEC, Canada
February 11, 2012

It just struck me that eight years ago I went through this identical process: arriving into another country planning to study the local language for the next year.

The two experiences couldn't be more different. Back then, I essentially showed up on the other side of the planet in the particular region where I wanted to live without knowing anybody there. I did eventually manage to settle in and sort everything out: where I could study the topics I wanted, an apartment to live in, and what-all was where around town. But it took me a long time to figure everything out as I didn't know anybody who could offer direction when I arrived.

Landing somewhere new and setting myself up has been a lot simpler this time. I had just one tenuous connection to Québec City, a friend-of-a-friend-of-a-friend--but that connection was to exactly the right person. (For those who read this 'blog regularly enough to follow who's who, the degrees of separation link from me to my youngest brother, Alan, through his girlfriend, Devon, and finally to a language teacher she studied under while at college some ten years ago.)

Émilie is the perfect contact to have here. She teaches French to immigrants newly arrived in Québec--though for a program different from the one I've come to attend. She works for an NGO that offers support to arrivals from developing countries and to locals on the margins of society from the indigenous communities in the north of the province. Her students sound like a fascinating bunch. Just this week she's started teaching new classes to two blocs of students recently arrived from refugee camps: one composed of ethnic Nepalese expelled from Bhutan, the other composed of Rohingyas who fled Burma. I'd be curious if any of them filter across programs and eventually become classmates of mine--I've never met anybody from those parts of the world.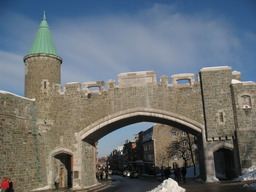 Place d'Youville

Though she isn't connected to the program I've registered for, Émilie has helped tremendously with all my other practicalities. Offering up a couch to crash on over my initial, disoriented days in town has been invaluable. Her flatmate knew somebody in their neighborhood, Limoilou, who has a furnished apartment to share from the beginning of March. I viewed the place and got along well with the guy letting it out. Despite being a little pricey and a little far from the university, I think I'll move in there, assuming my enrollment in courses proceeds as hoped.

Émilie has helped facilitate other connections. Another friend of hers who I met one evening teaches English at a local language school. He mentioned that his workplace has an open position for an English teacher that they need to fill immediately. By the time I sent in a cover letter and hastily updated resume it might have already been too late to apply--but I hope that does lead to something. I could use a weekend or evening job. Regardless of any other experience or capabilities I may have, teaching English is probably the only job I could work in this city. It's really, really Francophone here--most people in Québec City seem to have minimal, if any, ability speaking English.

So, from one perspective things look good. I now have an apartment arranged that I could move into after a couple weeks, the possibility of work, and have completed the final step before being placed into my course--the language assessment. But, even though everything seems lined up, beginning my life in Québec is still in the hypothetical. I might not be able to start anything immediately: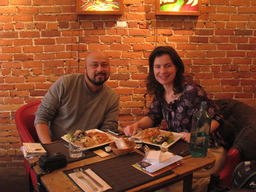 David and Émilie
at Cafe Babylone

I have yet to hear back from anybody regarding that English teaching position. More importantly, I'm still on the waiting list for my French courses this term. I've kept looking back at the official website to make sure I didn't make some mistake. I'm certain that based on the date when I submitted my application I should have been enrolled this term. But, I haven't been offered a place. The office overseeing the program has told me that, perhaps even as late as Monday or Tuesday I could receive a call to come in to fill in for some other student. Evidently, places do open up every term when students either never show up or drop out.

All the same, I'm beginning to formulate alternate plans if neither a job interview nor a place in French course is offered to me next week. I really do like what I've seen of Québec City over this past week. Quaint castles and city walls, friendly people, amazing bakeries and pastry shops--I know I'll be happy living here for at least a year. But, if my program doesn't begin until the spring term, it sounds far more pleasant to leave frigid, snowy Québec City to ride the winter out anywhere with better weather. I'm always happy to hit the road and take another journey exploring different corners of the planet.

Émilie, thanks for helping me so much with my arrival here. I'm sure I'll see more of you around town. If I hear good news soon, that will be as a neighbor living just a couple blocks across Limoilou. Else, I'll come back to settle down when the spring term begins. Wish me luck.