Le Weekend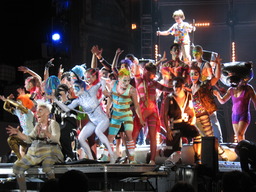 Cirque du Soleil 2012

QUÉBEC, Canada
June 25, 2012

Can I confess how bad my French was before beginning this program? When I was first charting out the schedule set by the Ministère de l'Immigration et des Communautés culturelles (a.k.a., the good folk who bring the Free French) I noted that there would be a certain number of "journées pédagogiques". I completely misunderstood, interpreting the first word to be equivalent to English "journey" and the latter to be "educational".

"That must mean a 'field trip!'," I incorrectly reasoned. It wasn't until an actual Canadian informed me that the term meant something more akin to a "teacher training day" that I realized the expression didn't mean an excursion out with the entire class. I was disappointed.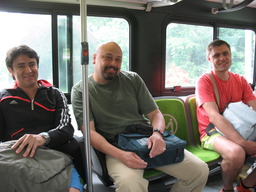 Students Represent Colombia,
U.S.A., and the Ukraine

But, this past week we did take the first of what will be several class excursions. (The correct term for a field trip is actually a sortie.) Students and teachers of Levels 1 and 2 of the language integration program piled onto route 800 from Université Laval campus to Vieux Québec. We all played tourist wandering throughout old Québec then down the hill to the ferry slip. We caught one of the boats that shuttle every twenty minutes from Québec City to the town of Lévis across the water.

The teachers had organized a rallye on the other side, an activity similar to a treasure hunt with clues, directions, and tasks to perform racing around town on foot. At mid-day we all met back in a public park for a brown-bag picnic lunch. I shared plantain chips I'd brought. One of the students from Colombia had extra salmon wraps to go around. The student from Iraq had a big bottle filled with a brownish moonshine he referred to as a "martini". It was nothing like the gin and vermouth capped with an olive I imagine when I think of martinis. It more reminded me of some herbal anodyne concocted for medicinal purposes. Regardless, it sure went down well with the intense sun beating down. Everybody partook.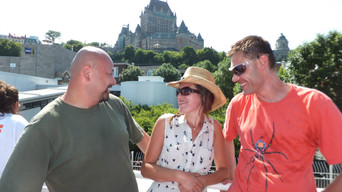 David and Madame G. Regard Each Other

We followed lunch with a tour of a house preserved as it stood a century ago. Across the street from our picnic site was the Maison Alphonse-Desjardins, the home in which the banker who set up the first credit union once lived. Our time across the water was capped by a visit to an ice cream parlor and finally a stroll down to the ferry slip to catch another boat back to Québec City.

That was just the start of le weekend. Or is it really le weekend? Though it's standard in France, they don't actually use that expression here in Québec. At least Madame G. forbids it in our classroom. Here, it has to be the "fin de semaine". Whatever it's properly called, it's been one hell of a past few several days.

Things kicked off with that field trip this past Thursday. Then, Fridays are always a short half-day with class finishing just past noon. Friday evening brought a round of drinks with a CouchSurfing acquaintance after which the two of us happened upon the Cirque du Soleil.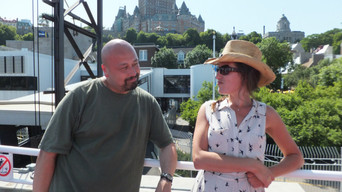 David and Madame G. Disregard Each Other

Evidently, Québec City is in the middle of a five-year contractual engagement with the Cirque du Soleil. Every summer night brings a free public performance of the spectacle. Beneath highway overpasses connecting the historic part of town with points beyond we came upon an enormous stage with performance in action. Though we were hungry and had set out to find poutine we were transfixed, staying for the hour-or-so remaining in the show.

It was in every sense of the word, spectacular. The final dress rehearsal before opening night meant a polished, full performance. It was both the expected and the unexpected. Acrobatics, gymanastics, and balancing acts. Requisite zany antics and bizarre costumes. Live music performed to accompany the stage act. Magic tricks. BMX bicycle stunts whirling up and ramps. Double-Dutch extraordinaire. Bicycles double-dutching. That was a rare happening to chance into. I'll have to return for at least one or two more performances of the Cirque before I take off for travel this summer.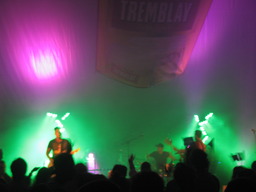 Punk Band Perform on
Fête Nationale du Québec

Saturday was the Fête Nationale du Québec. I'm not sure what this holiday was supposed to be all about--I've heard it explained as the Day of St. John the Baptist, the holiday marking the summer solstice, and the national holiday of the Québecois. Whatever it's supposed to mark, the whole city went nuts. There were fleurs-de-lys everywhere. Stages were set everywhere throughout the city for music performances that continued until dawn.

Everywhere was closed Sunday. Today, Monday, most places were open but our classes were suspended to mark the holiday. Another day off. I did my shopping and went to the library to finish my homework.

The fun should continue into Tuesday. We have a class picnic planned. I cooked up a big batch of vegetarian couscous to bring to campus. I'll also bring my hookah pipe and some double-apple tobacco to share.

Vive le weekend!