Happy Birthdays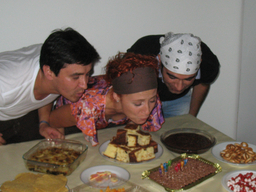 Classmates from Colombia,
the Ukraine, and Iran Cele-
brate Birthdays this Week

QUÉBEC, Canada
September 16, 2012

Parties both of the past two Friday nights!

An unusually high percentage of my classmates' birthdays (one quarter of all of us students) have been clustered together, all falling over the past two weeks. Continuing the tradition that we began with our teacher's birthday last spring there have again been celebrations centered around cake and candles. Our group of immigrant French students is now enough at-ease with each other to socialize beyond the classroom bringing the dance, the drink, and the food all into our own homes.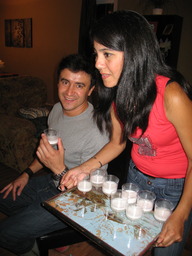 Peru's National
Drink: Pisco Sours

Daysi, the student from Peru, hosted first to mark her birthday. Among other more familiar beverages that she served she also whipped up a batch of something called Pisco Sours--which evidently use a certain fruit indigenous to South America (name lost in translation) as the key ingredient. Then, this past Friday night one of my Colombian classmates opened her place up to mark the occasion of everybody else whose birthday falls this week. Those Colombians sure love to dance. I was called out onto the floor by the hostess. She was clearly aware that I wasn't well-experienced out on the dance floor and comfortable leading me through some basic steps. Fun!

I brought homemade brownies to each celebration--which were well-received both times. My classmate from Peru liked the recipe well enough to request it not just once but three times over the next days. Whenever people ask me for the recipe for something I've brought to a dinner I presume it's just a polite way of complimenting the dish and offering thanks for sharing. But this time it seems the desire to bake another batch of brownies using my recipe must have been genuine. Thinking of which, I'll have to ask her the formula for what-all goes into a Pisco Sour. Those were good...

It's odd to think that I'm nearly halfway done with this French-language integration program. I suppose it is evident how much time has passed in how we've bonded so closely as a group. We celebrate together... and we sympathize together as the occasion warrants. I'm touched that one of the Colombian students whose mother back home is gravely ill feels close enough with me to share daily updates and to cry a little when feeling overwhelmed. We've become a really tight-knit group.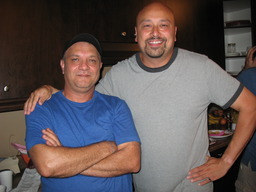 (Former) Classmates from
Iraq and the USA attend
Peruvian Birthday Party

In addition to all this extra-curricular camaraderie the fundamentals of class roll on. I was secretly proud when Monsieur C. scratched out onto the chalkboard the range of results for the surprise dication he pulled on us the previous week. "It was a catastrophe. Everybody bombed," he said in a moment uncommon for Monsieur C. displaying neither humor nor sarcasm. I didn't tell the others that--whether bombed or not--my dictation was the one that came back with the highest score. I think I also aced the conjugation exam that concluded our past week of courses.

I'm looking forward to going back to class tomorrow morning to find out my results on the most recent test--and to spending more time with all my fellow classmates.