Perfecting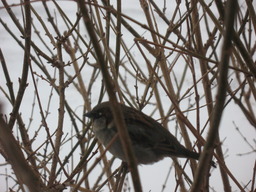 Sparrow Outside Tim Horton's

QUÉBEC, Canada
February 13, 2013

I just couldn't get it right in the pluperfect negative:

"Si elle n'avait pas eu son accident nous nous n'avons pas fait de connaissance... "

"That's not right," Annie corrected me.

"Which part? The first or the second clause?" I asked.

"Both," she replied.

"Okay, let me try again." I reformulated the sentence.

"Still wrong," she said.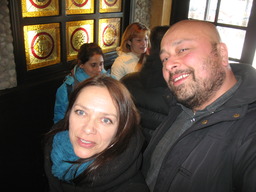 Annie and David

I tried yet again. Again something was wrong somewhere with my grammar. I finally gave up. For our first time I asked Annie to speak with me in English:

"You do understand what I'm trying to say, right? But this form is really tricky. How about you? Are you able to say it perfectly in English?"

Annie paused and spoke precisely:

"If she didn't had her accident we wouldn't have meet..."

I smirked.

"Is that right?", Annie asked, returning back into French.

"No," I said.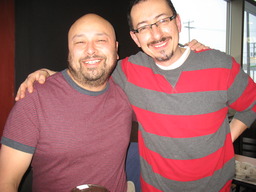 David and Andres

"Really! Is the problem in the first or the second clause?"

"Both," I said not feeling quite so bad about my faulty French, anymore.

All of a sudden I have so many more opportunities around Québec City to exercise my language. In addition to attempts at the pluperfect over extra-curricular hot chocolate with my former substitute teacher I've been getting together for conversation with other friends. A couple days ago it was coffee and doughnuts with Andres and Rosa, an adorable Colombian couple who were my classmates this past year. This evening it was more hot chocolate with Siliu, a fellow immigrant to Canada (from China) who attends the same weekly neighborhood conversation sessions I do. Though the benefits of a patient, educated, Quebecoise friend may seem ideal I find informal get-togethers with fellow non-native speakers of French equally good language practice. We can chat about our immigrant experience in general and about nothing at-all in particular: all good exercise even if our grammar is atrocious.

Andres and Rosa

Tomorrow, I head back south of the border for the remainder of break. If I had realized I'd have as much going on with friends around Québec City I wouldn't have booked so long away over the upcoming weeks between terms. (Hmm, that's another sentence in the pluperfect I would probably struggle to formulate correctly in French.)

Next stop: Boston