Advance Nostalgia II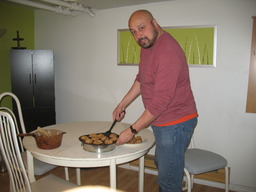 Baking Oatmeal Cookies

QUÉBEC, Canada
March 19, 2013

I am in the mindset of moving on. Last night I looked inside my cupboard to see what ingredients I ought to use up. What could I do with flour, sugar, oil, rolled oats, raisins, and cinnamon? Easy answer: I baked up a huge batch of oatmeal cookies entirely from ingredients on-hand.

The realization that I'll soon move to Montréal has motivated me in directions beyond my kitchen cupboards. It's kicked me into a mode of getting out and experiencing what I can while still in Québec City.

I've enrolled myself in another class: a short series of phonetic courses to practice sounds non-native speakers of French find tricky to pronounce. Those sessions will be held each of the next four Fridays at "CAFI"--yet another resource for bettering French language ability I've discovered among what seems like an infinite number of such places throughout Québec. Sunday, I went ice skating with a classmate from China on the last day of the season at the open-air rink at Place d'Youville. We mainly speak in French with each other, but about 10% of our conversation lapses into Mandarin. Hey, that works for me. I'll be getting more than enough time speaking English once I begin at McGill this autumn.

Today, a baby blizzard blew through town. Madame B., our writing instructor, had speculated at the end of yesterday's class that, no matter how severe the forecast, nothing was going to shut Université Laval down. She was right. It was cold, wet, and blowing hard when I left campus this afternoon.

Despite the foul weather, I kept myself in this new rhythm of spending my time to maximize however many--weeks? months?--I have left living here. As usual, I took lunch with classmates in the building cafeteria at noon. It would be easier for me to just walk home and not have to prepare a lunch to bring into school every day. But, it's additional language practice and I've grown closer with the few students who are left from when we all began studying French one year ago.

Rather than my usual habit of walking back home after we'd eaten and said goodbye I instead took route 800 from Université Laval directly into the city center. Tuesdays are free days at the Musée de la civilisation. (A privilege clearly intended for locals as that benefit runs only from October through March, the off-season.) I figured I ought to take advantage of not just the last of admission-free Tuesdays, but the fact that I'm still here, at all. Once I've moved to Montréal I'll have little reason to come back out this way.

Stepping off the 800 I made an unplanned detour into another beautiful facet of Québec City. My options continuing to the museum were either a short but cold, blustery walk or a 20-minute wait to meet a connecting bus. Unable to decide which to do while standing out in the wind and the cold, I dashed into the nearest building: Gare du Palais, the main railway station. Once inside, I again felt a twinge of nostalgia for this city I haven't yet moved away from.

The old terminal is an elaborate building of high ceilings and mosaics built back in the heyday of the locomotive. I'd admired its architecture in-passing the other occasions I'd happened by. But, those were usually times I was just arriving into or just leaving town. With my current outlook of "I'll be leaving this city soon so should appreciate all it has on offer, now" I chose to stay and look around more closely. I found a balcony on an upper level I'd never noticed and a side staircase that brought me up above for a leisurely look out on the grand hall.

After taking as long as I pleased to wander throughout the beautiful old building, I saw my connecting bus (route 1) pass by as I left the railway station. That made my decision for me. Rather than wait half an hour for the next bus I walked the rest of the way to the museum through the high winds. I wound up staying there until closing. Most of that time was spent in a captivating exhibition about the life and works of Michel Tremblay--probably Québec's most renowned contemporary author and playwright. I hadn't been familiar with him or his work before the exhibition.

I left the museum with a souvenir from the gift shop, a poster from some previous exhibition. To publicize a past display of South American artifacts the museum had co-opted the cover of Tintin in Peru to turn it into Tintin au Musée de la civilisation. On a whim I decided that, on my way out of this town or not, the walls of my room could use a splash of color.