Easter Dash II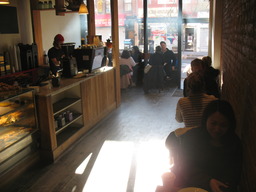 Brooklyn Bakery Morning

New York, USA
March 31, 2013

You are in New York City. How do you orient your friend on the first full day of their first visit to America?

Turn this question on me and my proposed itinerary will be an introduction by-fire and on-foot. We'll walk until our legs give out, going as far as we can across Manhattan with long pauses at the landmarks and sights in-between.

Former classmate Siliu, who is making this exact journey, was down with my style of touring. I assume most tourists, myself included, would cheerfully surrender their itinerary on a first visit to any native in-the-know. But, not only was Siliu up for my rough style of a long, long walk--she took it to the next level, carrying on even farther and longer than I'd planned.

Yesterday morning the two of us were out the door by 8:00 A.M.. We snuck silently down from our hosts' Boerum Hill apartment and began our long walk out of Brooklyn. We walked to, then across, the Brooklyn Bridge. We kept going all the way to the Upper East Side. We didn't wind up taking the subway--or use any other means of transport than our own two legs--until leaving Times Square 13 hours later.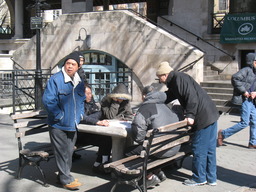 Card Players, Columbus Park

The sun was out and shining strong. It felt nothing like the snowy city we'd driven down from but like a morning in early summer.

Our first stop was--ironically, having just come from Québec--for pastries at a French cafe: Bien Cuit on Smith Avenue. To complete our continental breakfast I ordered a cup of coffee for myself and a cup of hot chocolate for Siliu. Coming from China she naturally prefers to drink tea, cocoa, or just plain hot water.

We walked on north.

Crossing the Brooklyn Bridge found plenty of other joggers and fellow tourists stepping in both directions. I pointed out which sites I could recall from memory.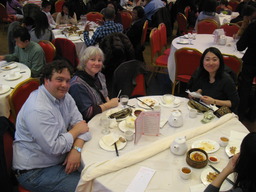 Marven, Bonnie B., Siliu
and Dim Sum

"Do you see that over there?", I waved out over the water, speaking in our lingua franca of French.

"What? Where?", Siliu asked me, unable to focus on what I knew was standing out there. I gave a more specific description:

"Look between Lower Manhattan and that large island to the left. See anything?"

"The Statue of Liberty!", Siliu exclaimed in Chinese.

"Yeah. It looks small from here but if you want we can take that orange-and-black boat past it to get a better view. That's the Staten Island Ferry. We can't actually go to Liberty Island on this visit, though. It's closed because of a hurricane."

I pointed out Ellis Island and gave what background I could manage. We walked on across the Brooklyn Bridge.

"What's that tall building over there?", Siliu asked me as we stepped into Manhattan.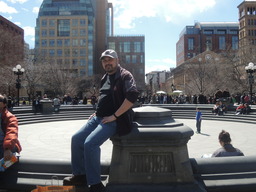 Washington Square

"Which? Oh, that! I think that's City Hall."

Passing City Hall we continued on past the courthouses and into Chinatown.

"This is Mott Street," I said as we headed toward our lunch location. "My cousin lives in that apartment right there," I pointed up at Cousin Jade's place.

After picking up free maps for both Chinatown and New York City at a tourist information kiosk on Canal Street we watched elderly Chinese men playing cards and practicing Qi Gong in Columbus Park. Just before 11:00 we walked on up to the Jing Fong dim sum palace on Elizabeth Street right in time for our rendezvous with our hosts, Marven and Bonnie B.

Siliu and I had often bemoaned the lack of decent Chinese food available in Québec City so happily gorged ourselves on morsel after steaming morsel.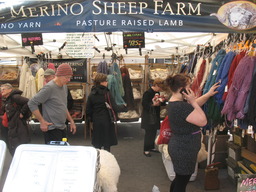 Union Square Weekend Market

Our final stop before walking on out of Chinatown was at an herbalist on Grant St. to buy assorted herbs and roots used in traditional Chinese medicine: yet another item sorely wanting back in Québec City.

We cut through Washington Square where we paused at the central fountain to take in the chess players, people throwing Frisbees across the park, and a man creating an elaborate floral design on the cement in colored chalk. We walked through the arch, out of Washington Square, up 5th Avenue, then veered across to Union Square. I hadn't assumed there was anything particular to see at either plaza but chose our path to orient Siliu to the major landmarks around New York. Siliu seemed fascinated by the open-air weekend market, in particular with one stall selling homespun yarn and handknit sweaters.

We walked on up Broadway and into Midtown. A heavily Korean stretch of 34th Street brought us to the Empire State Building.

"Wanna go up?", I asked.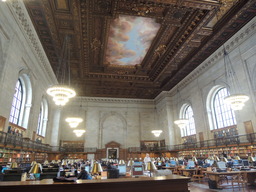 Public Library Reading Room

"No. We don't really have to," Siliu said.

"Well, let's at least go into the lobby and see what the deal is," I said.

We found throngs of people in the lobby without any semblance of order, let alone a line.

"$25 for a ticket!", Siliu exclaimed. "We definitely don't need to go up. But, can you take my photo here?", she said standing in front of a massive art-deco mural inside the lobby announcing the location.

We stepped out and carried on up 5th Avenue to the main branch of the New York Public Library. We paused for nearly two hours sitting writing postcard upon postcard inside one of the enormous reading rooms with elaborate ceilings.

We cut across 42nd Street through Grand Central Terminal, then to the base of the Chrysler Building, which we'd been admiring from afar.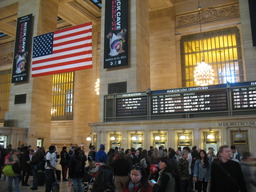 Grand Central Terminal

"Times Square is over on the other side of this same road we're on now, 42nd Street," I told my former classmate. "I was thinking we could walk up to Central Park, then, after the sun has set we could loop back down to Times Square after all the neon is in full effect."

Continuing on north toward the park we happened to take Park Avenue. Siliu made a suggestion:

"There's a TV show I watch that is set on this street! The address of the aparment where the characters live is 666 Park Avenue. Can we see what's actually there?"

I looked at the building numbers we were passing, locations in the low 200s. I made a rough estimate.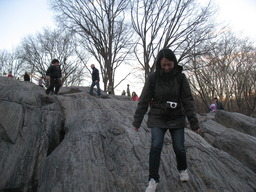 Central Park

"Sure. I'm happy to walk on through this city and see whatever you want. I think the southern edge of Central Park is 59th Street. I'd guess 666 Park would be somewhere up in the 60s or even 70s. But, since the street runs parallel to Central Park we can just cut over and enter the park at whatever point we find your address."

We walked on. And on, and on, and on. When we finally came to the block where 666 Park would have been instead of an apartment we found a huge blocky building taking up the entire block. There were no identifying marks other than a large American flag dangling from a mast jutting off the facade.

"Must be something federal, I guess... "

To be sure we hadn't missed something we walked on a couple more blocks until finding a building displaying street numbers. Certain there was no 666 Park Avenue we rounded 70th street and spent the rest of the day in Central Park.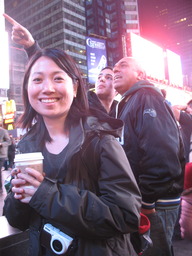 Times Square

As it began to get dark we left through a different exit and stepped into Columbus Circle. From there it was an easy walk down to the neon of Times Square.

Finally, after 13 hours throughout the city, Siliu took her first subway ride in New York. We walked over to 6th Avenue and hopped an F train back to Brooklyn.

I had been concerned that my style of getting out on foot and seeing as much as possible might have been too tiring. But, Siliu kept repeating that New York is an even cooler city than her native Shanghai. Seems like we've both had a good day.

More time around New York to come, tomorrow!