Casual Goods Accounting Document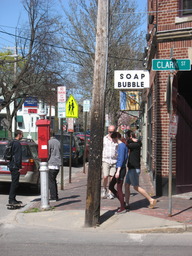 Portland Laundromat

SAINT-GEORGES, Canada
May 5, 2013

As-if there needed to be another example of how trusting information found on-line can burn you in the end.

Before Annie and I left for this weekend jaunt to Maine I decided to bring a case of wine on our return trip back to Québec City. The exact same bottle of wine costs between two and three times as much in most Canadian provinces as it costs in most U.S. states. I knew I might have to pay a little more. I'd have a duty-free allowance of only two bottles being out of Canada for 48 hours. Theoretically, I'd have to pay additional duty on anything I brought back in excess of those two bottles.

But, I presumed that whatever additional amount I could be asked to pay would still work out to a total far less than it would cost to buy the wine in Québec. I also knew there was even a chance I might be waved through and not even asked to pay any required duty. That happened once when I bought an entire case of wine for a friend when driving from Seattle to Vancouver. When I pulled up at that crossing I declared what I had: a dozen bottles of wine. They didn't demand any additional fees for the entire case.

But, just to be sure I didn't get stung on this trip, I calculated all the figures out in advance. I found what appeared to be a comprehensive site I found to calculate duty on-line. It asked all the right questions:
importing from
importing to
product description
product category
product sub-category
product item
product value
shipping cost
insurance cost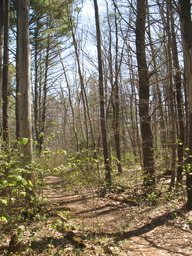 Cape Elizabeth Woods

I plugged in all the data. The on-line duty calculator spat out a total figure of approximately 27% the total cost to pay at the border. That sounded reasonable and a lot better than the massive markup I'd pay for buying the same bottle of wine anywhere in Québec.

We both bought several bottles of wine in Maine.

When arriving back into Canada we told the border guard exactly how many bottles of wine we were bringing in. When he told us to park our car and pay duty, I was more curious about what the procedure would involve than bothered by having to pay anything more. Twenty-seven percent of $75 worth of wine would mean paying maybe another 20 bucks, right?

The customs officer crunched the numbers and presented us with a bill labelled Casual Goods Accounting Document. The additional charges totaled just under $100. What? That couldn't be the additonal charges but the total, right? No, really? We had to pay not 27% but 130% of the value of the wine! Ouch...

It was all broken out with charges completely different from those I found in the on-line duty calculator. The ones we got hit with were:

Duty
GST/HST
Provincial liquor mark-up/Fee
Provincial sales tax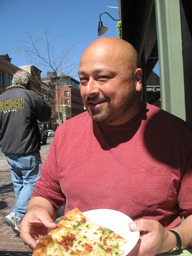 OTTO Pizza #6: Mashed
Potato, Bacon, Scallion

I was speechless. The customs officer asked if I wanted to run the numbers, myself. I told him I didn't dispute his math or puport to know better what the sums totaled. But expecting the far lower rate I'd found on-line I didn't know what to say.

We were told we had three options. Abandon the goods at the frontier, leave them in holding for 40 days under the presumption that within that period we would make another trip outside of Canada for over 48 hours and cross back up through the same border post to reclaim some of the goods with exemption, or pay the additonal fees on the spot.

Unexpected as the huge markup was, we chose to pay it. That made the wine cost about what it would in Québec, maybe a little less.

We drove off with our duty-paid wine in the trunk. Back in La Belle Province, we reverted to speaking in French. Annie good-humoredly wrote the fee off as her "contribution to the healthcare system" which was about the best way to digest getting hit with an unexpected $100 charge.

Right now we're now making the last stop of our roadtrip: cheeseburgers and coffee in the city of Saint-Georges. Then tomorrow, Annie works at the National Assembly and begins teaching yet another French language evening class at Université Laval. Me, I have one more week off until my summer grammar classes begin. We plan to get together again sometime soon over a glass of red.

Caveat emptor.