FLÉ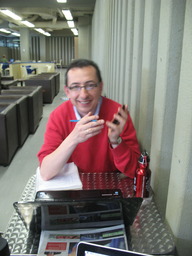 Lunch with Andres

QUÉBEC, Canada
May 12, 2013

A couple days ago I met for lunch with one of my classmates from Colombia, Andres.

"It's down to just you, me, and Silvia," I remarked. "Remember all our other classmates since beginning the francization program a year ago? It's only the three of us who will continue on studying more French here at Université Laval. Gad... has it really been a full year?"

Out of all my fellow students it makes sense that it's those two who will take the FLÉ (français langue étrangère) alongside me this summer. Andres was a practicing psychologist in Bogota. Silvia was the head of an HR department in a smaller city. Though both highly placed back in Colombia, their credentials and education aren't recognized at the same level here in Québec. They have to go through schooling that they've already completed in their home country just to land back in the same place. I'm fortunate: U.S. credentials are accepted at par. But, me... I'm eternally content to play perpetual student.

So, all three of us have enrolled ourselves in FLÉ intensif: two 5-week language sessions that will keep us together in the classroom until mid-August. The program starts tomorrow. Courses will be held in the very same campus building I've been walking to most every day this past year. Though, I've gathered that this FLÉ may be a departure from the program the three of us completed:

Unlike the francization course, we have to pay real university tuition (though we will receive real university credit) for the FLÉ. On more than one occasion this past year more than one of my professors idly mentioned that they found the level of French ability higher amongst francization students than amongst FLÉ students. Before, I'd taken those statements more as messages of encouragement to immigrants mastering a new language--but am now starting to suspect they might have been more than just pep talks. Instructions for the placement test and e-mail updates have all been presented with English and Spanish translations alongside. That was never done for any of the francization materials.

I showed Andres the Spanish version of an e-mail message inviting us to join the "Club des maîtres", an activity group for older FLÉ students. It offered excursions around town including "wine and cheese tasting, Québeçois cooking class, visits to local producers, cultural visits, and theater". Their definition of older included any student who is over 28. That age would have been a few years younger than the median age of our classmates in francization. Andres (who is yet a few years older than I am) and I chuckled contemplating which end of the Club des maîtres we'd fit into.

Andres left me at the library cafeteria where we'd met for lunch. He had an appointment with somebody in the Psychology Department. But he came back not long after leaving to share good news:

"I've been accepted into the Master's program. They liked my proposed topic and are eager to have me!"

I congratulated him.

"Though, I won't begin until autumn of next year," he said. "I need to take a year of courses here beforehand to have my qualifications recognized as ready to begin the Master's program."

I tried not to show it but felt a wave of frustration hearing Andres' situation. He has a wife and two young children. I imagined how he might feel about putting his life on hold under whims of which documents and diplomas happened to be accepted at what value here in Québec.

But Andres was nothing but happy with this news. He didn't seem at-all bothered about having to delay his program with an additional year of remedial courses.

And I thought I was the ultimate perpetual student.