Second Semester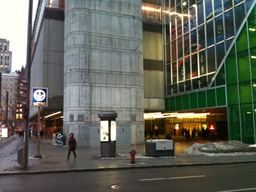 MONTRÉAL, Canada
January 15, 2014

A new apartment, a new commute, a new schedule of courses: the new year has brought lots of change to my life.

I've moved across town to to the east side of Montréal. Rent was far cheaper back in my old neighborhood. But, it was no bargain to have a nutty landlady and to have to share my apartment with a couple other students. I had hoped that having occasion to speak French at home would be a bonus. But living there just wasn't worth it. So this semester, I instead decided to splurge half again as much in rent every month to have a place all to myself.

I'm now living in a small but well-situated studio on the southwest corner of Parc LaFontaine. It's a lot closer to everything around town than my previous apartment was. The area for hipster nightlife, the Plateau, is just up the hill. The Grande Bibliothèque is a 10-minute stroll. Chinatown isn't much further on down.

On-line maps claim that it should be just 30 minutes on foot to campus. I haven't made the walk in, yet. I figured it was worth buying a transit pass this month to avoid the freezing temperatures and slick pavements. Every morning, Route 24 takes me down Sherbrooke to the campus gates. Cycling to school will probably take between 10 and 15 minutes whenever I start riding in again--but I won't do that until after all the curbside parking spaces around town have been transformed back into bike lanes when the weather gets warmer.

Courses are going well so far--though I do have a heavy schedule. Two classes felt immediately comfortable and routine as they're just continuations of languages (Arabic and Urdu) I was learning the first semester. I also have an independent study arrangement with my academic advisor, Professor P.: that should allow me to focus on getting my thesis outlined. The course that I'm most excited about is one cross-listed in Art History and East Asian Studies--two departments totally different to mine. It's a Chinese brushwork course that will give me a better background on the history and theory of what I was exploring when living out in China. I am way out of my league taking that course, but think it will be a good challenge and I'll learn a lot.

Seems like everything in Montréal is settling into a comfortable rhythm for me. I'm very much enjoying going to grad school in this city; very much enjoying this current phase of my life.