Run Cancelled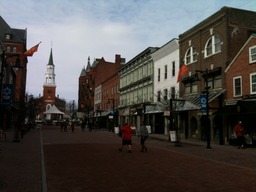 Burlington, VT, USA
March 2, 2014

So, what should I do now? I just received e-mail from Megabus. The onward connection I have to Washington, D.C. has been cancelled. Evidently, there's a nasty storm forecast to blow through that town.

I arrived on a Greyhound into Burlington just a couple hours ago. I've never spent time in this city, before. Though I'm only passing through town I'm not in utter limbo. I have a Megabus departure for New York that leaves in a little under an hour. That run hasn't been cancelled.

I'm debating whether it would be wiser to scrub the trip and turn around and head back up to Montréal. Though, I suppose that even if I wind up stuck in New York and can't make it all the way down to DC I'd still enjoy spending spring break out of Montréal. Though, that would mean making some last-minute calls to friends and relatives to figure just where I might stay.

Next stop: New York--I think...