Graduate School IV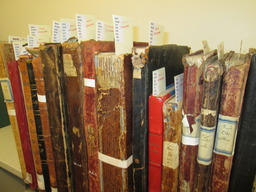 Rare Books Collection
McGill Library

MONTRÉAL, Canada
April 11, 2014

Today was the last day of the academic year. I cannot believe my first year of grad school is already behind me.

Well, it's not completely over, yet. I do have an Arabic final to write on Tuesday. There's also a lengthy research paper I have to compose for my Chinese Brushwork class: that won't be due until later on this month. But, the homework, the courses, and my daily commute to campus can now all be spoken about in the past tense.

This past week felt impossibly busy before I got through it. Monday, I had to deliver a presentation in front of my brushwork class to share the crux of my paper (the writing of which yet remains entirely in the future tense.) Wednesday, it was a 10-minute presentation which I was dreading, standing up in front of my Arabic class. I did have the advantage of additional time as my presentation wasn't scheduled until the last day. Though, that proved to be a disadvantage in confidence when I saw how well-prepared fellow classmates were including one who spoke for the entire time with perfect grammar while referencing no notes. "Aww, really? I can't even do that in English... ", I thought to myself.

Thankfully, the instructor was either extremely forgiving in marking my presentation or the bar was set far lower than I imagined. Feedback was not as kind coming in the responses of my classmates--though none dinged me as harshly as I myself had in my own mind. But, everybody else's opinion was all that mattered so I received a solid grade well-above what I would have given myself in any honest self-evaluation. Whew... that is now done.

After my final sessions of class this morning I spent the rest of the afternoon with one of the Institute librarians, Sean. His job is centered around the rare book and manuscript collections. He'd actually led one of the very first classes I attended at the beginning of the academic year which led me to immediately envy his line of research. Getting paid to pore over centuries-old manuscripts in ornate calligraphy with the occasional colorfully illustrated page? Damn. Today, Sean took time away from his desk so the two of us could make a return trip to the Rare Books Room where he gave me a sense of the collection and how it's catalogued. This is one of the preliminary steps in getting my thesis together. My topic will focus on texts printed throughout the subcontinent in the early 19th century and how output relative to use of particular fonts may have increased as presses shifted from moveable type to lithography.

Hmm. That last sentence may or not be an imparsable mouthful to everybody else, but the thought behind it is actually really, really exciting to me.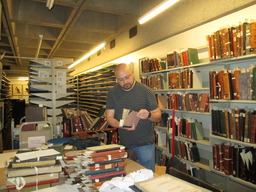 Rare Books Collection
McGill Library

Also exciting (perhaps also to me alone:) digging through 200-year-old volumes of bound, brittle pages preserved in backrooms behind several locked doors. Exhausting as it's been to make it through to this point I'm equal parts wistful and baffled that the school year has already come to an end.

Now, I'm debating if now is the right time to make a jaunt to Québec City. I'd love to call on friends I grew close to there before running off and beginning my life here in Montréal. I miss the purely French-speaking environment and know my language has atrophied since moving eight months ago. Montréal is trop bi-lingue.

I even have the margin of a full week free after my Arabic final before I'm booked to head down to New York. But, not only do I have that exam and research paper to get through, I have to move out of my apartment. There'd be no sense in paying rent to hold onto this little studio for even a month, let alone the entire summer.

Thankfully, even though I don't know where-all I'll go and exactly how things will play out in the next weeks I do know it will all come together. Professor Gwen (whom I sometimes view as my personal guardian angel since I've moved to La Belle Province) is willing to schlep my stuff across town in her trunk to stash at her apartment. We'll see each other over sushi and then make the crosstown move on Monday.

Then, it's back down to the States for at least a short while. I know that I'll be seeing friends and family in both New York and the Pacific Northwest. After that, I'm hoping that one of the channels through which I applied for a fellowship will bring me funding for summer language study, giving me a wholly new destination to tag onto my summer itinerary.