Exit: 44 Street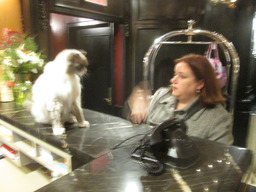 Kim Flinches After Being
Clawed by Mathilda the Cat

New York, USA
December 17, 2014

Just what does one do upon getting laid off after working for 14 years at a major tech firm? If you're my longest-standing friend, Kim, the correct reaction is one of celebration. Despite unclear employment prospects Kim decided she'd splash out. She's presently visiting New York City to run about town doing all the things she'd always meant to do here one day.

The first thing Kim did for this trip was to cash out all her frequent-flier mileage for a first-class, round-trip ticket: SEA => EWR => SEA. The next thing she did was to book herself a room at the Algonquin Hotel. I knew of it vaguely, recalling only that it had something to do with the New Yorker Magazine and Dorothy Parker. I hadn't realized it had been the nexus of New York literary and theatrical circles starting a century ago.

Kim and David in Times Square

We started our morning sipping coffee in the lobby while trying to guess just who each of the cartoon faces reproduced on the walls was. (The only one either of us [she] immediately recognized was one of Harpo Marx.) These images of storied faces who frequented the hotel were drawn for decades by caricaturist Al Hirschfeld. I didn't recall that particular artist by name, so Kim explained:

"When drawing a celebrity's face he hid his daughter's name somewhere in the sketch. But, supposedly he did that only for those people he actually liked."

"Oh, that was 'Nina,' right?", I said.

"Then, you do know Al Hirschfeld is?", Kim said.

"No... I didn't recognize his name, at-all," I said. "But I remember hearing sometime long ago about an artist who hid the name 'Nina' in his illustrations. I don't know how that particular bit of trivia was still stuck in my head. I guess retaining minutae like that must be why I enjoy attending pub quizzes."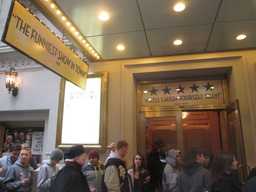 Line for Matinee Peformance
of "You Can't Take it with You"

Beneath the caricatures in the Algnoquin lobby we were further acquainted with another hotel institution, this one alive and walking on four paws: the resident cat. Evidently, long-standing tradition has required the hotel to maintain a house cat who has full run of the lobby. Toms are always named "Hamlet" while the females are always named "Matilda". I was suprised that any cat would be so casual as to tolerate a constant stream of strangers through its space. The current Matilda does seem to be just fine being out in public though is extremely territorial. While the desk clerk brushed Matilda's fur Kim stretched her hand forward to pet the cat: only to be immediately rebuffed with the sharp swipe of a claw.

We spent this afternoon at a Broadway revival of one of Kim's favorite stage performances, "You Can't Take it with You." I'd never heard of it though it was a beloved play of Kim's that she had been familiar with since childhood. The current revival features James Earl Jones; seeing the voice of Darth Vader on-stage was enough for me to be convinced to attend. There was good luck for us: there happened to be a weekly matinee today for which there also happened to half-priced tickets available at the TKTS booth in Times Square. Orchestra seating. Nice.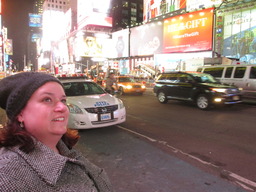 Kim in Times Square

After getting our tickets we wandered down 47th Street to find somewhere for lunch before the show. I saw a cafe that looked like it might offer the traditional deli menu I was craving. It was only after we'd already stepped inside and were being served that I realized the odd coincidence of our eating lunch at this particular place before attending a Broadway show. The name of the cafe was the Edison. It was attached to the Edison Theatre, the very theatre where both of us first ever saw any Broadway play (Oh! Calcutta!) some 25 years prior.

Though we've seen each other more recently in Seattle and in Montréal it's been over two decades since the two of us last saw each other here in New York. We still have a couple days together to run about town, play tourists, reminisce, and create more shared memories. We've scored tickets for another item on Kim's long-term to-do-one-day-in-New-York list. Tomorrow afternoon we'll see a taping of the Late Show with David Letterman.

Thanks for inviting me, Kim! I would never have come and done any of these things around town if you hadn't proposed meeting up here.