Come See Me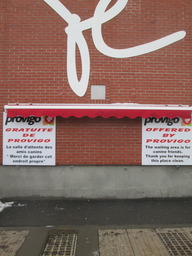 Dog Leash Area Out-
side Local Supermarket

MONTRÉAL, Canada
January 19, 2015

I've started spreading the word. Come visit me in Montréal before I move.

Just a few days ago it suddenly became clear to me that I'll likely be moving along at some point this autumn. I started reaching out to the friends and family who I thought most likely to visit me out here contacting them by 'phone, by e-mail, by handwritten letter: Come for a visit this summer while I can still host, come while I'm still here to show you around. I'll probably be moving along soon. Now I'm doing so to others who keep up with me via this 'blog.

What brought this change on, this realization that my time living in Montréal will soon be drawing to a close? It was sparked off by an unrelated thought. A few days ago--roughly 10 days after Kayla had flown home--I contemplated the next time when she and I might be able to get together. Since she left Montréal nearly two weeks ago we've kept in constant contact through a steady stream of text messages and the occasional video chat. Wondering when we might next connect in-person I casually looked into airfares.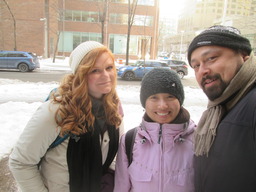 Kayla, Siliu, & David Post
Dim-sum Two Weeks Ago

I may be the master of traveling very far for very little but even I couldn't find any air tickets out of Montréal that looked reasonable. I next looked into rail fares on Canada's Via Rail. Those were even higher than traveling by air. The U.S. rail system, Amtrak, had fares that were far and away the best option. But, going by train would obviously require a solid block of time to make any journey. When would I have an adequate amount of time to cross the country at a leisurely pace?

It struck me that after my M.A. program is over would be the perfect moment both in terms of having free time and fair weather to make a long train trip. I am still contemplating whether I'll continue on to some Ph.D. program after the M.A. is done. But, even if I do that I won't start immediately with the next academic year that begins in September but rather wait for the subsequent one. It would likely be elsewhere than Montréal that I continue on my studies, as well.

As often happens when I start scheming up travel itineraries my initial idea has already snowballed into a bigger trip. My new grand plan is to move along from Montréal by train this autumn. The route I hope to follow would take me in an enormous U. Starting in Montréal I'd snake down parts of the east coast, through the Midwest, across parts of the South and Southwest, then up the California coast through Oregon to Seattle and Vancouver, B.C.. I am naturally eyeing cities where friends and family live as potential destinations.

If you're reading this now you are hereby invited. Come visit me in Montréal before I leave! Or, come join me on part of my overland adventure from Montréal to Vancouver via Texas. Departure date tenatively set for early autumn.