Porchfest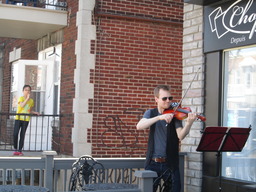 Mark Djokic Performs
at Porchfest 2015

MONTRÉAL, Canada
May 2, 2015

Do other cities have "porchfests"? I'm surprised that I'd never heard of the concept before, but it's a great idea.

Today, my neighborhood, Notre Dame de Grace (a.k.a., "NDG"), hosted a porchfest. The entire afternoon was filled with dozens of scheduled sets of musicians performing on the front stoops of houses and terraces of local businesses throughout the neighborhood. The sidewalks and yards of the neighborhood became instant audience halls and the porches temporary performance stages.

The massive simultaneous music was well organized to encourage browsing different locations to hear various acts. Rather than having performances scattered throughout the entire neighborhood over the entire afternoon they were clustered into smaller clumps: musicians playing from noon to 1:00 were in one general area of blocks, those playing from 1:00 to 2:00 were lumped into another area. The last set kicked of at 4:00 P.M. on the far west side of NDG.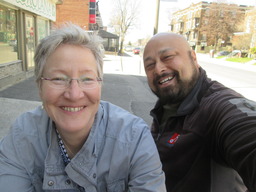 Professor Gwen and David

I started by viewing one of the performances closest to my house: Mark Djokic, a violinist with the Montreal Symphony. Though there were other performances simultaneously occuring along neighboring blocks I stayed on to listen to him for the entire hour. He played a set of pieces that were familiar but not instantly recognizable (to me, at least.) The best I could identify was that there was something by Bach over the course of the hour he played. I was impressed that when performing another piece he used a technique I'd never seen before, single-handed pizzicato. He at once both pressed down to define the note while plucking on one of the violin strings to give it its sound using two fingers of the same hand.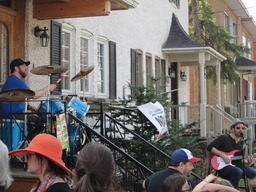 Band Performs on Porch
at Porchfest Closing Barbecue

Professor Gwen, who lives down the street from me, rolled up on her bicycle in time to catch the last half of the violin performance. After that we both pedalled around to sample other performances, mostly together, occasionally apart. There was a fife and drum set that for some reason was in traditional Swiss costume. An a cappella group sang pop standards from the '50s. A woman sat on a house porch strumming a ukelele, belting out lyrics in a husky voice. Between songs she took long sips out of a bottle of local Québec beer.

I'm glad there was fair weather for my first porchfest. Perhaps the nasty winter is finally, truly over? Whatever the weather does bring, I am looking forward to the upcoming months here in Montréal. I have several guests coming over the summer, starting with a second cousin who will arrive at the end of this month.