Island Scooter Birthday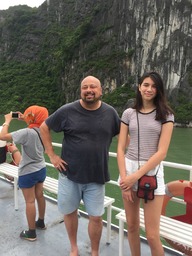 Ferry across Halong Bay

CAT BA, Vietnam
July 15, 2019

In the end, I was the one who didn't want to turn around and head back while we were bumping about the island on a motor scooter. It was my teenaged niece who decided that we go back to town to return to a coffeehouse with air-conditioning where she could continue sticking her nose in a book. That was her choice how she wanted to spend the rest of her birthday.

In the morning I wanted to temper Mai Linh's expectations for her birthday. Maybe they wouldn't even let her rent a motor scooter: she has been 15 for all of just a few hours, yet. Maybe the weather wouldn't allow it: the forecast did threaten rain. "Maybe it'll have to be a chill day of you reading your book while we cafe-hop drinking lots of mango smoothies and coffee with condensed milk on ice," I told her, bracing for alternate ways we might have to pass her birthday.

Those were legitimate concerns. Moreover, I myself had driven a scooter only once, before. To be honest, I was uneasiest with the thought of my niece--still too young to get a driver's license--zipping herself around on a gas-powered vehicle on rural, foreign roads. It would be fantastically fun. But, what if... ? The choice was settled, though. When I asked how she wanted to spend her birthday it was riding scooters that she said she wanted to do. So, riding scooters was just what we did, today.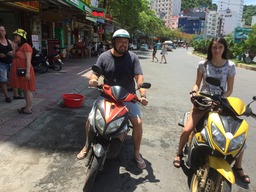 Off on Island Scooter Spin

We found somebody along the waterfront who would rent scooters out for the day for 100,000 Vietnamese dong, each: about $5 USD. Her age and my lack of driving ability seemed not to matter. The person renting scooters had to show me using limited English the basics of starting it up and accelerating. In retrospect, after our short spin around the island it already seems like such a simple vehicle to drive. Much easier than learning to ride a bicycle, certainly. But, it had been decades since that one other time I'd ridden a scooter.

I straddled my scooter and tried to start off slowly, at first. I didn't have the touch so turned the throttle far too hard causing it to lurch at a parked car along the side of the road. Thankfully, it wasn't so close that I crashed into it. Mai Linh, however, had no problem racing off ahead in every which way. Up the hills, down the valleys, all of it surrounded by lush jungle and the blocky beauty of high, craggy, tree-covered karst peaks punctuating Halong Bay and the island of Cat Ba, itself. She had rejected the more specific suggestion of long hikes and eco-exploration that I'd offered up. She said those were the types of activities her family would be likely to do whenever on holiday, together. She'd rather just take a lazy, beautiful spin in whichever direction she fancied.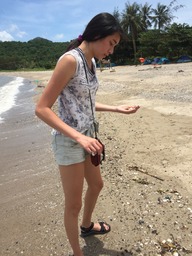 Inspecting Seashells

Halfway up the island we found a coffeehouse-cum-guesthouse along the beach. We broke for two cups of coffee with condensed milk over ice and a mango smoothie. We waded along the shoreline with water regularly lapping over our feet in waves. "It's hot!", Mai Linh declared. The warm temperature surprised me, too. It was a shame that neither of us had brought along a swimsuit. We each gathered seashells that looked different from ones we were familiar with.

After our short shoreline stroll and seashell harvesting Mai Linh decided it was time to turn around and head back into town. We already had the scooters for the entire day and as Cat Ba is so large and has so much on offer I was a little reluctant to end our jaunt around the island. "Are you sure you don't want to head up that road we came down along after the ferry ride in, yesterday?", I confirmed. No interest. Instead, she chose to spend her birthday in the very alternate way I was suggesting in case the scooters weren't an option. So, we've come to where she wants to be now: a cozy restaurant, Oasis, with air conditioning and a menu including fruit smoothies, hookah pipes, and both Western and Vietnamese dishes. She's immersed herself in a thick copy of the first book in the Game of Thrones series. I've been enjoying the local lager and have just ordered a mint-flavored shishah.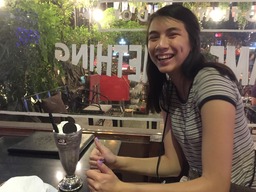 Mai Linh at Oasis

Our time here in Vietnam is, of course, the continuation of my avuncular ritual: taking each of my nieces and nephews on a trip the summer they turn 15. As the eldest in the younger generation Nephew Nick got a trip to Chicago: that's the city where it all started when Aunt Kathy brought me and all of my siblings on a trip the summer each of us turned 15. His sister Robin got mainly Montreal with a dash of Boston and Quebec City thrown in. I brought Mai Linh's sister, Myhanh, on a trip to London, Aachen, and Amsterdam two years ago. (I happened to be in a visa limbo situation that summer that I decided to ride out in Europe.)

I've been based back in Asia for the past couple years so Mai Linh herself is getting a 15th summer adventure split between one week in China and another week here in Vietnam. Back on the other side of the border we spent some days in the corner of China where we have an ancestral connection. We visited the village and actual home that our great-(great)-grandfather left behind to go abroad. We went to the gravesites of our 8x- and 9x-over great-grandfather many generations above.

Then, en route here we lazed about the former backpacker town of Yangshuo, near Guilin, which is now a major stop on the domestic Chinese tourist trail. From here in Halong Bay we'll take a few days in Hanoi before she flies back home.

I'm sure this will be a memorable trip for both of us: and for me not just as the second time I've driven a scooter around. It's a shame it's about to end. But, as Mai Linh is fourth out of my five nephews/nieces whom I've taken on a 15th birthday adventure that leaves one more to go. Two years on I'll take Mai Linh's brother Tai somewhere (I have no idea where I'll be based on the planet, then) to complete the family tradition.

Happy 15, Mai Linh!

Next stop: Hanoi