Shoulder Injury III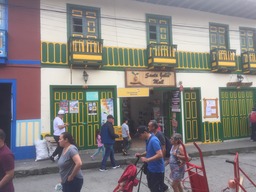 Street Scene, Filandia

AREMENIA, Colombia
November 10, 2019

The good news: the MRI results came back several days early.

The bad news: three muscles in my rotator cuff are torn. According to Devon's father and a doctor friend of Gladys's it sounds like surgery will be the way forward.

With those MRI results back in we've been able to schedule an appointment with another orthopedic specialist: this one a surgeon who specializes in the shoulder. He'll have the final word on what's next for my condition. That's scheduled for this Friday, the 15th.

It sounds like whenever surgery is finally scheduled it should be a fairly straightforward operation and ambulatory. But, if everything I've read up on physical therapy post-rotator cuff surgery is accuate I'll be wearing a sling for several weeks. That's going to make my plans to travel within Colombia and beyond over the last weeks of this year a challenge.