2005.06.28 Urumqi, China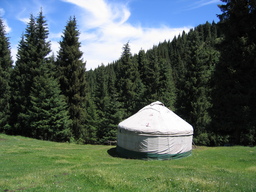 Kazak Yurt, Nan Shan

The last week has seen the return of Australian David. His arrival brings to four the number of westerners I know of in Urumqi sharing that name.

Australian David was the first person I met upon moving here in March of 2004. I remember being surprised to hear a knock on my door fifteen minutes after I arrived. David's dorm was two doors down the hall from mine. He heard me moving in and decided to introduce himself and welcome me to Xinjiang University. I do remember his eyes lighting up a bit as I unpacked my hookah: "Say, is that a water pipe you have there?" I knew I was in good company.

A member of the elite Ivy League Spies, Aussie Dave has just returned to Xinjiang for a visit between Master and Doctoral degrees at Harvard. It's been great to have him back, if briefly. A couple days ago we caught up at the Avral ice cream parlor, went shopping for Uighur pop music CD's and Mijit calligraphy pens, then played SET and Anagrams at my place. (Despite Australian David's prowess with languages, Tiffany remains undisputed champion when it comes to SET.)

Even with just the two of us in town, it would be necessary for others to somehow distinguish which David they were referring to in conversation. Complicating the situation is the existence of two other Davids who also live in Urumqi.

Until last night, when he finally left China for good, the David with the longest tenure here was New York Dave. New York Dave spent two-and-a-half years teaching English at Urumqi's Financial Institute. He's now on his way back to New York via a visit to Shanghai and a conference in Budapest.

The remaining David (presuming I need no introduction) is a co-worker of Tiffany's who teaches English at a private language school, Web International. He and his brother Steve hail from southern California. They made their way out here to visit their uncle, Bob, who had been teaching English here for some time. They've both stayed on to do the same job themselves. As might be expected, this David is generally referred to as California Dave.

As the other three Davids were known by their place of origin, I presumed that I was likely Seattle Dave. However, I sort of wondered if I might not also have another nickname. When I first got to know the other two Americans sharing my name, they were usually not referred to by location. One--who was having a bit of the expatriate blues last year--was often referred to as Morose Dave or Depressed Dave. The other was more commonly known as Doofus Dave.

When at Rian and Laura's flat a few months ago I finally asked what I was called. Laura said that I was not Seattle Dave but rather, generally known as David Wong. I did hear myself referred to that way several times thereafter, but finally heard my non-PC nickname a week ago. A friend I had just spent the evening with addressed me as Big Dave, then covered her mouth in embarrassment. I laughed, genuinely thinking it was funny. I think I might have felt bothered by Fat Dave or something a bit more derogatory, but even that would have been par with the nicknames for the other two American Davids.

As far as I know, I'm the only one who calls Australian David anything else, labeling him as a member of the Ivy-League Spies.

In my last website entry I contemplated fears of mental deterioration, but these have been somewhat alleviated. I had been worried that I was losing capabilities, finding that I could no longer read upside-down text. However, last week I played the game Cranium for the first time, at Matthew and Bonnie's flat. I found that I could solve other types of word patterns immediately, divining the answer upon seeing the puzzle. These were generally anagrams to reshuffle, or phrases missing most of their letters, a la Wheel of Fortune. While those types of processes involve totally separate skill sets from what concerned me, at least I had evidence that I am not yet completely senile.

I hosted a night of game playing at my flat yesterday evening. There was Mah Jong. There was Uno. There was Pit. It's been nice to have company over more often: the foreign friends always bring goodies. Roquefort, Brie, and Emmenthaler straight from France came via Belgian friend Lisa. Bonnie, a Canadian, enjoys baking--yesterday's treat was an apple-oatmeal cake. I love cake and cheese no matter where I may be, but these are delicacies that verge on non-existent in Urumqi. Something about their scarcity makes them taste all the better. My standard offering for such gatherings is hummus. Maybe I'll diversify at some point, but so far each bowl I've shared has been licked clean.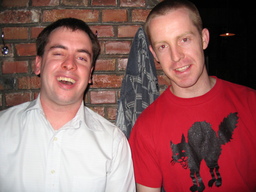 New York Dave and
Australian David
As it was my turn to host yesterday, I went shopping in the afternoon. After picking up cilantro and scallions for the hummus, I stopped off at one of the outdoor bakeries that sell the Uighur version of nan, the large, flat, round bread eaten all over South Asia. These bakeries tend to be little more than a slab of wood on which to prepare the ingredients and a simple oven. The oven is in the shape of a well, fired by a pile of charcoal at the center of the pit. The Uighur word for oven is tunur, which might be recognized by those with an international palate. It's cognate to Hindi tandoor (i.e. tandoori chicken) and Turkish doner (i.e. doner kebab).
As I was walking towards the stacks of bread, a woman passed the other way with a couple pieces of nan. I greeted both the baker kneading dough and the boy sticking it against the walls of the oven with a common Uighur opening, "How are you?"
"Very, very well," the baker said with a huge smile.
"Why so happy?" I asked, continuing on in Uighur.
"That Chinese woman who just left--she could speak Uighur! Imagine that!"
"Oh, a non-Uighur who could speak the language? Well, you do know that there are others."
"Really?"
"Oh sure. I'm American."
"What? But you don't look American. Your face..."
"For real."
"Wow! Are you Muslim, too?"
"Nope--not Muslim. I grew up in America..."
At that point the young assistant asked me a question I couldn't comprehend:
"What's the number for America?"
"Huh?"
"You know. What's the number for America?"
"Sorry, I don't understand Uighur so well, maybe could you speak more slowly?"
"Well, Urumqi is 991, right?"
"Oh, I get it. You're talking about telephone area codes."
"Yeah. What number is America?"
"We're #1, kid. China is, uh, I believe #86."
"I see."
"Thanks for the bread. Goodbye."
"Goodbye. Please do come again!"