Into Burma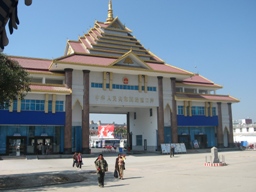 Muse/Ruili Border Gate

MUSE, Myanmar
January 24, 2007

When traveling in this corner of the world 12 years ago I was not permitted to go any farther than the exact point where I now sit writing: Muse, Myanmar. Muse is the border town just within Myanmar, opposite the Chinese city of Ruili. Muse is pronounced as "Moo Say." Many who take issue with the regime presently in power in that country still refer to Myanmar as "Burma".

My last visit here, also in the Year of the Boar, now that I think of it, I found Muse to be remote, traditional, undeveloped--exotic. I found Ruili to be awash in sin, Chinese-style. At the time a visit to Ruili was somewhat akin to a jaunt to Las Vegas: casinos and brothels operating openly, set in the thick of disco and karaoke clubs. Today the casinos seem to have gone underground but the other elements are even more prominent.

Relative to much of China the atmosphere in Ruili is electric, yet it still feels like a familiar Chinese city. Cities across the country are drawn from the same template, carved into an orderly grid of streets with predictable names. Probably every city in China has a major thoroughfare named "Beijing Lu". As we visited towns around Xinjiang, making our way down to Kashgar two years ago, Nisagul actually asked me whether every city in the world has a central plaza named "People's Square".

The entire, brief time I stayed in Ruili over this visit, I had a sense of disorientation, feeling that I was in a different Chinese city. On the opposite side of the country is another identically structured border town of sin: Zhuhai, along China's border with Macao. The Mediteranean palm trees planted along Ruili's boulevards are identical to those in Zhuhai, and in all likelihood the young women working the streets in both cities have come from the same impoverished regions of central and northeastern China--though I didn't stop and chat with any to confirm that fact.

I did have a pleasant evening in Ruili. I took dinner together with the taxi driver who brought me in from the last city up the road, Mang Shi. We didn't have much more in common than our age, but he seemed laid-back and open to conversation. The two of us chatted for a couple hours over pot-stickers, kebabs, and beer at the central open-air market.

It was pleasant to sit out with good food and company, but the whole area had a sense of desperation about. Beggars went from table to table with hands or cups extended. Even before we were seated, uniformed waitresses clutching tiny kegs of beer rushed to our table and poured a pitcher out for us, even though we hadn't requested any drinks. (I told them to pour it back into the keg, we didn't want so much beer so wouldn't pay for it. They complied.) Being two men, at least we were immune from the flower vendors working the rounds, but were pressured more than once by musicians--guitar and songlist in hand--who solicited requests at 5 yuan a song.

The next day I entered Myanmar. Crossing by road into Myanmar requires not just a valid visa, but an escort from the one agency the Myanmar authorities trust to drive tourists straight from Muse through to Lashio. There are all sorts of activities going on in the areas along the road between Muse and Lashio which the government does not want to have foreigners around. The region is mostly composed of minority ethnic groups--such as the Karen and Shan--who have active armies of resistance. Methamphetamine and opiate production abound--it is one of the corners of the Golden Triangle.

Of course the rate to arrange for the car, driver, and escort is steep: I had to shell out about $200 U.S.. I resigned myself to paying: it was the only way to get through this particular border crossing which I so wanted to cross. "An air ticket from Kunming to Mandalay would have cost about the same," I tried to convince myself.

I met my guide in Ruili at 1:30 (Beijing time), he hailed a taxi for the short ride to the border crossing. I found that stretch from the city to the border is nothing like it was when I was first here.

Back then, I walked from Ruili along a rural road through trees and fields. After passing a couple of non-descript buildings I wasn't positive that I had left China and entered Myanmar until I heard immigration officials just behind me blowing a whistle and waving for me to come back. The pink cinderblock building must have been China Customs and Immigration. A few parallel logs over a shallow stream formed a footbridge right next to the shed housing the Myanmar officials. I had walked well beyond both, yet still wasn't sure which country I was in.

Today, the Chinese side is sheer city sprawl: buildings and streets from central Ruili run all the way to the border. As with China's other land crossings, a huge arch has been set up, pronouncing the grand entrance to China.

At the moment I'm sitting in the office of the travel agent in Muse, waiting for car and driver to take us down to Lashio.