Hangzhou Holiday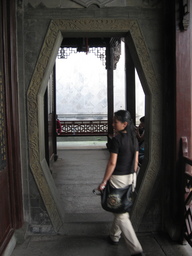 Evy enters the Octagon

HANGZHOU, China
May 04, 2007

After my entry pondering where I might go over the Mayday break I've wound up in NONE OF THE ABOVE. I speculated that I might take this holiday in Southern Xinjiang, or in one of the neighboring countries whose name ends in "Stan," or perhaps just hanging out in Urumqi. Instead I'm on the opposite side of China, visiting Hangzhou for the holiday.

I ultimately decided I wanted to visit somewhere in China I'd never been while seeing some familiar faces. I flew to Hangzhou from Urumqi this past Wednesday. After touching down I took the airport bus into town, Evy picked me up at Wulin Square in central Hangzhou. Evy herself couldn't host, so I'm instead staying across town at Hui Ping's apartment: this despite the fact that Hui Ping is taking her holiday in Singapore and won't be back until May 12.

At this point, I think I should take a step back and clarify who's who at this point in my weblog. Two newly introduced characters, much potential for confusion to those who follow the log regularly. So:

I met Evy while traveling in Myanmar this February. I've actually written a fair bit about connecting with her and traveling together over that trip. I still haven't posted those entries yet: they're all in the pen-and-paper journal I kept while in Southeast Asia this winter. I brought that notebook along with me to Hangzhou, hopefully I'll have some time over this break to get my travelogue caught up.

The short of it is that Evy is a native Beijinger who has been living in Hangzhou for the past ten years. She teaches foreign students Chinese at Zhejiang University. While eating breakfast one morning in Bagan (Myanmar) I noticed two women speaking in Chinese at the table across from mine. I was speculating to myself whether they were from the mainland or Taiwan when Evy got up, came to my table and asked if she could have a look at the guidebook I was reading. The three of us wound up spending the rest of our days in Myanmar together, then flying out to Bangkok on the same flight. She and fellow teacher Xiao Fang were extremely cool travel companions: they would have been fun folks to hang out with under any circumstance. The super-bonus of exploring Burma with them came in language: it was essentially free Chinese tutorial for a week: times-two.

As for Hui Ping... there can be no better testimonial for CouchSurfing than Hui Ping.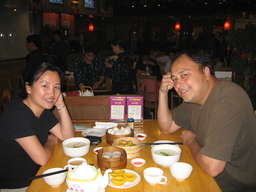 Dim Sum at Orchid

I've been a member of CouchSurfing for a little over a year. As with other social networking sites recently en vogue (e.g. MySpace, FaceBook) CouchSurfing is a website where individuals create profiles, describe who they are, and upload photos of themselves. However, the irresistable part about CouchSurfing is in its central feature: people welcoming travelers into their homes for a free place to crash for the night.

Every CouchSurfing member lists their location--which country, which city--as well as how many people they would be willing to host and for how long. Last year I hosted quite a few travelers who came through Urumqi--the standard profile was a 20- or 30-something year-old European coming overland to Asia from their home in Europe.

Among my guests were two separate couples who were making amazing cycling journeys: a Swiss couple were biking from Basel to Vietnam, two Russians from St. Petersburg took their bikes from Kashgar to Lhasa. With the arrival of fair weather this year I've recently had more travelers enquiring about a place to crash. Just last week I hosted a couple who I wish could have stayed longer: we knew all the same dim sum dishes; I took them to the Fu Bar for a pub quiz, we came in first place.

Staying at Hui Ping's Hangzhou flat is my first time as a guest through CouchSurfing, rather than playing the host. Faith in humanity, kindness of strangers, "what comes around goes around"--I don't think I can address what all is at play here, but this really is the way it should be in a perfect world. Despite that we've never met, despite that there's not even some "friend-of-a-friend" connection, I have the full run of Hui Ping's flat while she is away. It's modern, clean, and well-furnished--a whole lot nicer than my scrappy Urumqi six-storey walk-up. Hui Ping sent more than one long e-mail message giving me directions to her place and details about how to use the DVD player, shower, and other fundamentals of her flat. She hand-drew maps of the immediate area and the greater neighborhood using both Chinese and English. The day before she left, Hui Ping met up with Evy to pass along the key to her flat--I wasn't due in until after she'd already left town. There is no expectation of payment or reciprocity.

I am having a most excellent adventure, indeed. I've got a great apartment--Hui Ping's--to stay in for as long as I need. I've got a good friend--Evy--who is showing me around Hangzhou and who knows the city well. I find Hangzhou different from Urumqi at so many levels that this really is a vacation--relaxing, getting away from the routine.

Hangzhou is far cleaner than Urumqi. The roads aren't all torn up, I don't see garbage everywhere, and I haven't yet heard one person hawk and spit. Hangzhou is far more cosmopolitan, with more international presence including restaurants, coffeehouses, foreign students--much more of each than back in Urumqi. While the bus system in Urumqi has to be the best in the world in terms of frequency (I seldom wait even a minute for a bus to arrive back there) some of the bus stops around Hangzhou have video kiosks next to sheltered seats for passengers waiting for the next bus. These display the distance from that particular stop of the next bus for each route, alongside an estimate in minutes of when it will arrive.

Hangzhou is one of China's older cities, for centuries the Chinese have declared Hangzhou to be among the most beautiful cities of the world. I tend to be suspicious about the Chinese spin on beauty and what makes for a worthy tourist attraction, but it really is lovely here. The parks and gardens I've walked through are clean, beautiful, well-maintained, and soothing--even in the thick of the thousands of other tourists who also came to Hangzhou from elsewhere in China for Mayday break. I was dubious about Hangzhou's renowned West Lake, but strolling around there with Evy both this afternoon and again in the evening was so pleasant, so much the opposite of Urumqi chaos and grime.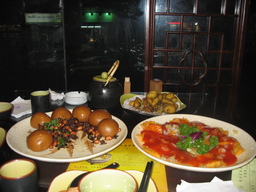 Traditional Local Cuisine

Evy has been taking me around for excellent food as well. Last night it was dim sum at Orchid, a small chain with locations in Shanghai as well. To again contrast Urumqi and Hangzhou, it was only last month that I finally found a Cantonese restaurant in Urumqi. The food wasn't bad, but the dishes were fairly simple and they didn't have dim sum. Out here I had no problem ordering all my favorite dishes: ha gow, sui mai, cha shu bao, dan tot, and a big bowl of jook. My first night in Hangzhou we went for traditional southern Zhejiang cuisine at Hangzhou Dongyang Ming Cai. It was a style of cooking I'd never tried before: the best dish had to be the hollow buns into which spiced, roasted pork was spooned in.

I'm suspecting the best is yet to come. Xiao Fang comes back from her Mayday holiday trip (to Wenzhou) this weekend, it will be quite the Burma backpacker reunion. Yesterday Zach flew from Beijing down to a nearby city also here in Zhejiang Province: Hengdian. I think it's maybe 3 hours by bus to get from Hangzhou to Hengdian so am hoping to take a few days hanging out with him. Zach is there working on a shoot for a film including several actors so famous that even I am star-stricken: Jet Li and Jackie Chan. I don't presume that I'd have much proximity to anybody I've seen on film, but it will still be interesting to check the location out. And I would be content just spending a few days with Zach anywhere, whether or not big-name K'ung Fu stars are around.
---
Restaurants mentioned in this entry:
Orchid 1 Yan'An Road, Hangzhou +86 (571) 8755-3000
Hangzhou Dongyang Ming Cai 38 Huang Gu Shan Road, Hangzhou +86 (571) 8891-8817