Should I Stay?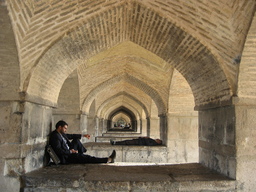 Beneath Khaju Bridge

YAZD, Iran
October 31, 2007

I've been indecisive over the past several days. Do I extend my visa and stay an additional month in Iran? Or, do I continue on west, crossing into another country sooner? From Yazd should my next direction be down south to the Persian Gulf? Or, should I return back along the route I took from Tehran, up north, then work my way west toward the borders with Turkey and Armenia?

Last night I took a bus to the desert city of Yazd and checked myself into a nice place: the Orient Hotel. I figured a few days relaxing in a comfortable setting would help me decide which direction to follow.

Since leaving Tehran ten days ago, I've been exploring cities and sites around the country which I've wanted to visit for years. From Tehran I went south to Isfahan, a city famed for its architecture--primarily bridges, mosques, and bazaars. Isfahan has several 17th-century bridges spanning the Zayande, the river which cuts through the city. These bridges are not merely functional, but beautiful constructions: long spans divided into dozens of archways were crafted from brick and stone. Most of the old bridges permit only pedestrian traffic, the banks of the river are lined with well-kept gardens and parks. I planned to spend much of my time in Isfahan around the bridges.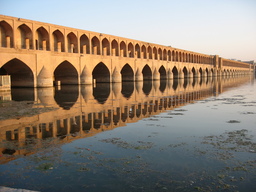 I was disappointed. For me, the highlight of the bridges was not their architectural beauty, but an aspect unique to their construction: most of Isfahan's old bridges have traditional teahouses built into their walls. Above support columns in the center of the river and at either end of each bridge, small chambers were built. These operated as traditional teahouses for centuries. It sounded exactly like the kind of atmosphere I would love: sitting in a tiny room amongst carpets and other traditional Persian decor, watching the river flow beneath, sipping tea, and smoking a hookah. However, over my stay in Isfahan I found that all of these teahouses have recently been shut down, with the exception of one outdoor teahouse at the north end of the Si-o-se Bridge. I took a pleasant afternoon sipping tea there, but it wasn't what I'd imagined. Until several months ago a visit to Isfahan would have meant puffing on fruit-flavored tobacco inside a beautiful stone bridge in the middle of a river. Today, that lone surviving teahouse is outside on the banks and serves up only tea: no hookahs.

I have heard that many of the teahouses which doubled as hookah lounges in other cities around Iran have also been shut down by authorities in recent months. Perhaps the vacant teahouses in Isfahan's bridges were on account of the season, or somehow connected with the time of year I arrived. I hope the closure isn't permanent.

My disappointment at finding empty teahouses was made up for by how well I liked Isfahan's Armenian quarter. I took an afternoon in the southwestern corner of the city, home to a couple churches and the Vank Cathedral, built in the 17th century. There is also a museum next to the cathedral. I was initially reluctant to buy a ticket to visit the cathedral and museum as the cost was several times the entrance fee to other attractions I'd seen around Iran. I was more interested in seeing places other than this particular cathedral before coming to Isfahan. After a moment of hesitation I paid my 30,000 rials, upon entering I was glad that I did.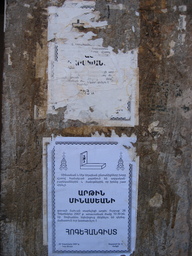 Flyer posted outside
Bethlehem Church,
Isfahan

The interior of Vank Cathedral is covered with murals detailing scenes from both testaments of the Bible, large, colorful, and vivid. Of even more interest was the museum which exhibited several printed books and dozens of manuscripts which had been written out over the past ten centuries. I'm fascinated by scripts and calligraphy, seeing so many hand-written examples in a writing I couldn't decipher captivated me. There was also a well put-together exhibit chronicling the horrors the Armenian people suffered through during the fall of the Ottoman Empire. I was one of the last visitors to leave that day, staying on past closing time.

I was surprised by the neighborhood surrounding the cathedral, it felt distinct from the rest of Isfahan: flashy shopping, cute cafes, a pleasant pedestrian boulevard. The community began four centuries ago when Armenians were forced by Safavid ruler Shah Abbas to move from Armenia to Isfahan in 1604. As non-Muslims the Armenians were segregated out into this separate area of the city; I hadn't expected to see such visible differences in the character of the neighborhood so long after it was founded.

After four days in Isfahan I continued on further south to the city of Shiraz. I was interested in some of the historic locations in Shiraz itself, primarily the tomb of the 14th century poet Hafez. Not knowing Persian, I can't read his original works, but am taken by the aura of romance and esteem surrounding Hafez and his writings. Throughout Iran, even today, there is a reverence for the man and his poetry that is impossible to miss.

I found Hafez' tomb was simple, a marble coffin with calligraphy etched on its lid, set beneath a domed pavilion. I let an afternoon drift into evening, watching how Iranian tourists reacted to a visit to the tomb. Some strolled about the grounds chatting with each other; others sat around independently, reading books; many more were using mobile-phone cameras to snap photos of themselves standing in front of the tomb.

More what drew me to Shiraz than a pilgrimage to Hafez' tomb was the opportunity to visit nearby Persepolis, the seat of a major, developed empire some 2,500 years ago. I don't have the background to go into adequate detail about the history of Persepolis or its place as capital of what became the Persian empire. From what I gather, Persepolis could be regarded alongside other better-known ancient civilizations, comparable to ancient Greece or Rome. The architecture that remains today is outstanding, columns, buildings, and murals carved out of stone cover an immense area.

Though I can't convey the history of Persepolis, the August 2008 issue of National Geographic will run a feature. In the late afternoon of the day I visited, a camera crew began setting up tripods to capture images of the ruins just after sunset. I chatted for a brief while with the lead photographer, Simon. Bumping into him brought back memories of how I had an identical experience four years ago. There was a camera crew poking around the Kabul Museum in autumn of 2003 at the same time I was visiting. Simon mentioned that he had done photographic work around Afghanistan in years past, I wondered if he hadn't also been part of that other crew and we'd unknowingly crossed paths four years prior.

Four days in Shiraz were more than enough, from there I intended to head to Bushehr, a five-hour bus ride south. For me, the sole attraction of Bushehr was its status as a city on the Persian Gulf, a body of water I've never seen. While preparing to leave Shiraz yesterday morning I counted the days on my present visa and decided to instead head north. I'm still not sure whether I want to renew my visa and extend my time in Iran. I can stay until November 8 on my current visa. When I leave I'll cross into either Turkey or Armenia, both countries border Iran to its northwest. Calculating my remaining time I figured it was best to start heading back north: if I do tag on an additional month I can always come back down to see the Gulf.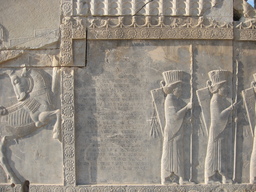 Relief on Staiway to
Central Hall, Persepolis

This first full day I've spent in Yazd makes me want to stay on longer. It's a pleasant, ancient city with old buildings and a relaxed air. The Orient Hotel is a beautiful building in the old city, decorated in traditional Persian style with a fountain courtyard. I've found something else which makes me want to stay on longer here in Yazd: the possibility of taking a few language lessons. While taking breakfast in the hotel restaurant this morning I saw another guest across the room being given a Persian language lesson. The teacher seemed competent, after they finished I enquired about options for language-study. It turned out that this hotel offers week-long packages specifically for people who want to enroll in short-term intensive Persian language instruction. The rates for the entire package--which includes bed, board, books, and tuition--are steeper than my budget allows. The full package would also provide more instruction than I need: five hours per day. I negotiated a deal directly with the teacher to receive fewer hours, one-on-one: we've scheduled a 90-minute private session tomorrow morning and another the day after.

I don't presume that I'll gain much fluency in Persian, even if I stretch the lessons out to a week or more in Yazd. It will be nice to be slightly more conversant on my way out of the country, but I think that having language class for a couple days will chiefly be a way to relax and make me feel back in my element: vocabulary and grammar points have been central to my routine for the last several years.

Finding how well I like the city, people, and atmosphere of Yazd keeps me indecisive as to whether I should renew my visa. Compounding the matter is deciding just when and whether to meet up with Leah in Armenia. It would be much easier to cross directly from Iran into Armenia than going through some third country. However, Leah won't be in Armenia until late November which--given the onset of winter--would literally mean chilling in Iran for an additional month.