Cargo Trike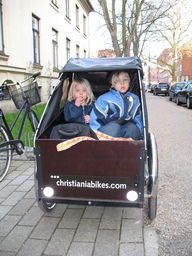 COPENHAGEN, Denmark
March 28, 2008

I've only just noticed how similar cycling is in Denmark and China, sharing aspects that aren't common many other countries. Both countries are among the few where adults often transport heavy objects around town by tricycle. It's common for cities in both countries to have a separate lane dedicated to cyclists, a lane which runs between those used by pedestrian and vehicle traffic. (Though these lanes are less common in Chinese cities today than they had been in recent years past.) Average people--men in work clothes, the elderly, miniskirt-clad young women--all are common sights zipping down the cycle lane in both Denmark and China.

I feel in such a different phase of my journey now. When crossing Central Asia and the Middle East short months ago, I was focused on another experience: exploring places new to me, connecting with local people, attempting to speak other languages. Then, my day-to-day existence was defined by the fundamentals of solo travel: buying rail tickets, finding accommodation day-to-day, and exchanging money. It's different now. I've been doing no sight-seeing over my time in Copenhagen. I'm spending a week here just to call on various friends who live here: friends from both Denmark and the U.S, friends I've known for many years.

I'm not making any attempts to speak Danish. Rather than sight-see, I have been strolling around the city or going to parks with friends--but just to spend time together, not to see anything in particular. I'm no longer checking in and out of hotels, but being accommodated as a guest. I'm eating far more home-cooked meals than street food these days.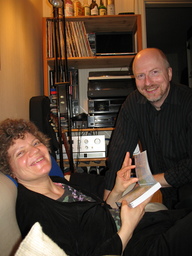 Upon coming here, I first spent time with Lykke and Lars, a couple I've met up with many times and many places. Aside from several other occasions here in Copenhagen, they've twice come to America, where we've traveled along both coasts. We've also made previous trips to other parts of Europe together. In fact, it was in China where Lykke and I met, when we were each making similar trips around the country in 1995.
It's been so relaxing to catch up with people who I know well yet haven't seen in many years. Just hearing Lykke's accent when she speaks English brings back memories of every other place we've spent time together. Sitting down over dinner my first night in town, I realized how far we went back and how much catching up we had to do. We went to Chun Bo, a Chinese restaurant where we had eaten once before, over ten years prior. Over dinner, Lykke asked me to catch her up on my life--not by merely relating accounts of my current journey getting here or by describing how my life has been in China. She really wanted to know everything I've been doing since we last saw each other, which must have been about six years ago. I found it hard to relate everything, she truly wanted to hear all the details of what I've been doing since I first left to live in Asia.
We've been reviewing and re-enacting old experiences. One afternoon, I sat down with Lars to watch videos he had recorded over the last ten years at various times we've met. Another evening, we took dinner together at an Ethiopian restaurant; Lykke has fond memories of eating Ethiopian food together one night on one of her trips to Seattle.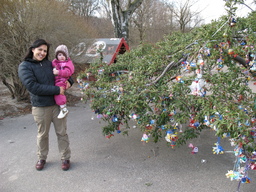 I've known Meena even longer than I have known Lykke and Lars. As teenagers, Meena and I took a couple years' worth of Hindi class together back when we were attending university in Seattle. I had seen Meena in the more recent past than I had Lykke and Lars, though it's been awhile. Meena and her husband John moved to Copenhagen over two years ago. Since then, they've had their first child, a daughter: Ella.
As with my time with Lykke and Lars, activities with Meena and her family have been far more focused on spending time together than doing any sort of sight-seeing: walks in the park, bike rides, hanging out at home over dinner. It's been good: though I did attend their wedding in Seattle in 2002, I never did know John very well before this visit. It's been good not just to see the both of them, but to meet Ella--somebody who wasn't even born the last time I saw Meena.
The picture at right displays Meena holding Ella at a local park. In it, they stand next to a tree with hundreds of baby pacifiers tied about its branches. The tree is the central object in a rite of passage: mothers and toddlers tie the pacifier onto a branch when the child gives up teething. Ella's not quite there yet.