Threes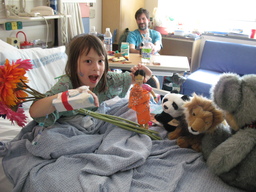 Seattle, USA
May 17, 2009

Isn't there some saying, something about "bad luck coming in threes"? Whether or not I'm rightly recollecting, I do hope that adage is true. Because that would mean that nothing major can strike again anytime soon.

In the past year alone, there has been Grampa's death, Mom's cancer, and now: now, my niece Robin has been admitted to the hospital with a brain tumor that spits out cysts. Jen and Mike are presently consulting with two neurosurgeons to decide whether the risk of surgery is worth taking. Although brain surgery itself could be life-threatening--not to mention providing fair odds for the kind of complications that are secondary only in light of death (blindness, developmental damage)--it doesn't seem like there will be much choice but to proceed with the surgery.

It was just before going out to work for the Census this past Friday that I heard the news about my niece from my brother-in-law, Mike. What had been anticipated to be a cursory, inconclusive MRI taken the previous day clearly showed Robin's grave condition.

I paid a call to the hospital the very afternoon I heard the news. I first picked Mom up, then drove the two of us in to offer what display of support we could. It was an ironic visit: Robin was hamming it up, basking in being the center of attention. In front of her children Jen was putting on the bravest face I've ever seen--but her stress was apparent. I tried to make light of the situation--feebly joking that Mom and Robin were now the "tumor twins". It's truly one of those horrible laugh-or-cry situations.

In days since, there has been a tremendous outpouring of support from family, friends, and the homeschooling community their family is a part of. Jen's close high-school friend Kristin made a non-stop drive here from Montana upon hearing the news. Cousin Tina is due up from California this next weekend.

In unrelated bad news, the latest CT scan showed that Mom's chemotherapy wasn't having any effect. She's discontinued any sort of treatment: there are really no options left to treat her cancer.

Oh, I do hope that bad news truly does stop at three.