Settling In

Indian Poker Night
with Friends and Family

Seattle, USA
December 12, 2009

Mom's health continues to decline. She is now more present and alert than over days of chemotherapy and radiation treatments, but physical complications keep on compounding. As of the past month her medical care has required a nurse from Hospice paying a daily house call. The main procedure is to drain off fluid that accretes in some place near the abdomen where it never should. Mom can still get out on a limited basis, but she has energy enough for only a few hours of any activity--at home or outside. Some weekends she can even maintain the routine she's held for years: babysitting all of her grandchildren, affording a "date night" to those siblings who are married. However, she spends most hours of any day resting in bed.

Mom and I keep a standing date to meet for lunch every Monday. She isn't always up for leaving her room, so sometimes our meeting entails my taking a bus down to the home where I grew up. We did manage to make it out together last week, driving off with every intention of satisfying her craving for Ethiopian food. I'd forgotten that the best place to eat Ethiopian in Seattle, Ras Dashen, is closed on Mondays.

We didn't have any back-up plan when we found our destination shuttered. Throwing possibilities around we quickly settled on Ezells's Fried Chicken a few blocks to the west. We took our order to go, allowing me to show her my new apartment. The studio I moved into that felt so sterile a mere two months ago--it's become cozy and warm. In addition to having Mom up over 10 chicken breasts and mashed potatoes and gravy I've begun to host others. Most often I prepare tea and pick up a box of pastries from Mon Hei. I might whip up a simple meal on occasion--though a two-plate Mercury burner and paucity of pots and pans don't make for the most creative kitchen.

It's been a bit harder for me to make my way around town these days. The car I was borrowing from Greg, a twelve-year old Saturn, has finally died. Greg and I first shelled out $600 to repair a broken gearshift belt. Two weeks later came an unrelated mechanical failure. We decided it would be best to just cut our losses. Then, in further unrelated ill automotive tidings, the car Ben inherited from Grampa was rear-ended by a taxi on the freeway. Thankfully, that car has since been repaired and is back out on the road. However, there was a good long block of time when the parents didn't have anybody readily available to chauffeur them around town or help them out with basic errands.

I decided to buy a bus-and-train pass for December.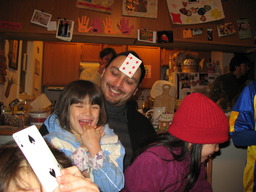 More Indian Poker

Everybody is excited about Christmas. Wish list suggestions are bouncing around cyberspace. This should be another typically full end-of-the-year. Having such large immediate and extended family, we long ago struck on a solution for what to do about gift-giving. Each person secretly draws two names of loved ones in the Seattle area. The first name is the person for whom a gift is chosen. The other name is the person to fill a stocking for. There are no restrictions on anybody throwing in some well-chosen gift to a name not drawn. (The children receive unbelievable bounty every year!) This method just ensures that every family member will receive at least a couple surprises on Christmas Day.

On top of the full family schedule, it will be an additionally busy holiday season for me. Friederike, with whom I spent a month traveling around Central Asia this summer, is arriving into Seattle in a few days. She's paying a visit to her friends in America, all of whom live along the west coast. Starting in Seattle, she'll work her way down to southern California, calling on various folks. It will be her first visit to the New World. We're contemplating making it a road trip together.