UUU Reunion VI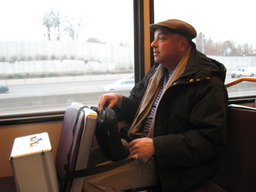 Riding MAX into Portland

PORTLAND, Oregon - USA
December 30, 2009

It's the start of a road-trip! Friederike and I have completed the first leg of a slow drive down the U.S. west coast. First stop: Portland, Oregon.

And who should be the first person we saw upon arriving in Portland? None other than a friend we met back in Urumqi many years ago: Tiffany. It somehow seemed perfectly normal to set off on a trip within the U.S. yet get together with somebody we knew from the other side of the planet.

The three of us sat down around a table at the Stumptown Coffee on 3rd and Pine. There was so much to catch up on. The last time I saw Tiffany was six months ago at the farewell party in her Beijing apartment. Three days later, together with boyfriend Rene, she finally quit China for good, flying back to the U.S.. The two of them first settled in California for several months. Recently, Tiffany came up here to Portland to work a short-term job--but she and Rene are about to skip countries once again. Tomorrow they move up to Vancouver, BC.

(How is it I keep passing through various cities just in time to make it to one of Tiffany's goodbye parties? And does this I-come/she-goes routine mean that Tiffany must move on from Vancouver whenever the paperwork for my Canadian residence finally comes through?)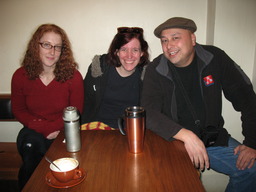 Ex-Urumqiliks Reunite
in Oregon

Aside from coffee, catching up, and hanging out, this rendezvous seemed significant for reasons related to a couple inside jokes Tiffany and I have had running over the last years:

First, it seemed odd that we had never met up anywhere outside of greater China. We'd seen one another everywhere across the nether reaches of the People's Republic--Xinjiang, Tibet, Hong Kong, Macao, Beijing--but had never met anywhere else. We occasionally speculated whether meeting outside of China might violate some law of the universe; evidently not.

Second, I lost a long-standing bet. Nearly two years ago I predicted that Tiffany too would succumb to a certain "I-need-to-have-a-baby-right-now!" phase I've seen afflict other female friends at the end of their twenties. Our bet was whether her biological clock would go off anytime over this past year. She claims that as of the end of 2009 she has still felt no twinges towards motherhood. This unfortunate lack of maternal instinct means that I'm the one who has to pony up our stakes: dim-sum at restaurant of her choice. Our time over this visit didn't allow for dim-sum anywhere around Portland, but perhaps that's just as well. She's moving to Vancouver, BC, tomorrow. That will be a much better city in which to fulfill the terms of our bet.

Done with our kaffeeklatsch, Friederike, Tiffany, and I strolled a few blocks across downtown to a Portland institution: Voodoo Doughnuts. I've enjoyed exposing the quirkier side of American culture to Friederike on her first visit to the U.S.. The creative concoctions of Voodoo Doughnuts felt like an appropriate taste of the "real" America to share with a visitor. We expanded on our introduction to doughnuts at Canadian chain Tim Horton's last week. I settled on a fairly standard old-fashioned glazed, but Friedrike went bold, chancing a cream-filled, chocolate-frosted doughnut peppered with Cocoa Puffs on top.
---
Nothing went according to plan yesterday, our last night staying in Portland. It was lucky that Friederike and I didn't drive: we made the arbitrary choice to ride into town on one of Portland's MAX light-rail trains. We did manage to spend a full day shopping at Powell's Bookstore. But evening appointments were scrambled by the weather. We had invited our CouchSurfing hosts (Jim and Terri, a cute retired couple) out to dinner at a Chinese restaurant. We had planned to attend Tiffany's farewell party after dinner. However, a freak snowstorm paralyzed the entire city. Our hosts decided not to risk coming into Portland.
So, we instead wound up taking dinner with Tiffany, who was staying downtown and could walk to meet us. She knew a good place to eat nearby: Mandarin House. After polishing off dumplings and ma la ji ding the three of us waited for nearly an hour for any transportation to take us to Tiffany's farewell party. We finally gave up. Being stranded downtown overnight didn't sound appealing. We bade Tiffany goodbye (until dim-sum next we meet) and found our way to the MAX line running trains out to where we were staying.
We were fortunate: a train pulled up within minutes of when we arrived at the stop. But when we stepped inside it was packed with passengers; the floors were wet with snow melted from people's shoes. Then, our longest wait came after we arrived at the destination station. It was too far to walk to our hosts' home, so Friederike and I trudged down a winding hill to a supermarket, Albertson's, to seek shelter and warmth.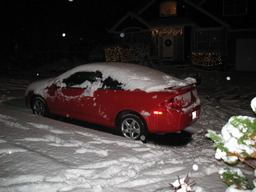 The Car we (Thankfully!)
Didn't Drive into Portland

Unsure drivers were abandoning their cars in the street. Even in a four-wheel drive vehicle navigating the streets was dicey. It took over three hours for one our hosts to finally drive a Jeep across the neighborhood to pick us up. Despite the circumstances, we were fortunate. I happened to be carrying two games (SET and Anagrams) in my shoulder bag. Even better, the supermarket staff had set up an area near the entrance offering comfort to stranded customers. When we sat down at a table, an employee came over and said we should help ourselves to freshly-brewed coffee from vacuum flasks nearby. There were sandwiches from the deli and a large box of doughnuts laid out on a table near where we sat. Friederike and I shared one that might have been inspired by the creations of Voodoo Doughnuts: a maple bar embedded with scores of M & M's.

The ultimate display of kindness stemming from crisis came not long before we were finally picked up. It was around 11:00 P.M. The store was to close at midnight. An assistant manager came by and asked how we were doing, where it was we were trying to get to. We thanked him for the doughnuts and the dry place to wait. I apologized that my feet were bare: plodding through snow had made my footwear soggy. When he heard this, he went off to some aisle in the store and brought back a dry, new pair of socks. He gave them to me and refused my offer of money to pay for them.

Friederike seemed impressed that any store would be so accommodating--even during a snowstorm. I felt glad that one of our first experiences on this road-trip showed off the generous, good side of America.