UUU Reunion V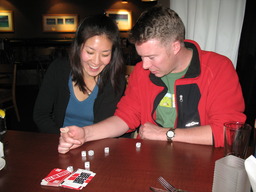 Bonnie and Matthew
Play "Fill or Bust!"

WHITE ROCK, Canada
December 20, 2009

Why does it seem like everybody I spend time with--even throughout North America--is somebody I met in Urumqi? Friederike and I are taking a day trip to Canada. While here we're calling on friends: all of whom I got to know in Urumqi.

We reached Vancouver around noon, just the right time for a meal in the Punjabi neighborhood around 50th and Main Street. En route to lunch we picked up Carrie and Ed, the couple I stayed with when visiting last year for my annual international birthday trip. Our lunch buffet did include a couple dessert offerings--jalebis and gulab jamun--but I made sure to pick up an additional box of sweets to bring back to the U.S.. I've never found the same assortment or quality of Punjabi sweets in Seattle that are readily available in Vancouver.

We walked to a shop down the street, Pabla's, that offers far too many varieties of my favorite: barfi. In addition to the regular, unadorned cream-colored barfi, Pabla's also sells dozens of elaborate riffs on the theme. Barfi with silver foil atop. Barfi with pistachios atop. Barfi with almonds atop. Barfi colored green. I filled a box up with assorted barfi and threw some syruppy gulab jamuns on top for good measure.

After shopping for sweets we had just enough time for a spin through Stanley Park with Carrie and Ed. We dropped them back at their apartment, then drove off to rendezvous with Bonnie and Matthew. Bonnie proposed that we meet over a few games of bowling, which seemed perfectly appropriate: we'd gone out bowling together at least once or twice back when we were all living in Urumqi.

I'm not sure where to pick up on Bonnie and Matthew's life since I last wrote about them. They've experienced so much. I did see them once after they got married and moved out of Urumqi. I stayed with Bonnie and Matthew for about a week while they were living in Hong Kong. Then, from Hong Kong they moved on to South Africa for the next year or two. After working in South Africa they drove a Jeep across the continent to Europe then flew on to Canada for their next relocation. The past year-and-a-half they've been living in Nanaimo... but are hopping continents once again. They'll fly off on Christmas Day, first spending time visiting Bonnie's family in Ontario, then relocating to England where Matthew will start a new job near Penzance.

On top of everything else that's been going on in their life, Bonnie and Matthew are expecting their first child in July.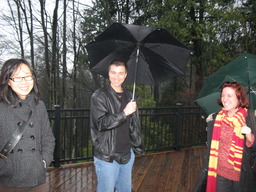 Carrie, Ed, and Friederike
in Stanley Park
After we'd finished bowling a couple games I suggested we next stop by a nearby branch of Tim Horton's: Friederike had never tasted an American-style doughnut before. We finished out night with dinner and a couple rounds of "Fill or Bust!", a combination dice and card game I used to play often with siblings. It felt just like old times: laughing, bowling, playing card games together, and catching each other up on our last and next international destinations. It was so good to spend a little while with Bonnie and Matthew--those two really know how to live.
They've just driven off to catch the last ferry back to Nanaimo. Friederike and I are now at the Duty-Free Shop along the border, where we've found that big bottles of good gin are extremely cheap.
Assuming that U.S. Customs has no problem with barfi or Bombay Sapphire we should be back in the U.S. in a matter of minutes.