U-Turn

In 'N' Out Burger

West Hollywood, USA
January 12, 2010

This road trip is drawing to an end. Friederike is on her way back to Berlin: I dropped her off at LAX this morning. It's time for me too to set off in another direction. I'm about to make a U-turn and set off northbound, driving solo back up to Seattle.

We spent far more time in southern California than anywhere else on this road trip--though the vast majority of it has been apart. That's actually been really good for seeing people. Friederike spent most of her time staying and touring with friends of hers who live out in Claremont. I too know people--well too many people--around Los Angeles. Friends, cousins, cousins-in-law--so many people live down here: people who I don't see as often as I should. I made a point to get together at least once with each of the people I know in the area. With some it was meeting for just a couple hours over lunch; with others it was time spent over several nights as a houseguest. Here are updates on some--though not all--of the folks I called on:

I started with Zach. He's been living in the Los Angeles area since he moved back from China a few years ago. We managed to see far too little of each other over this visit; he's so busy. He's presently juggling the responsibilities of being film-editor to three different productions. Reducing what little time we had to meet over my visit here, Zach was out of town for a few days: he just got back from running a marathon in Florida.

We did manage to spend one night catching up at his place in Studio City. Zach is always exploring something new. He showed me clips of some sort of prototype electronic gadgets used in composing music. There were boxes that would change rhythm and beep differently when shaken or rotated a certain way. There was something else that looked like a giant grid--beats and tones were modulated by pointing fingers at various vertices. It was all beyond my ken; he said he's been meeting regularly with friends to make music with these devices.

Zach is always great to get together with. He's always up for the fresh, the creative, and the weird.
---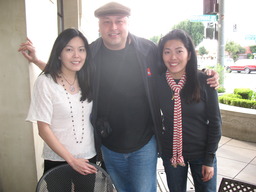 Cousins: Cindy, David, Jenny
outside Porto's Bakery, Burbank

Though we spent only a couple hours together, twin cousins--Cindy and Jenny--were the two relatives I most enjoyed catching up with. I saw them last when making another road trip--under similar circumstances, now that I think about it. I was coming from Las Vegas and heading from L.A. back up to Seattle when we saw each other five years ago--exactly the route I'm in the middle of now.

The three of us took an afternoon over pastries and coffee at the Burbank branch of Porto's Bakery. It was good to just hang out and get a better sense of who each of them are. Jenny's big news is that she's just bought a condo'. I vaguely knew that she worked for the Los Angeles Department of Transportation, but found it cool to get a deeper sense of just what role it is she plays every day. It turns out that she's the one who crunches numbers to determine rates of landing fees at LAX.

Cindy's big news is that she's been seeing somebody seriously over the past months. Not long after they got together last year her new boyfriend was transferred to work in London. Cindy visited him there a couple months ago; they made a jaunt to Paris as well. They're supposed to meet up midway--in New York--at some time later this month.

Brief as it was, I so enjoyed hanging out with them, catching up, and getting to know each of them better.
---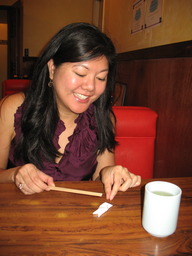 Cousin Tina Orus Kami at
Koraku Ramen, Japantown

Cousin Tina and I took an evening together in Japantown. It was an appropriate location to meet--she stayed at my apartment for about a week while I was working in Tokyo ten years ago. Also appropriate was the name of the restaurant where we ate dinner: Koraku Ramen House. I doubt Cousin Tina recalled this specific detail, but the nearest metro station to my apartment was Koraku-en 後楽園 on the Marunouchi line.

It hadn't been all that long since we last met. Cousin Tina makes a point of keeping up with people in far-flung cities, herself. She's often in Seattle for no reason other than a social call. We last met when she made the trip up to show support during niece Robin's brain surgery in May. It was good to catch up and hear what's new in her life.

Tina has been working as a brand manager at Nestle over recent years. She's happy being in L.A. but is also considering what opportunities might be had at some other corporation on the west coast, finding some role that might advance her up the career ladder more quickly. She talks of perhaps moving back to the Bay Area or even up to Seattle.
---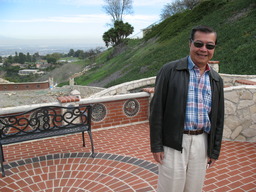 Uncle Joseph

Father to all three of those cousins (i.e. Cindy, Jenny and Tina) is Uncle Joseph. He's always been super-busy with work. Even yesterday, a Sunday, I arrived at his home in Rancho Palos Verdes to find that he had a co-worker over to catch up on business.

Uncle Joseph treated me to dim sum in nearby Torrance; we caught up face-to-face for the first time in ten-or-so years. He talked a lot about how his time to retire is due. He shared how he'd like to spend the year following his last day of work: traveling the world to visit Europe and other places he's never seen. However, he also talked so much about taking on a part-time consultant role after his pension kicks in... I can tell he's one of that driven kind who will never truly stop working.

He showed me his home, pointing out various projects he's hatched: some finished, some in-progress, and some that may never get beyond the subjunctive tense. He promised to send me an invitation to his retirement party, to be held out on the terraced patio he's in the process of building. I do hope he can get that particular project finished up before the bash.

Perhaps Uncle Joseph's retirement party will be my next excuse to come back down to L.A... though I question whether he will ever indeed retire.
---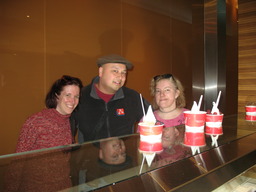 Friederike, David, and Bonnie B.
at Pinkberry Frozen Yoghurt

My final nights in town were spent staying with a couple former co-workers from days in Seattle. I've kept up occasionally with Bonnie B. over the years; we met up in Almaty when she came to visit Xinjiang. Not long after that trip she flew back to America and got married to Marven, another former co-worker. The two of them moved down to this corner of the country and have set up a tastefully decorated apartment in West Hollywood that holds way too many books. They were kind enough to host both me and Friederike in their place over the last two nights of our time in southern California.

These days, Bonnie B. seems most concerned with traveling to as many places as she can. She is seeing the world, but much of her design is to simultaneously accrue frequent-flyer mileage and maintain elite status. She shared with me all manner of methods to rack miles up, including one that doesn't involve boarding a flight--a clever technique of laundering dollar coins issued by the U.S. Mint:

Evidently, the Mint provides free shipping to people who order large batches of these coins. Some people order $10- or $20,000 worth, making sure to place the order on a credit card that accrues frequent-flyer miles. They then take the coins to the nearest bank and pay their credit card bill off with the amount deposited: no costs incurred. Rinse. Repeat. Free tickets.

It was good to catch up with Bonnie B. and Marven. They held a dinner party last night. Marven prepared a lamb tagine with thick, fragrant raita on the side. Dessert was homemade raspberry ice cream. We broke out the hookah pipe on their balcony. Sitting outside, socializing on a January evening--it's going to be hard for me to leave California weather for whatever temperatures I return to up in Seattle.

Our final night staying at their home was finished by introducing them to the anagram game. We played only a couple rounds. Novice player status aside--we faced redoubtable competition. I'm pretty sure yesterday evening won't be my last time playing word games with the two of them.
---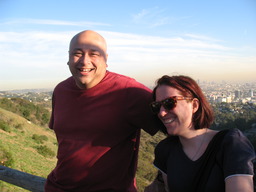 Scenic Spot: Mulholland Drive

I had been planning on making the grand U-turn and hitting the road directly from the airport this morning. But driving out from LAX around 5:00 A.M. I made the prudent decision to first get more sleep. I'm thankful that I drove my way back to Bonnie B. and Marven's apartment for additional shuteye: I crashed out for seven hours.

When I awoke at 1:00 P.M. I was antsy to set off and get going. But Bonnie B. knew just the right suggestions to pique any desire I might have to stretch out time in L.A.. "We could make it out to the Getty. Or, how about a Reuben sandwich at Canter's Deli?"

So, we're now Reuben-bound--after which I really have to begin the drive north. I told Cousin Jordan that I'd return to San Jose tonight to visit with his family again. But first: corned beef, sauerkraut, and Thousand Island dressing on rye.